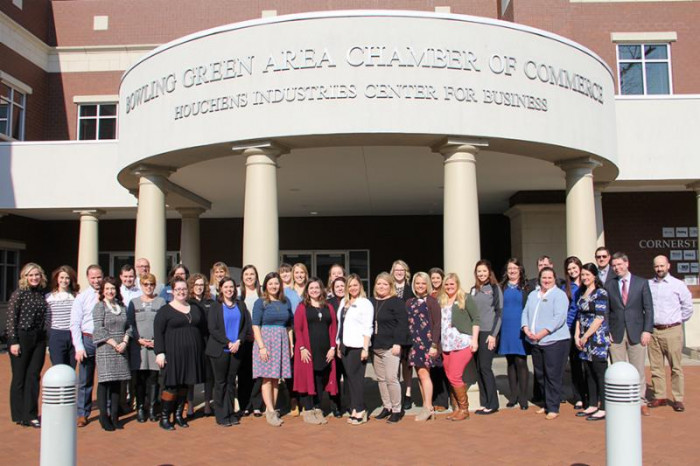 BOWLING GREEN, Ky. (Mar 15 2017) — The Bowling Green Area Chamber of Commerce has announced the 2018 class of Leadership Bowling Green.
The nine-month leadership development program is designed for professionals from a wide range of backgrounds who want to make a positive impact on the community. Participants gain knowledge that enable them to address a variety of complex issues facing our growing region. Topics include economic development, education, and government.
Kaleigh Averdick, Western Kentucky University; Robert Boone, South Central Workforce Development Board; Sterling Borders, Med Center Health; Tiffany Bosse, Johnson Controls, Inc.; Liz Bradley, Lulu's Fine Home Furnishings & Consignments; Sharon Carter, Fort Knox Federal Credit Union; Jessie Cox, Franklin Bank & Trust Company; Katie Davenport, Hilton Garden Inn Bowling Green; Magen Estep, VIP Bowling Green; Natalie Feldman, Kerrick Bachert PSC; April Flowers, Village Manor/Christian Care Communities; Amy Gearlds, Graves-Gilbert Clinic; David Glisson, Irving Materials, Inc.; Heather Hawkins, Farmers National Bank; Tori Henninger, Barren River Area Safe Space, Inc.; Lance Hester, NASCO; Kristin Hildabrand, Warren County Cooperative Extension Service; Taylor Howard, NCM Motorsports Park; Scarlet Jent, American Bank & Trust Company, Inc.; Caitlin Moore, Hancock Bank & Trust Company; Leah Morrison, English, Lucas, Priest & Owsley, LLP; Jennifer Oaks, Liberty Imaging; Jennifer O'Connor, Carr, Riggs & Ingram, LLC; Tracey Pharris, BB&T; Christopher Royse, Southcentral Kentucky Community & Technical College; Ashlyn Smith, Hyatt Place Bowling Green; Amanda Sowell, Harlin Parker Attorneys at Law; Brooke Vinson, Coldwell Banker-Legacy Real Estate Group; Melissa Whitley, Hope Harbor A Sexual Trauma Recovery Center; Kim Wilson, Wilson Counseling, LLC; Savannah York, First State Bank; Mark Yurchisin, Amy Milliken, Warren County Attorney.
The application process begins in November.
For more information about Leadership Bowling Green visit bgchamber.com.