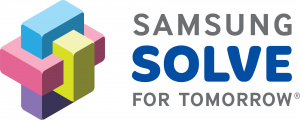 RIDGEFIELD PARK, N.J. (April 11, 2018) – With months of ideation, research, creation and pitching behind them, three schools have been named national winners in the $2 million Samsung Solve for Tomorrow Contest from Samsung Electronics America, Inc. The nationwide competition challenges 6th through 12th graders to use STEAM (science, technology, engineering, arts and math) to address real-world issues and inspire change in their local communities.
The winning schools of Ashland Middle School in Ashland, Ky., Cavallini Middle School in Upper Saddle River, N.J. and Thomas Jefferson Middle School in Winston-Salem, N.C. provided unique solutions to critical issues affecting our nation – opioid addiction, sports concussion detection and natural disasters. These schools were chosen as the three national grand prize winners after pitching their projects to a panel of judges in New York City. These students and teachers succeeded through intense rounds of the contest, winning hundreds of thousands in technology along the way. First selected as one of 255 state finalists (5 per state) in November, then one of 51 state winners (including Washington, D.C.) in December, and then one of 10 national finalists in March, these three schools ultimately progressed to achieve the title of 2018 national grand prize winners.
"Each year that passes with the Samsung Solve for Tomorrow Contest, we are more impressed and awe-struck with the creative, strategic talent that our students and teachers possess," said Ann Woo, Senior Director of Corporate Citizenship, Samsung Electronics America. "Our hope has always been to inspire confidence in today's youth and provide the tools they need to pursue a career in STEAM. The national winners this year are testament to the possibility and promise of the next generation to answer some of today's real issues. We are proud to bring awareness to their inspiring work."
Because local first responders called to the scene of a drug overdose are only armed with rubber gloves and tongs, the students of Ashland Middle School developed a solution to safely pick up and dispose of hypodermic needles. The students created a device that could be used by first responders and local authorities to pick up dangerous used needles and other drug paraphernalia.
"Technology is a great tool, but if you're not using it to help people, it's just a toy," said Isaac Campbell, a student from the Ashland Middle School team.
The Samsung Solve for Tomorrow Contest was created in 2010 to encourage innovation while addressing the technology gap in classrooms across the country. Each year, the competition inspires more active, hands-on teaching and learning among schools nationwide. Since 2001, Samsung has provided more than $60 million in technology to public schools in the United States. Over the past eight years, Samsung has received more than 17,000 entries for the competition, empowering youth to problem-solve and create with the support of their teachers, peers, schools and communities at-large.
The three national winners will receive $150,000 in Samsung technology products such as LED TVs, laptops and tablets for use in the classroom.