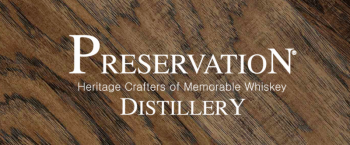 FRANKFORT, Ky. (April 25, 2018) — Preservation Distillery in Bardstown is the newest and 38th member of the Kentucky Distillers' Association, a non-profit trade group that unites and leads Kentucky's signature bourbon and distilled spirits industry.
Founder Marci Palatella said she has dreamed of opening a distillery since 1985 when she got into the spirits and wine business as a leading international distributor, and soon after partnered with other distilleries to produce her own small batch bourbon brands.
On a 2014 trip to Bardstown, Palatella said she stumbled onto a picturesque farm and instantly knew it was meant to be her distillery. She bought the former Hillbilly Heaven off the Bluegrass Parkway that following year and has transformed the farm and tobacco barn into a distillery and visitor center that showcases her history and passion for crafting small batch whiskeys.
Palatella said her husband, former San Francisco 49er NFL football legend Lou Palatella, has been a bourbon enthusiast for more than 50 years, distributing for many of Kentucky's premier distillers and spending his career working with many of the industry legends.
Preservation's portfolio boasts a variety of bourbon, whiskey, and rye expressions under the Preservation, Very Olde St. Nick, Dakota, COWBOY Little Barrel, Outlaw, and Rare Perfection brands. Learn more at www.preservationdistillery.com.
"Preservation Distillery is following the timeless traditions of Nelson County's family of distillers by bringing classic and creative artisan spirits to the Bourbon Capital of the World," KDA President Eric Gregory said.
"We applaud their entrepreneurial spirit, commend their dedication to upholding the integrity of our legendary industry and proudly welcome them to our ever-growing family of Kentucky's finest distillers."
Marci Palatella said, "Our family is honored to be part of the KDA and join our pioneering Kentucky neighbors producing authentic Kentucky bourbon whiskey and other fine spirits. We look forward to welcoming the adventurous visitors who come here each year for a true Kentucky experience."
Preservation Distillery is the KDA's 25th Craft-level member, aging less than 10,000 barrels a year. The company is KDA's sixth member distillery in Nelson County, joining Heaven Hill, Lux Row, Jim Beam's Booker Noe distillery, Willett and Bardstown Bourbon Company.
Preservation Distillery also is now eligible to join the Kentucky Bourbon Trail Craft Tour.
KDA recently announced that it has opened a satellite office in downtown Bardstown to best support its growing membership and collaborate with city's renewed efforts to showcase its history, culture and booming bourbon lifestyle.