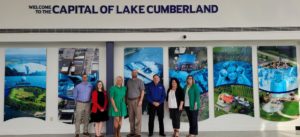 SOMERSET, Ky. — An airport is often a front door to a community — the first impression a visitor gets when they arrive. And immediately giving visitors a glimpse of what they can find in that community can have a significant impact on their experience.
That front door is now open wide to visitors at Lake Cumberland Regional Airport, thanks to a facelift commissioned by the Somerset-Pulaski Economic Development Authority (SPEDA) and completed by Team Modern and Modern Signs & Graphics.
New signage throughout the airport's $3 million passenger terminal welcomes visitors to The Capital of Lake Cumberland, highlighting photos of all of the activities and attractions they can expect to find — golf courses, a bustling downtown, watersports on the lake, live music, classic cars, agritourism and a world-class waterpark — while also honoring the area's history and veterans.
As a tribute to the late local businessman and aviation enthusiast W.O. Bill Newell, one wall has been dedicated to an image of a bomber he flew in World War II. The phrase "50+WOBN" on the side of the bomber represents the 50-plus bombing missions he flew over Europe during the war. In addition, the Newell family has donated his flight jackets, his Distinguished Flying Cross, his flight logbook, the personal Bible he took on every mission and many other pictures and items that will be on display.
Team Modern agreed to underwrite the cost of the project when negotiating their recent purchase of 70 acres and a headquarters facility in Valley Oak Technology Complex. As part of the purchase agreement, SPEDA President and CEO Chris Girdler asked Team Modern to donate $10,000 to a community project. Together, they chose to improve the airport terminal.
Lake Cumberland Regional Airport (SME) is a public use airport owned by the City of Somerset and Pulaski County serving the Lake Cumberland area. Efforts to bring commercial air service to the Lake Cumberland Regional Airport are underway — the cities of Somerset, London and Corbin recently formed a partnership to ask federal legislators to transfer London-Corbin Airport's dormant Essential Air Service designation to Somerset and reactivate it.