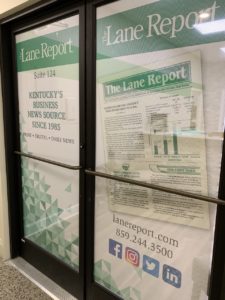 Commercial real estate specialist Ed Lane began producing a fact sheet about the Lexington area in 1985 in response to requests from commercial site selectors for analytics about the dynamic and growing metro area.
The Lane Report grew from three issues the first year to six issues the following year. By the third year, The Lane Report had expanded to become a monthly magazine covering business news across the Central Kentucky region. In the late 1990s, Lane decided to take the magazine statewide, making The Lane Report the only publication in Kentucky to cover business news throughout the commonwealth – a distinction that remains to this day.
In addition to the magazine, the LaneReport.com website and FasterLane email newsletters keep readers up to date with breaking news on a daily basis. The Lane Report Inc. also publishes three annual magazines – the Market Review of Greater Louisville, the Market Review of Central Kentucky, and the Market Review of Northern Kentucky – that provide an in-depth look at the commonwealth's largest economic drivers.
For advertisers, The Lane Report's magazine and digital communications reach the state's top leaders in business, economic development, and public policy, who depend on The Lane Report to keep them informed of the latest business news across Kentucky.
Though Lane passed away in 2015, his vision for The Lane Report continues to thrive and grow under the direction of new publisher Kevin Stinnett. Stinnett, a longtime Lexington businessman, worked alongside Lane on the Lexington-Fayette Urban County Council for many years and shares Lane's deep understanding of how private business and public policy impact the future of the commonwealth.
The Lane Report is proud to have served Kentucky's business community for 35 years and looks forward to being there to report the latest in economic trends and developments for many more years to come.