The app offers the convenience of our website, lanereport.com site, but with added features like push notifications and subscription options. Available for free download on Google Play and the Apple App Store, the app allows mobile readers to quickly catch up on today's business news, from Faster Lane to Corporate Moves, Market Reviews and more. Additional features will be rolled out later.
"This app is just the latest in our efforts to deliver more of what our readers and business partners value and enjoy," said Kevin Stinnett, publisher/owner of The Lane Report. "We had grown a lot since our humble beginnings in 1985. Our talented team is focused on staying true to what makes us great while evolving to meet the needs of our core audience."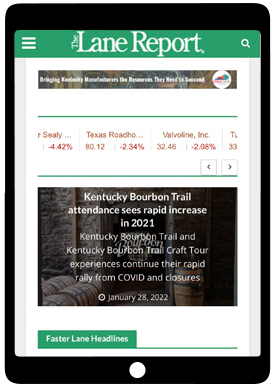 To download the app, simply search The Lane Report in your mobile app store.
Click here to download on Google Play
Click here to download on Apple
Click here for more Kentucky business news.