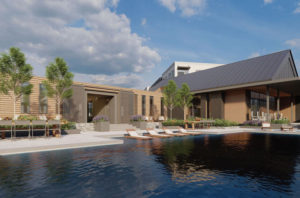 LEXINGTON, Ky. — Representatives from the University of Kentucky and Cityscape Residential broke ground on what will soon become a residential village on the Coldstream Research Campus. The 260-unit, multifamily residential complex will offer Coldstream's high-tech workforce the ability to live, work, play and innovate all within the research campus.
The university selected Indianapolis-based Cityscape Residential as its ground lessee, based on their award-winning luxury multifamily residential communities. Cityscape will construct and operate the 13-acre complex.
In 2018, the Lexington-Fayette Urban County Council, working with the university, established a mixed-use tax increment financing district within the Coldstream Research Campus. Through a change in Coldstream's zoning definition and providing both state and local tax incentives, the city of Lexington has been an instrumental partner in the progress being made at the research campus.
By creating a workforce-friendly environment in the Lexington community, the development is expected to create increased demand for space by high-tech, research and development companies.
Residents will begin moving into FIFTEEN51 in the spring of 2022. The development is expected to be fully completed later next year.