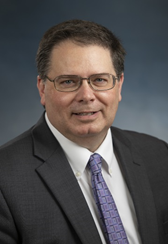 OWENSBORO, Ky. — Jeff Thomas, currently the CFO at Tennova Healthcare in Cleveland, Tennessee, has been named as Owensboro Health's next chief financial officer. He will begin his role with Owensboro Health on Aug. 2.
Thomas will report to Mark Marsh, president and chief executive officer for Owensboro Health. As CFO, Thomas will be responsible for leading the health system's financial operations. He will develop and administer policies, provide forecasting and reporting, and make recommendations to improve the system's financial performance.
"Jeff brings a high level of expertise to Owensboro Health, but he is also an outstanding fit for our culture of service," said Marsh. "Jeff achieves success by encouraging and serving others."
In addition to his current position in Cleveland, Tennessee, Thomas has also held the CFO position at systems in Fort Wayne, Indiana; Clarksville, Tennessee; Marion, Illinois; and Bennettsville, South Carolina. His 28-year healthcare career also includes stops in Ohio and Texas.
During his career, Thomas has supported major capital projects, improved revenue performance and identified opportunities to reduce costs. He graduated from Youngstown State University.
"This is a wonderful opportunity to work with Mark Marsh and to be part of an outstanding organization like Owensboro Health," said Thomas. "I look forward to being part of the community and helping our team achieve its mission and vision."
Thomas will replace outgoing CFO John Hackbarth, who announced plans to retire last August.
Owensboro Health is a nonprofit health system with a mission to heal the sick and to improve the health of the communities it serves in Kentucky and Indiana.
Click here for more Kentucky business news.