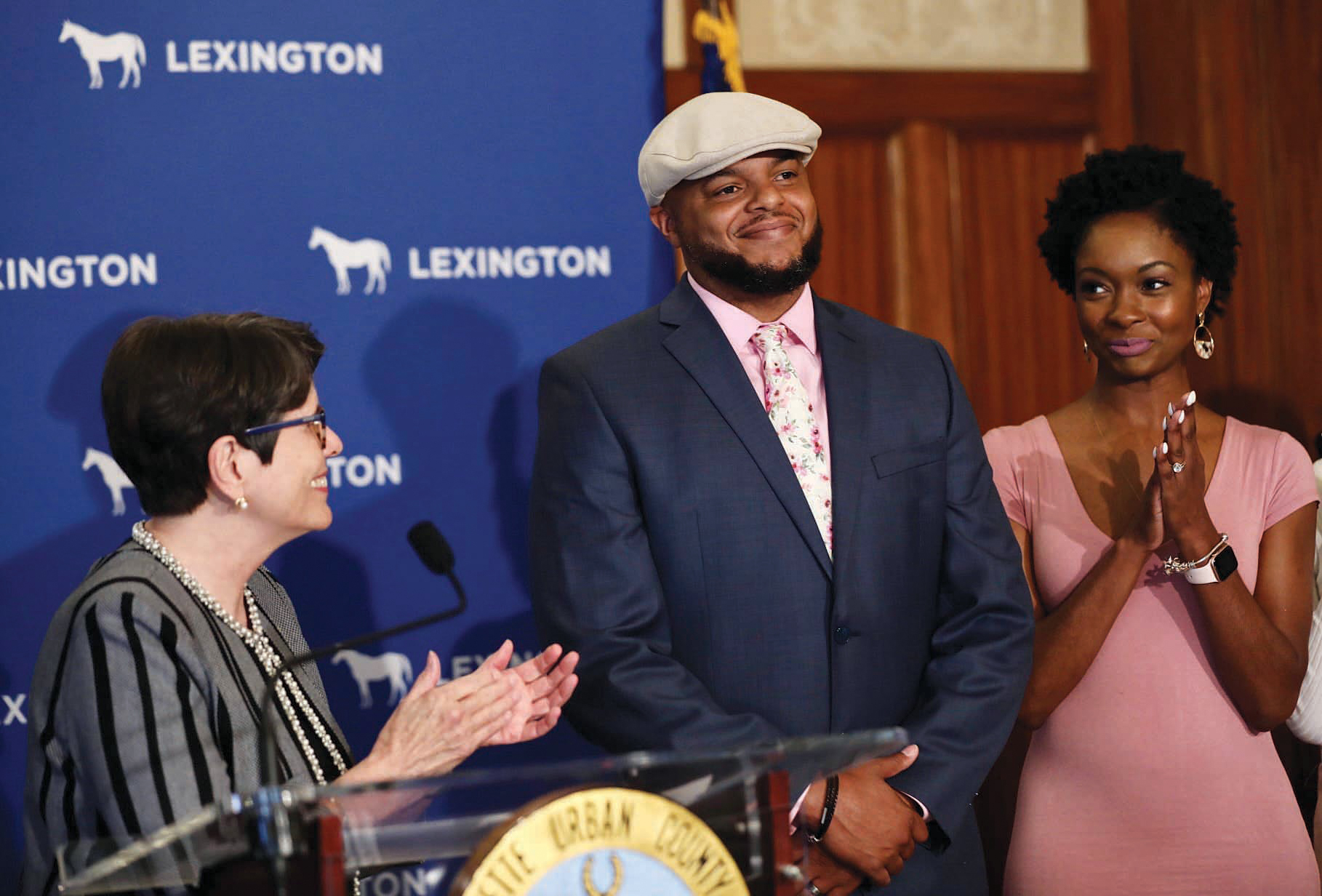 A Lexington hip-hop artist, community activist, motivational speaker and adjunct professor is now leading the city's initiative to coordinate resources that address violent crime.
Devine Carama began his new duties as director of One Lexington on June 7, but he has "been living the mission of One Lexington for at least 15 years, long before we started" the program, said Mayor Linda Gorton. "Through hip-hop, teaching, community engagement and volunteer work he has built programs and initiatives that reach out to young people and help them build successful lives."
Created in 2017, One Lexington works to coordinate, leverage and mobilize city government and community resources to enhance safety and quality of life in neighborhoods experiencing violent crime. Like many cities, Lexington has seen an increase in violence and social unrest during the past year, often involving young people, Gorton said.
"We understand that the city can't solve these problems alone," Carama said. "My job is to connect faith and nonprofit communities, schools, neighborhood leaders, along with our city government partners to wrap all of our arms, hearts and resources around these issues in order to make a difference."
Youth engagement is first on Carama's list of priorities. He encourages young people to advocate for themselves in a healthy way, using civil discourse and self-expression to constructively communicate their grievances and messages of hope and change, he said.
Much of the violence in Lexington happens in communities that are underserved and starving for opportunities, Carama said.
"I want One Lexington to be a facilitator for community partners to come together to address some of the root causes of violence in our neighborhoods. I believe engaging youth and providing wrap-around services for their families is key to making our community safer," he said.
Authentic relationship building and community engagement is key to making Lexington safer and more equitable, he said.
"Community activism is the backbone of true, substantial change. True leadership isn't pushing from the bottom or yelling from the top, but relationship building in the middle," Carama said.
In 2014, Carama founded Believing in Forever, a nonprofit organization that works to inspire and motivate young people toward community leadership through art, education, mentoring and community service.
He also founded Kingtucky, an arts and entertainment company that focuses on hip-hop, poetry and live music that also offers inspirational youth programming. Through the Carnegie Center, he teaches an interactive summer class on the history of hip-hop and how to write hip-hop lyrics.
Carama's music career and creative pursuits complement his job at One Lexington.
"I think my music career helped create relationships and connections to the Lexington community that I can now transition into partnerships to better serve the citizens of our city," he said. "The creativity it takes to be an artist is similar to the innovation it takes to think outside of the box when it comes to community engagement and programming. Hip-hop's original formula in the 1970s and early 1980s was to be a voice for the 'voiceless.' Adopting the mantra led to a very seamless transition from musician to activist."
Carama encourages everyone to work together to address issues that threaten the community. To volunteer or learn more, email [email protected].
Click here for more Kentucky business news.