LOUISVILLE, Ky. — Spalding University's entry-level Occupational Therapy Doctorate program has become the first OTD program in Kentucky to earn full accreditation from the Accreditation Council for Occupational Therapy Education (ACOTE).
Spalding's Auerbach School of Occupational Therapy (ASOT) was notified late last month by ACOTE that the entry-level OTD program has been approved for the next seven years – the maximum period that could be awarded for initial accreditation. Spalding will seek reaccreditation in 2028.
ACOTE assessed and approved all aspects of Spalding's three-year entry-level OTD program, including its administrative structure, faculty qualifications, course and curricular content, clinical experiences, and capstone experiences.
Spalding's Auerbach School has been a leader in Kentucky in preparing occupational therapists since 1995, with its programs consistently accredited by ACOTE. In 2015, ASOT began planning for a new three-year Occupational Therapy Doctorate program to become its primary entry-level degree offering, and it began phasing out its ACOTE-accredited Master of Science in Occupational Therapy (MSOT) program.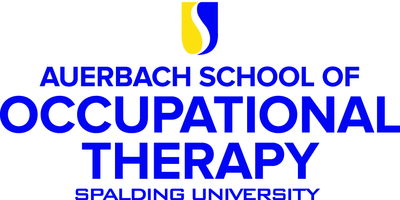 Auerbach School of Occupational Therapy Chair Dr. Sara Story, a longtime faculty member who earned her MSOT from Spalding and participated as a student in the accreditation process of that degree program, said that helping her alma mater achieve the OTD accreditation was "truly an honor."
Spalding welcomed its first OTD cohort in January 2019, with new cohorts being added each fall and spring trimester while the accreditation process progressed. In line with the timing of the initial accreditation, the first cohort is set to graduate in January 2022. As an ACOTE-accredited program, graduates of Spalding's entry-level OTD are now eligible to sit for the National Board for Certification in Occupational Therapy exam.
Dr. Story said she has received feedback that community stakeholders, such as hospital administrators and fieldwork supervisors, who were contacted by ACOTE were high in their praise of Spalding's students.
The Report of the Accreditation Council listed five strengths of Spalding's program: administrative support and the university's mission, the curriculum model, learning experiences in diverse practice areas, the creation of a clear plan for implementation of the doctoral capstone by the doctoral capstone coordinator and faculty, the work of the academic fieldwork coordinator and faculty to create a client-centered approach that garnered community stakeholders' enthusiastic support of the program.
ACOTE's complete findings stated, "all standards were found to be compliant based on the review of the materials submitted by the program and the findings of the on-site team."
Spalding University and all of its academic programs are regionally accredited by the Southern Association of Colleges and Schools Commission on Colleges.
ACOTE is an additional national accrediting agency specific to occupational therapy programs. ACOTE is an Associated Advisory Council of the Executive Board of the American Occupational Therapy Association (AOTA), and it is recognized as the accrediting agency for occupational therapy education by both the United States Department of Education and the Council for Higher Education Accreditation. ACOTE currently accredits or is in the process of accrediting nearly 600 occupational therapy and occupational therapy assistant educational programs in the United States and its territories as well as programs in the United Kingdom.
Spalding's 110-credit-hour entry-level OTD program is completed over three years (nine trimesters) with about 35 students per cohort. More than 96 percent of graduates of the Auerbach School have become employed within six months of graduation. Over the past five years, more than 95 percent have passed the national board certification exams.
Click here for more Kentucky business news.