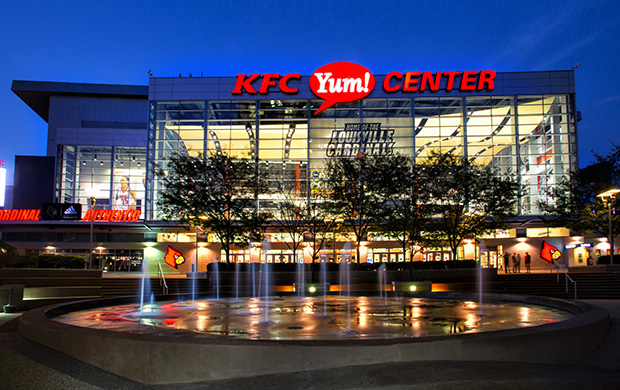 LOUISVILLE, Ky. – KFC Yum! Center in downtown Louisville is launching a year-long celebration to commemorate its 11th anniversary. Since opening in October 2010, the arena has welcomed nearly 10 million guests and hundreds of world-class sporting and entertainment events.
When the KFC Yum! Center first opened its doors, it did not just change the Louisville skyline, it helped launch a renaissance that has created vast growth in the entertainment sector. The arena, managed by ASM Global, is consistently ranked among the nation's top 30 venues for concert tickets sales by industry leading Pollstar Magazine.
It was voted 4th "coolest" arena in the nation according to Rolling Stone Magazine's industry poll of top arenas and stadiums. It hosts the top selling performance in the nation on several tours annually, including Metallica, Chris Stapleton, JoJo Siwa and Hot Wheels Monster Trucks Live most recently in 2019. The KFC Yum! Center broke its all-time record for most concerts held in the 2019 calendar year  when there were 30.
The multipurpose arena overlooks the Ohio River in downtown Louisville. It boasts a total of 721,762 s.f. while offering an arena bowl exceeding 22,000 seats and nine bars and lounges all within walking distance of more than 6,000 hotel rooms in downtown Louisville.
"Louisvillians undoubtedly remember the day our city took a significant leap forward with the opening of the KFC Yum! Center 11 years ago," said Louisville Tourism President and CEO Cleo Battle. "Since then, the arena has contributed to our community with numerous sporting events, entertainers and serving the location for Muhammad Ali's funeral – as well as hosting several prominent large conventions, the likes of which wouldn't have been possible to attract without this great facility. Set in the heart of downtown, the KFC Yum! Center has been a great partner and a significant asset helping to draw visitors from all over the world to Louisville."
Home to the University of Louisville's men's and women's basketball teams, both organizations have experienced a great amount of success while playing at the arena. The men have attracted more than 3.7 million fans in their first 11 years in the KFC Yum! Center. Louisville men's basketball has been the highest rated television market for college basketball during its entire tenure at the KFC Yum! Center. Louisville women's basketball averaged 9,159 fans per game in 2019-20, which topped the ACC and ranked fifth in the country. The Cardinals have ranked among the nation's top five in home attendance in each of its 11 years in the KFC Yum! Center, including six occasions with the second or third highest average attendance.
"We have so much to celebrate, and we look forward to reliving our fans' greatest memories from the past 11 years," said Louisville Arena Authority Chair Leslie Geoghegan. "Due to COVID, we needed to put our exciting 10th anniversary celebration plans on hold. We wanted to celebrate with our fans in person so it was important for us to wait until we could do that safely. We are so grateful for the University of Louisville, event producers, sponsors and fans who have supported the venue since we opened, and we are thrilled to use this milestone as an opportunity to show our fans and clients how much we value them."
The arena has already began announcing a stellar lineup of concerts and other events for the next 12 months. To celebrate this special occasion, fans can expect an 11-part concert and event series, 11 special community events and other 11 themed contests and giveaways throughout the year. They can also follow the arena on social media to reminisce on the first 11 years and relive some of the most memorable moments.
The anniversary concert series kicks off on the 11th anniversary of the arena's official ribbon cutting with Lil Baby on Oct. 10. The series includes a variety of different events throughout the year including Harlem Globetrotters, which has the distinction as the only touring show that has returned every year since the arena opened (besides 2021) and WWE Raw, which just announced its first return to the arena in more than 10 years. It also includes some of the biggest shows on the arena's calendar throughout the anniversary year, including Elton John and Eric Church, University of Louisville basketball games and other fan favorites. Fans will have the opportunity to win a pair of tickets to every concert in the series by registering online in addition to other contests and special offers throughout the year.
The arena has hosted some of the world's top grossing artists and major sporting events that have pumped millions of dollars into the local economy annually. But some of the more memorable events from the past eleven years include Paul McCartney's 2014 concert, NCAA basketball championship events and Muhammad Ali's funeral service in 2016.
Guests will have the chance to participate in the anniversary celebration at a number of free community events, starting with the Pepsi Plaza Concert Series in September and October. Norton Healthcare, who has served as the arena's official healthcare partner since the venue opened, will host a community movie night inside the arena later this year in addition to several other free community events. The 11-part community event series will feature concerts, movie nights, basketball camps and more. Additional details will be announced as they become available.
"In 2009, Norton Healthcare became the first Cornerstone Partner for Louisville's new arena. We are pleased that since its opening, the KFC Yum! Center has become a destination for world-class sports and entertainment, but we understand that it is much more than that. Norton Healthcare is pleased to support its use for community events such as family movie nights and sports camps for children who may not have such an opportunity elsewhere," said Russell F. Cox, president and CEO, Norton Healthcare. "We are delighted that our partnership includes a variety of programming and events that engage our entire community."
Click here for more Kentucky business news.