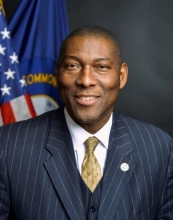 The Association of Independent Kentucky Colleges and Universities (AIKCU) recently hosted Derrick Ramsey, former Kentucky Secretary of Education and Workforce Development, as the featured speaker during the first meeting of the AIKCU Emerging Leaders Program.
Ramsey, speaking virtually due to the ongoing pandemic, encouraged the AIKCU Emerging Leaders to focus on engagement as they develop their own leadership skills and styles.
"As a leader, I think it's important to have everyone engaged, giving their opinions, because that's where teamwork happens," said Ramsey. "People need to feel part of the team, so they become part of the discussion and part of the solution."
In addition to serving as Secretary of Education and Workforce Development and in other high-level-state government positions, Ramsey's leadership resume includes university trustee, nationally-recognized college athletics director, small business owner, NFL veteran, and All-American quarterback at the University of Kentucky.
Ramsey shared with the students how his leadership experiences on the field translated to the professional world.
"When playing quarterback, if you're not two plays ahead, you're normally losing," said Ramsey. "I was always setting plays up for my team, so they understood what we were going to do down the line. This idea of seeing two plays ahead and communicating that to the team carried over into business and everything I've done."
The AIKCU Emerging Leaders Program is designed to expand leadership and career opportunities for junior students of color attending Kentucky's independent colleges and universities, with special emphasis on serving first-generation and low-income students.
The program incorporates regular leadership seminars like the session with Ramsey, career development, mentoring, and funded summer internships for selected students from all 18 AIKCU member institutions.
Click here for more Kentucky business news.