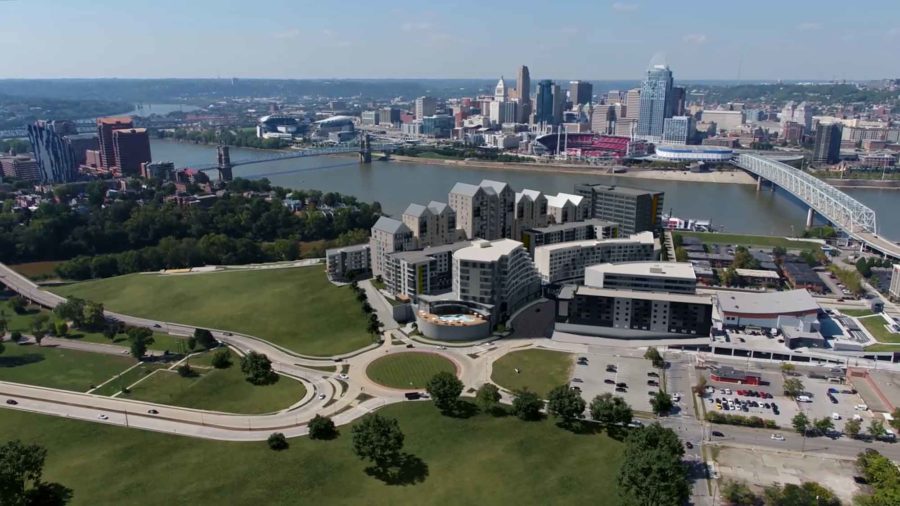 NEWPORT, Ky. — Corporex on Tuesday unveiled its newest renderings of Ovation, a $1 billion, 25-acre urban, mixed-use development covering nearly five city blocks at the confluence of the Ohio and Licking rivers. The finished project will include luxury riverfront residences, Class-A office space, restaurants, retail establishments, an indoor/outdoor concert venue and world-class hotel rooms.
See photo gallery below. 
Tom Banta, Corporex's chief real estate officer, and Heather Harris, senior vice president of sales and marketing, presented the new renderings at the company's newly opened, Ovation Experience Center, a showcase space for prospective residents, tenants and businesses to learn more about the community.
The newest drawings show off Ovation's luxury riverfront residences and offer a look at the impressive completed project, which is being constructed in phases. Presales have already begun for The Residences at Ovation, which includes 88 boardwalk residences with parking garage access, valet and vehicle detailing services, private elevator access, on-site security, refined floor-plan options, high-end appliances and unparalleled views from balconies located at the end of each home.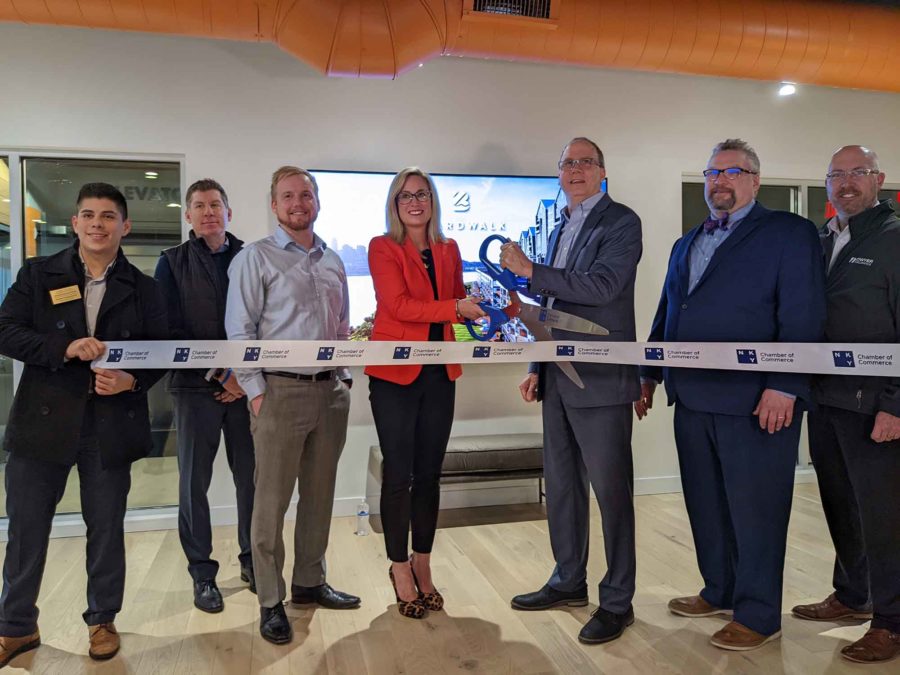 Nearly 300 apartments also are planned for the next phase of Ovation, upscale rental units with central access to everything both sides of the river have to offer and other amenities.
The first phase of Ovation, completed in December 2020, included the PromoWest Pavilion, a $40 million, 38,000-s.f concert venue that accommodates indoor audiences of up to 2,700 and an outdoor capacity for the summer shows of up to 7,000 concert-goers. The pavilion plaza will be linked to future phases of the development via a pedestrian walkway, which was installed in January 2021.
Construction of Phase II began in the spring of 2020. It includes an office building with more than 100,000 s.f. of Class A office space and plaza-level retail and entertainment spaces, and a 132-room Homewood Suites hotel with a rooftop bar. Hotel construction began earlier this year. It is being built on the 550-space parking platform in front of PromoWest Pavilion and next to the office building, the company said. The hotel will feature a plaza-level restaurant with an indoor bar and rooftop bar.
Phase III construction began in the summer of 2021 with the buildout of structured parking to support for-sale and for-rent residential units, retail, entertainment and the Ovation Membership Club. Construction of the residences has not yet begun.
Ovation will also have a freestanding, state-of-the-art health and wellness club with a full-service spa, group exercise classes, a heated elevated pool and more.
"Corporex and our founder, Bill Butler, has always had a passion for Northern Kentucky, his hometown," Banta said previously. "It's been his vision to revitalize and develop the community near the river, with Newport being a key part of that. Corporex purchased the land with the intention of creating a mixed-use development at a level this region has never seen before."
Tom Fromme, Newport city manager, has called the development one of the most significant in Newport's long history.
Butler previously told The Lane Report that he views Ovation as "one of the most important and defining undertakings that will affect the Northern Kentucky community and its economy for the next 100 years or more."
Corporex is a national development and investment firm based in Covington with a 56-year history of developing world-class hotels, offices, residential and mixed-used developments in 16 states across the U.S.
Click here for more Kentucky business news.