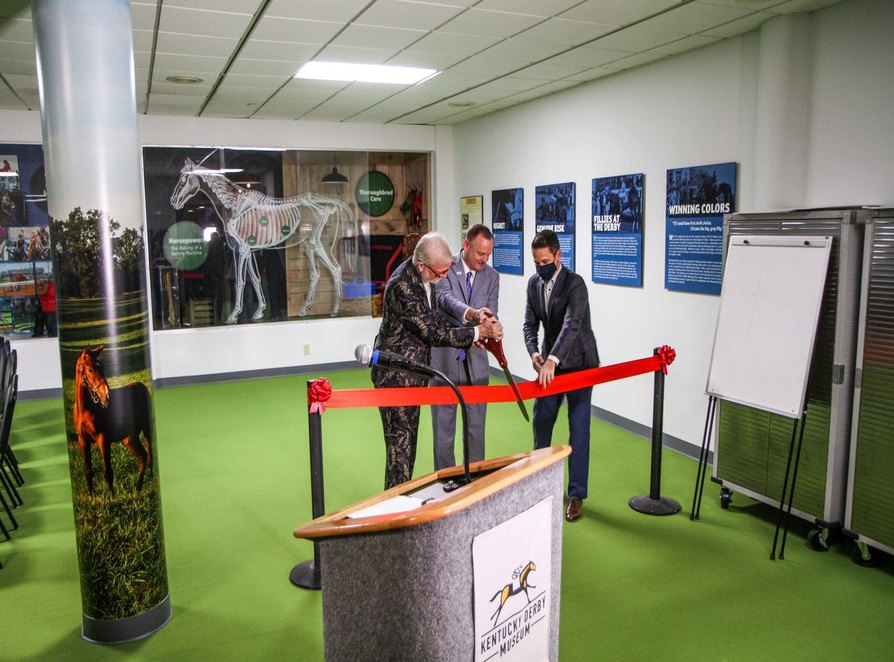 LOUISVILLE, Ky. — In a typical year, the Kentucky Derby Museum sees over 15,000 students on field trips. During those visits, students explore the grounds of world-famous Churchill Downs, interact with two floors of Museum exhibits, and participate in educational programming, tailored to meet Core Academic Standards. This programming takes place in a classroom-style setting with Kentucky Derby Museum Education staff.
Through the generous support of Hermitage Farm in Goshen, KY, the Museum's Education Center has gone through its first makeover in more than 20 years. Demolition started in November, and the 2200 square foot space went through a rebranding which included new paint, carpet, exhibit cases and more. "The Museum is grateful to Hermitage Farm for helping us create a fresh, vibrant space where thousands of children will learn about the Kentucky Derby for years to come," said Patrick Armstrong, President & CEO of the Museum. "Hermitage Farm is helping us fulfill our mission to engage, educate and excite everyone about the extraordinary experience that is the Kentucky Derby."
This isn't the first time Hermitage Farm and Kentucky Derby Museum have teamed up. The two launched the Hermitage Farm\Derby Museum Tour in April 2021. On this tour, guests can explore every aspect of a thoroughbred's life, from birth to racing at the Kentucky Derby. Also included in the tour is an incredible farm-fresh lunch and bourbon tasting. Additionally, the Museum features a Hermitage Farm replica exhibit which takes guests through the operational aspects of a working horse farm.
Why Study the Kentucky Derby?The Kentucky Derby is important to study as the oldest continuously held sporting event in the United States. It is a cultural event, drawing more than 160,000 people from around the world to Churchill Downs each May plus millions more people watching on television. It is Kentucky's signature event, replete with traditions, legends and icons. It is a major economic event, with a $217 million impact on the region. The Museum's Education Team also helps students understand the roles of everyone involved in the sport of Thoroughbred horse racing, including the horse, jockey, trainer, veterinarians, and grooms. The Education Team also teaches students about the Kentucky Derby's diverse history. From the African American jockeys who dominated the early days of the sport to female owners, trainers and jockeys of the last century, as well as the Hispanic, Asian and Middle Eastern populations who also contribute greatly to the Derby story.