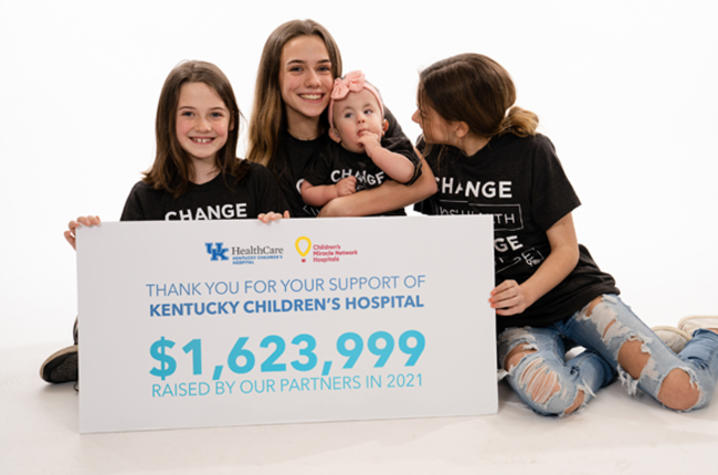 LEXINGTON, Ky. — Children's Miracle Network Hospitals (CMNH) partners raised a record $1,623,999 for Kentucky Children's Hospital (KCH) in 2021.
The amount is up almost 40% from last year's total.
CMNH Partner Speedway raised nearly $700,000 of the CMNH total, with one location in Corbin, Kentucky, raising more than any other Speedway store in the country.
"This is an unqualified testament of the generosity of Kentuckians to take care of our future generations," said Scottie B. Day, M.D., physician-in-chief at KCH. "Everything from spare pocket change to big corporate gifts go directly to our patients and allows them to get the best care close to home."
Funds raised by Children's Miracle Network partners support several projects at KCH, such as the construction of a dedicated pediatric dialysis unit, increasing the number of staff in the Developmental Pediatrics Clinic, and video gaming equipment for the Makenna David Pediatric Emergency Center located in the University of Kentucky Albert B. Chandler Hospital.
Forty-five partner companies support Kentucky Children's Hospital through CMNH campaigns, such as selling Miracle Balloons, hosting golf tournaments and other events, and asking customers to "round up" or donate change at their cash registers.
Funds raised by CMNH partners have transformed spaces in the hospital and pediatric specialty clinics, named for community partners including Speedway, Walmart and McLane. Those funds also supported new ambulance transports specially designed and equipped for pediatric patients.
Click here for more Kentucky business news.