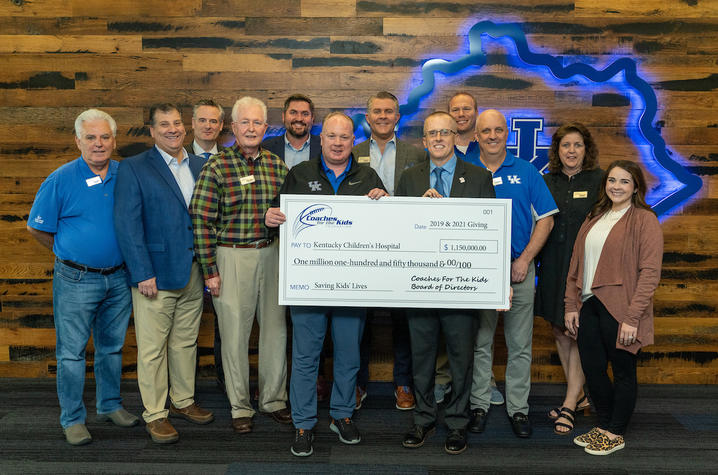 LEXINGTON, Ky.  — University of Kentucky Football coach Mark Stoops and the board of directors for the Coaches for the Kids Foundation presented a two-year, $1.15 million gift to Kentucky Children's Hospital (KCH). To date, the foundation has gifted over $2 million to KCH to fund several initiatives that support KCH patients, providers and staff.
This gift will fund three projects:
 Zero Suicide Academy is a training program for providers and staff to effectively identify individuals with suicide risk through screenings for patients at every visit. Training will begin in the late Spring of 2022 for all KCH clinical and non-clinical staff.
 LOCUS home monitoring technology for medically complex infants. This system is a bridge to health for infants discharged home between surgeries and at high risk for mortality.  For families that may not have access to medical facilities in their home county, LOCUS provides them with a safe, accurate and user-friendly technology to monitor their children at home between visits, drastically reducing fatalities among these patients.
In combination with generous gifts from other donors, the CFTK Foundation will support the purchase and operation of a mobile clinic to serve pediatric patients in rural areas of Kentucky. The mobile will have the capacity to see up to 1,100 patients per year in pediatric cardiology, hemophilia/blood disorders, high BMI and adolescent mental health. The unit can also serve as a primary pediatric service with the ability to complete routine well visits and sports and school physicals.
The production of the mobile clinic is underway and is expected to hit the road later in 2022.
Click here for more Kentucky business news.