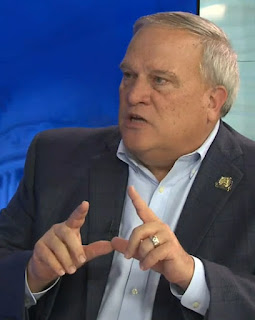 In a press conference Thursday, Kentucky Senate President Robert Stivers discussed recent vetoes by the governor, the status of bills that have yet to pass with two days remaining, and what's left to do when lawmakers return to Frankfort next week.
Stivers said he feels the 2022 session has been a success so far and touted the state's next two-year budget passed by the General Assembly, saying it is responsible, makes key investments, and noted the bipartisan support it received.
In the final days, Stivers stated there could be some clean-up language passed to the budget and the tax reform plan. When asked about those tax reforms, he emphasized reports from many economists that show people are moving to states with low-to-no income tax and he believes the new plan will help Kentucky move in that direction and grow its population.
The governor recently vetoed Senate Bill 1, which would allow a superintendent more authority to choose a principal and passed with language from another bill that gives a list of things that would be included in the curriculum, as well as Senate Bill 83 which deals with transgender student-athletes. Stivers said he believes the General Assembly will move to override both of those vetoes.
As for bills that have not seen the final passage, Stivers was asked about sports wagering and grey machine gaming bills and whether or not he sees those reaching the finish line. He said the sports wagering bill has a minimal economic impact and he sees It as a small item when considering Kentucky's options for entertainment and said grey machines remain an issue as they are unregulated and no tax revenues are being collected. He gave both bills a 50/50 shot of passing.
And in terms of medical marijuana, Stivers says because it does not have readings in the Senate it is very unlikely the bill legalizing it for medicinal purposes will pass this year but he does hope a bill sponsored by Rep. Moser authorizing a study on that use is finally passed.
Stivers said Senate leadership is meeting today and next week to prioritize action alongside the House for the final two days of the session. He stated the first day is likely going to be longer than the final day as they work to get everything passed.
Click here for more Kentucky business news.