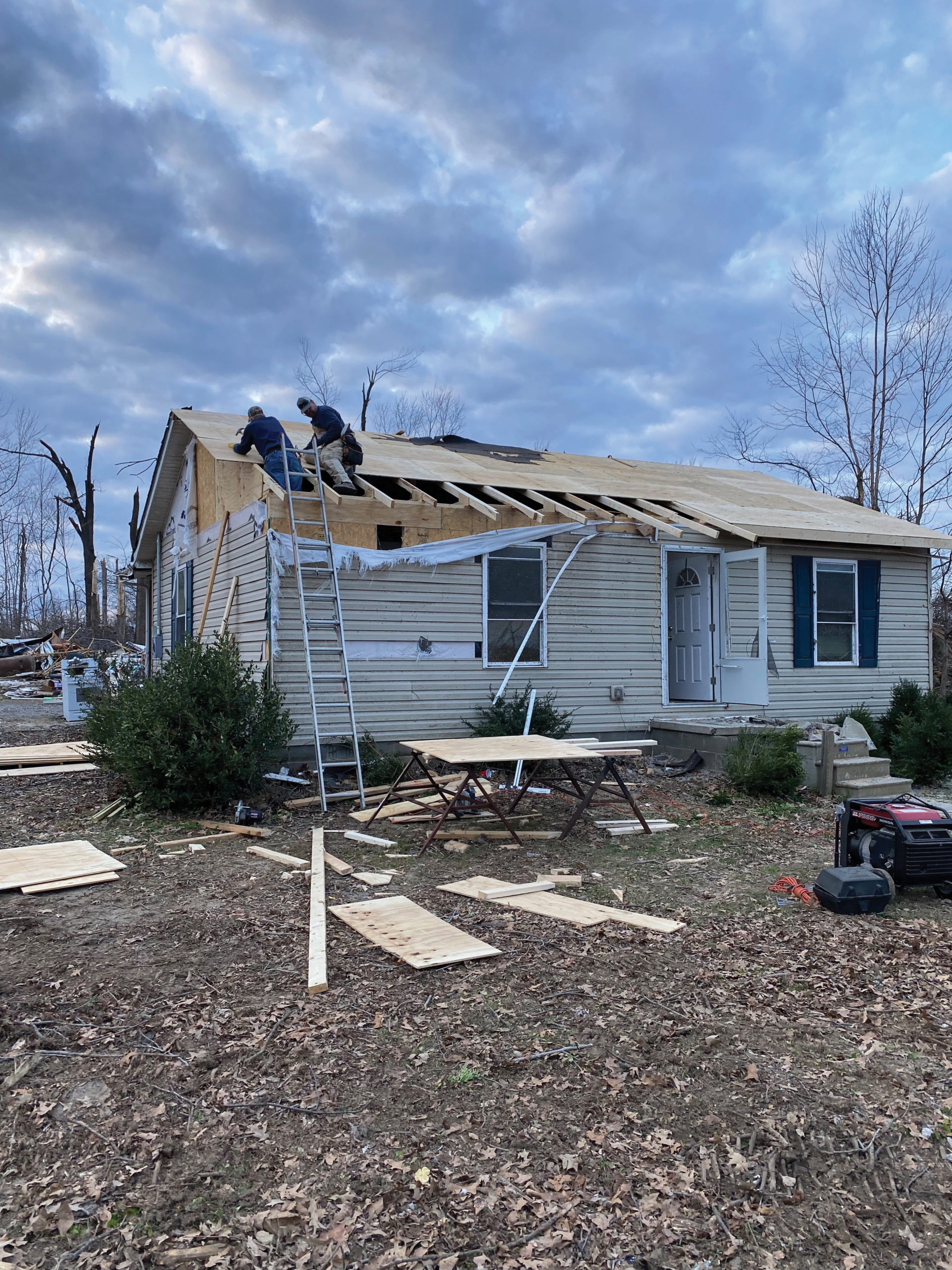 Kentucky Habitat for Humanity is building a plan to replace hundreds of the 2,000-plus homes destroyed or badly damaged when huge tornadoes tracked hundreds of miles across the commonwealth Dec. 10-11, killing at least 77, most in the western end of the commonwealth.
The effort is called Home Safe Home Kentucky and is helping coordinate millions of dollars in financial and in-kind aid. KyHFH has 33 chapters around the state, with 13 in Western Kentucky.
The late season tornado outbreak smashed downtown Mayfield in an unprecedented manner: 23 Kentuckians lost their lives in hardest-hit Graves County, where 513 homes were destroyed and 230 had major damage. Another 17 died in Hopkins County, where Dawson Spring sustained heavy damage—385 homes demolished and 152 with significant damage. Muhlenberg County lost 11 residents as 79 homes were destroyed and 29 took major damage. Warren County and Bowling Green had 16 lives lost with 153 homes destroyed and 172 sustaining major harm.
The nonprofit has a long history of helping improve lives and responding to disasters. Habitat volunteers have been there to help after tornadoes slammed West Liberty and Frenchburg, Ky., a decade ago and after Hurricane Katrina devastated Louisiana in 2005. After a 2004 tsunami hit India, Kentucky volunteers traveled to help rebuild a village of 171 homes.
KyHFH has set a target of having 20 new homes completed and 50% of critical repairs made by December 2022. By December 2023 the goal is 50 new homes with the Pennyrile HFH and 30 new homes with Bowling Green/Warren County HFH.
Part of the plan is a BG Build Strong homebuilding blitz in the Bowling Green area scheduled for July 23-30 to construct 10 two-story townhomes with three or four bedrooms in a location known as Durbin Estates. HFH Bowling Green/Warren County acquired 14 acres in the Durbin development in 2006.
HFH estimates that each of those townhomes will cost $120,000 beyond the value of the property. Many organizations, businesses and entities have donated toward the Kentucky home replacement project.
James Hardie Building Supplies is providing its fibered cement siding for 50 homes. The Kentucky Chamber of Commerce has pledged $250,000. Whirlpool Corp. has pledged $15,000 in appliances. The Auburn University School of Architecture, Planning and Landscape Architecture will provide services. Bright Springs Health Services has pledged help. An individual in Hawaii provided $10,000.
It is a big challenge to assess the need and determine families that have little other option and the willingness to work with Habitat. And then administering and coordinating the resources needed and generous individuals, businesses and organizations that want to provide.
Kentucky Habitat officials see a need for $27 million in cash, materials and services to build 100 completely new homes and make critical repairs to another 300. Long-term recovery will take years. They estimate it will take $12 million in cash contributions to achieve the goals in the current plan.
KyHFH has a disaster response veteran overseeing the massive project in Sara Coppler, the emergency response manager. A graduate of the Gray Construction operation, she has experience providing disaster response in Iraq, Afghanistan, Ecuador and to Indian Ocean communities wrecked by a massive tsunami a decade ago.
While Kentucky Habitat officials have received many donations and pledges of financial, material and service support, much more need remains. Interested individuals, companies, organizations, nonprofits and agencies can pursue the following contact information to connect and help address the housing needs of Kentuckians displaced and affected by the December tornado outbreak:
• Volunteer opportunities: email [email protected].
• Information on long-term recovery, how to donate cash and products: (502) 230-0657.
• To make donations to assist with long-term recovery: kyhabitat.org.
Click here for more Kentucky business news.