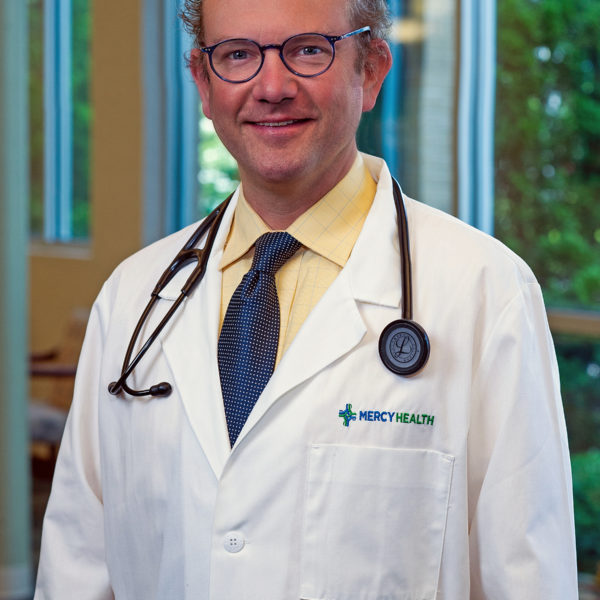 PADUCAH, Ky. — Electrophysiologist Thomas A. Williams Jr, MD, has joined Mercy Health Physicians and is the newest member of Ray and Kay Eckstein Heart and Vascular Institute team caring for patients at Mercy Health – Lourdes Hospital.
"I am an electrophysiologist with 15 years of experience and have performed hundreds of complex atrial ablations to treat a wide range of abnormal heart rhythms or arrhythmias. I specialize in the implantation of pacemakers, defibrillators, and biventricular devices and treat sudden loss of consciousness, palpitations and irregular heart rates," Williams said. "I look forward to serving our community with honesty, trust, and compassion."
Williams earned his bachelor's degree in biology from the University of Virginia in Charlottesville and his medical degree from East Tennessee State University, Quillen College of Medicine, in Johnson City. He completed his internship and internal medicine residency at Providence St. Vincent Medical Center in Portland, Ore.
Williams completed his cardiology fellowship at the University of Tennessee Health Science Center, College of Medicine, in Memphis, Tenn., and his electrophysiology fellowship at Montefiore Medical Center, Albert Einstein College of Medicine in Bronx, N.Y. He served as an assistant professor at SUNY Downstate medical center in Brooklyn, N.Y. He is board certified in internal medicine, cardiology, and electrophysiology.
Williams practices from Mercy Health — Heart and Vascular Institute, Cardiology, located at 1532 Lone Oak Road, Suite 415, Paducah, KY 42003. To learn more about his practice or make an appointment, please call (270) 442-0103.
To find a Mercy Health physician in your neighborhood or learn about the services provided at Mercy Health, please visit mercy.com.
Mercy Health — Paducah is part of Bon Secours Mercy Health, one of the 20 largest health systems in the United States and the fifth-largest Catholic health system in the country. The ministry's quality, compassionate care is provided by more than 60,000 associates serving communities in Florida, Kentucky, Maryland, New York, Ohio, South Carolina and Virginia, as well as throughout Ireland.  Mercy Health Lourdes Hospital is a 359 licensed-bed facility.
Click here for more Corporate Moves.