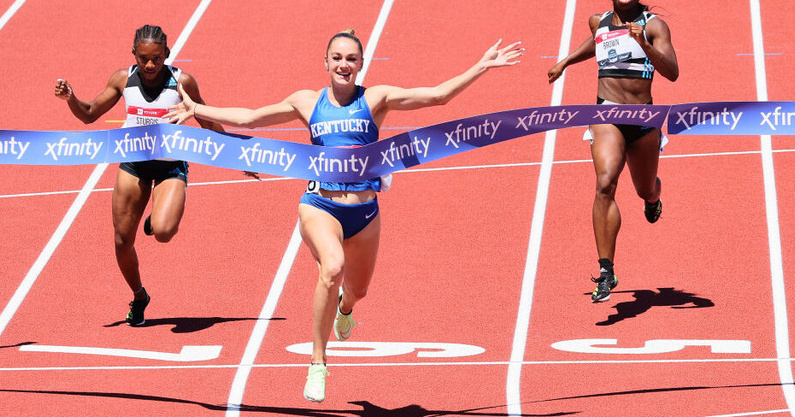 LEXINGTON, Ky. — Sprinter Abby Steiner shattered records and made national headlines while running for Kentucky Track and Field. It was her walk across the University of Kentucky Commencement stage in May, however, that helped fulfill the elite athlete's academic dreams. Her degree in kinesiology-exercise science set the stage for one of her long-term goals — a career as a physical therapist.
"I was looking for schools that were going to let me compete and offer the academic program that best suited me. Once I started learning more about the possibilities of a kinesiology-exercise science degree, it appealed to me. With my athletics background, I knew I would be able to do a little bit more than physical therapy if I wanted to, such as training or coaching. I felt that with the kinesiology-exercise science major, I had a broad range of classes and got to explore those careers," she said.
While there is an element of mystery behind what it takes to be among the world's most elite athletes, Steiner was able to peel back some of the layers by studying the mechanisms of human movement, exercise, and physical activity.
"Faculty in our kinesiology-exercise science major use a combination of science-based courses in health and wellness and performance-based activity courses to equip students with skills to support many different types of fitness and clinical careers," said UK College of Education Department of Kinesiology and Health Promotion Chair Heather Erwin, Ph.D.
As a child growing up in Dublin, Ohio, Steiner's career goals started on the soccer field. She took to the sport quickly. By age eight, she was on a traveling team and dreaming of one day going pro. On the last day of tryouts, the coaches would set up races as a fun way to finish. Steiner won three years in a row.
"OK, maybe I'm a little bit fast," she recalls thinking.
Steiner went to school with the same group of kids from kindergarten through high school in Dublin, a suburb of Columbus. The youngest of three (her older siblings Riley and Jack are twins), Steiner and her family continue to feel the support of her hometown and hear from friends and teachers from her early years.
Steiner first experienced that level of community support when she learned life can change in an instant. Just as she was starting to make a name for herself in track, her sister Riley received a surprising diagnosis — T-cell Acute Lymphoblastic Leukemia.
Seeing her sister faced with sitting out her senior season of high school lacrosse helped Steiner push herself even harder. Suddenly, each day of good health seemed like a gift. For the family, Steiner's running wins were a welcome reprieve during the storm of cancer treatments.
Later, however, Steiner experienced a setback of her own, tearing her ACL on the soccer field. Her future career goals came into focus during the recovery.
"I spent so much time with so many amazing physical therapists who used to be elite athletes and who made that transition into health care. That's what inspired me to go on to Kentucky and pursue my degree in kinesiology so I could, one day, when my career was over, give back in the same way those people gave back to me. I think they were a really big reason why I was able to make the recovery that I did just because they understood what it was like to be in my shoes. That was the turning point from those little girl dreams to what I really wanted to be doing."
By the time Steiner finished high school, her sister's cancer was in remission and she had fully rehabbed her ACL injury, earning All-America honors four times at New Balance Nationals and becoming the Ohio state record holder in the 60m, 200m (indoor and outdoor) and 100m and a16-time state champion.
With a lengthy list of records, championships and accolades during four years with Kentucky Track & Field, fans will see Steiner's name on banners for decades to come.
She is the fastest-ever American in the indoor 200m, running it in February of her senior year at an astonishing 22.09. Only one person in the world has ever run the indoor 200m faster — Jamaican runner Merlene Ottey's finish in 1993 at 21.87, just a .22 second difference.
Amid competing, Steiner's academic dreams were being realized, too, albeit more quietly. Back in the UK Seaton Center just days after a record-setting weekend in Oregon at the NCAA outdoor championship, Steiner reflected on the courses she took in the UK College of Education Department of Kinesiology and Health Promotion.
"One of my favorite classes I took here was actually CPR and first aid. I learned so much real-life knowledge that could be used at any moment," said Steiner, who earned SEC Indoor & Outdoor Scholar-Athlete of the Year awards and CoSIDA All-American and All-District recognition for her performance in the classroom. "I also really enjoyed exercise physiology. That was one of my harder classes, but there was such a wide range of topics, as well as the exercise test classes where I got to learn how to read an EKG and take blood pressure. It was stuff I knew would serve me very well in clinical practice once I made that transition."
Skills like self-motivation, time management, mindfulness and prioritization of efforts translate across the performance spectrum, said Marc Cormier, Ph.D., an associate professor in Kinesiology and Health Promotion who also serves as director of Counseling and Performance Psychology for UK Athletics.
"The majority of student-athletes at UK do very well academically, in fact, that's a trend I've noticed since my arrival here in 2014," said Cormier. "The skills that help contribute to elite athletic performances can also be used in the classroom, or vice-versa. What makes Abby so impressive is her sustained academic and athletic achievements at such a high level, throughout her career. It's remarkable what she's been able to do and how she's done it."
Steiner said the path to academic success is like being on a relay team.
"Everyone must do their individual job. I had to put in my time studying, doing homework and other steps needed to do my part. But I was surrounded by people to help if I'm not able to do that. I had my study buddies, my professors and other resources there to carry me through," she said.
Through trial and error as a freshman (she can now laugh about the wake-up call she got early on when she only studied for a biology test the night prior), Steiner developed a system to ensure her academic success. She used the syllabus for each course to map her semester and studied new information as it came in.
It helped that topics covered in her major — such as nutrition, recovery and basic strength and conditioning movements — were applicable to what she was doing as an athlete.
"You hear distance runners eat pasta all the time before races and that was what I did, but learning about how different energy systems work and what fuels those energy systems, was really cool to learn. I also got to learn about strength and conditioning cycles. It was kind of fun to compare what I was learning to what I was actually doing and see how it matched up," she said.
Steiner has been admitted to physical therapy school at UK, but is deferring for now. She has a professional running career to pursue. When she comes back to the classroom, she will use the skills learned as an undergraduate on her way to earning a doctorate in physical therapy.
"The great thing I saw from my professors here at Kentucky was the structure of their classes and syllabus," she said. "They really give you the materials and schedule to set yourself up for success in class. So, I think it's just trusting your professors and keeping that discipline and following what they set up. They really want to see you succeed here."
Click here for more Kentucky business news.