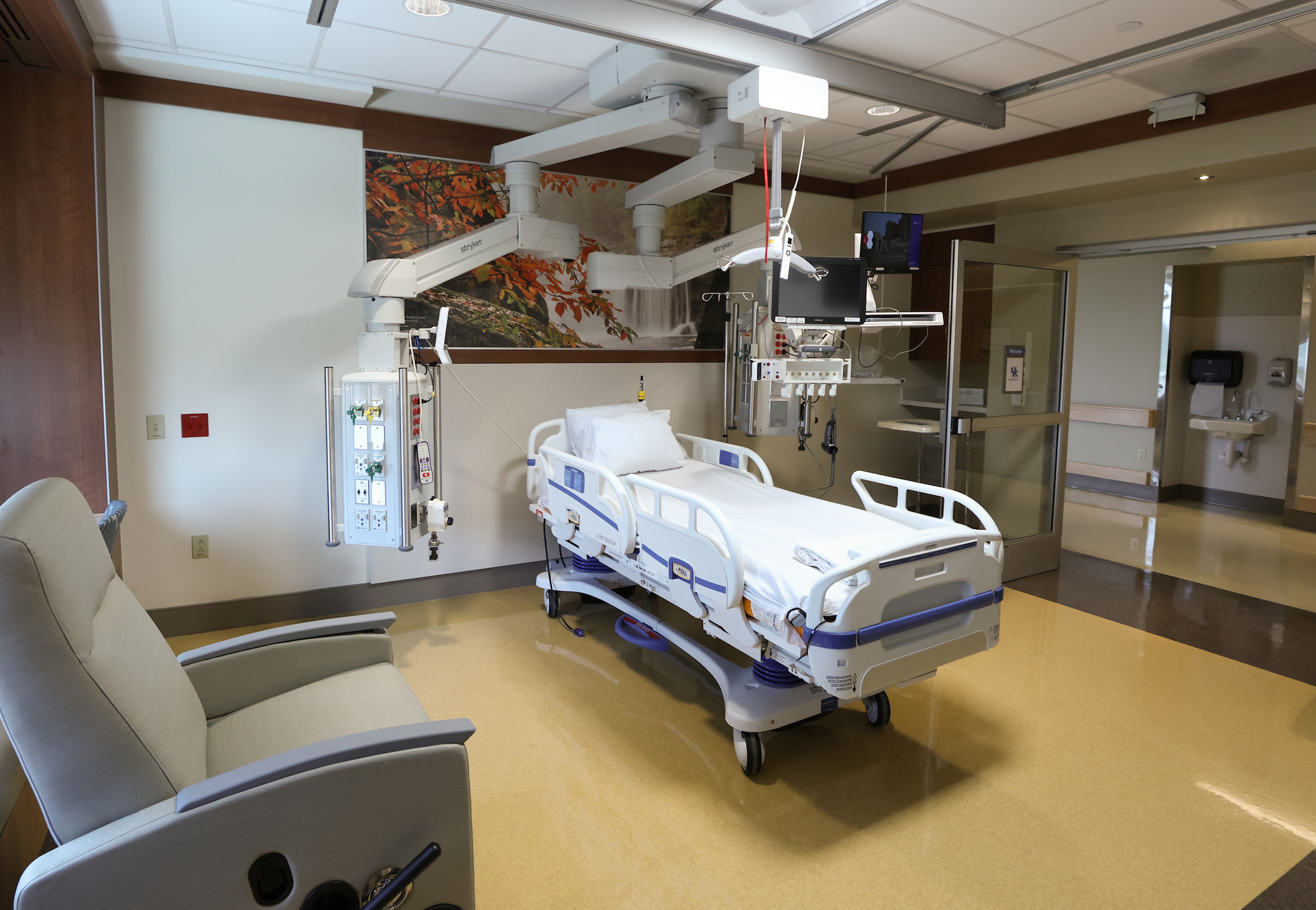 LEXINGTON, Ky. — UK HealthCare's Kentucky Neuroscience Institute (KNI) officially unveiled its new inpatient unit on the fifth floor of the Albert B. Chandler Hospital Pavilion A on Thursday. Patients will begin occupying the floor this weekend.
The new fifth floor puts units focused on providing comprehensive care for patients with complex neurological disorders together in one centralized location. The new floor spans across Pavilion A's Tower 100 and Tower 200 and covers more than 66,000 square feet. The space houses 32 progressive care rooms, 20 neurologic intensive care (NICU) rooms, and a 12-room epilepsy monitoring unit (EMU) – which will make UK home to the largest EMU in the state.
The EMU will utilize state-of-the-art continuous video-electroencephalogram (EEG) monitoring technology to evaluate, diagnose and treat patients with possible epilepsy. An EMU that is incorporated and adjacent to the NICU creates an ideal flow for complex neurological patients.
The unique design and layout of the floor will bring staff and providers to the patient's bedside rather than the other way around. In addition to 64 in-patient rooms, the new fifth floor also houses its own physical/occupational therapy gym and a radiology suite with a portable CT scanner that can go directly to a patient's bedside. Both features will greatly enhance a patient's treatment by having those services available without having to travel to a different area of UK HealthCare.
The new inpatient floor also allows easy access to UK HealthCare's new neuro-interventional Radiology (NIR) procedure space. The NIR space contains 43 prep/recovery beds with multiple new angio suites, including two biplane suites, and an intraprocedural CT for complex cases.
KNI offers the most advanced and robust set of specialty care in the state as the only hospital in the area maintaining the standards required to receive the highest accreditations available in all of the following areas of care: stroke, epilepsy, ALS and multiple sclerosis. No matter the condition, UK HealthCare is determined to help patients overcome it while also meeting the needs of their loved ones.
In addition to a focus on patient care, the new fifth floor contains kitchenette spaces for families and visitors staying for long periods of time to offer convenient and more affordable meal options. There is also a dedicated lactation space and the lounge areas on the floor were created to be warm, inviting, and comfortable.
Click here for more Kentucky business news.