FRANKFORT, Ky. — Child care and workforce participation were among many of the issues the Kentucky General Assembly made efforts to address during the last legislative session, and that work continues during the interim.
The Early Childhood Education Task Force heard testimony Tuesday from the Kentucky Chamber of Commerce, the U.S. Chamber of Commerce Foundation, the Kentucky Cabinet for Health and Family Services' Department for Community Based Services (DCBS), Toyota Motor Manufacturing Kentucky Inc. and the Rockcastle Regional Hospital and Respiratory Care Center.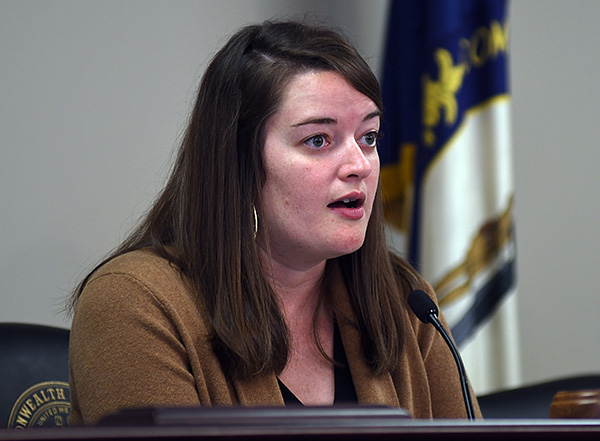 DCBS representatives gave lawmakers an update on the implementation of House Bill 499 from the 2022 legislative session. Task Force Co-Chair Rep. Samara Heavrin, R-Leitchfield, was the primary sponsor of the bill.
HB 499 creates a public and private partnership pilot program that incentivizes employers to contribute to the child care cost of its employees. The program will officially begin accepting applications on April 2, 2023.
Charles Aull, senior policy analyst with the Kentucky Chamber of Commerce, shared statistics that show 45,000 to 50,000 Kentuckians are not able to work due to child care.
"If we were to take that 45,000 people and remove those barriers for them and then bring them into the workforce, that could increase our labor force participation rate by more than a full point," Aull said. "To put that into context, it is very, very difficult to move a full point in your labor force participation, so being able to do that would be extraordinary."
According to Aull, there are approximately 180,000 jobs available in Kentucky and only 70,000 to 80,000 Kentuckians who are unemployed and actively seeking work. In a 2021 report from the Kentucky Chamber, child care was named one of the top root causes of Kentucky's workforce crisis, with the cumulative economic impact in Kentucky being between $2.12 billion and $3.23 billion.
In addition to ensuring the success of HB 499, Aull suggested the Kentucky General Assembly should consider stabilizing the child care assistance program, studying local zoning ordinances, funding the early childhood development scholarship and more.
Task Force Co-chair Sen. Danny Carroll, R-Benton, said he believes the Chamber's proposals are "excellent."
Toyota Motor Manufacturing in Georgetown and Rockcastle Regional Hospital and Respiratory Care Center in Rockcastle County are among the businesses in Kentucky already offering child care at a discounted rate to its employees.
Rep. Josie Raymond, D-Louisville, asked Sandy Nott, Toyota Kentucky's vice president of administration if Toyota has to invest additional money to cover the cost of its childcare centers, and how Toyota measures its return on investment.
Nott said Toyota does contribute to covering the cost of its child care program.
"Just having that child care development center, we believe, is an advantage for us when it comes to hiring and retaining," Nott added.
Carroll noted that cost is a major issue when it comes to child care and not just for families.
"The losses … I think that is at the base of this task force and it is at the base of the structure issue that we have with child care in the commonwealth and everywhere. It's just not sustainable," he said.
The Early Childhood Education Task Force is a special committee of eight lawmakers who study and review early childhood caregiving along with educational structures and operations in Kentucky. The next meeting is currently scheduled for Aug. 24.
For more information on the task force and the interim calendar, visit legislature.ky.gov.
The Legislative Research Commission operates as the administrative and research arm of the General Assembly.
Click here for more Kentucky business news.