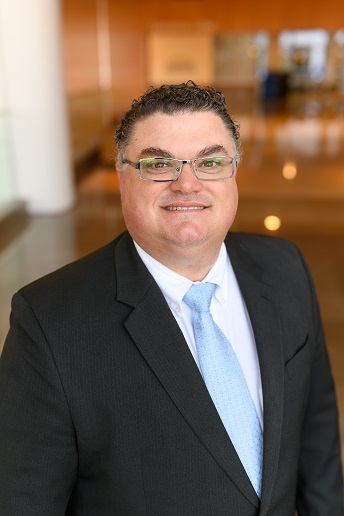 LEXINGTON, Ky. — Roberto Cardarelli, DO, MHA, MPH, FAAFP, has been named chief medical officer (CMO) for Saint Joseph Hospital and Saint Joseph East. He joined the hospitals in that role today. Dr. Cardarelli comes to CHI Saint Joseph Health from UK HealthCare, where he served as chief medical officer for Ambulatory Services, and as professor and chair for the Department of Family & Community Medicine for the University of Kentucky College of Medicine.
Dr. Cardarelli served as UK's first associate ambulatory CMO for Population Health and was chair of the UK Family & Community Medicine, which rose to the Top 20 status in research rankings and increased patient access during his leadership. Prior to coming to Kentucky, Dr. Cardarelli held numerous past leadership positions in clinical care, research, health administration, and academics in Texas.
"Most of my career has been splitting my time among research, education and patient care," Dr. Cardarelli said. "I am excited to give 100 percent of my focus on high-quality patient care and joining the great teams at Saint Joseph Hospital and Saint Joseph East, working with everyone toward the common mission of being the provider of choice in the region."
Dr. Cardarelli received his doctor of osteopathy and master of public health degrees from University of North Texas Health Science Center at Fort Worth and his master in health administration from the University of Cincinnati. Dr. Cardarelli completed a residency in Family Medicine and a fellowship in Faculty Development at Baylor College of Medicine, Houston. Dr. Cardarelli has been funded by the NIH and numerous federal and nonfederal organizations. He was the founder of the North Texas Primary Care Practice-based research Network (NorTex) and immediate past director of the Kentucky Ambulatory Practice-based Research Network (KAN) that focused on helping primary care clinics in implementing QI models to improve care delivery.
Originally from San Francisco, Dr. Cardarelli has been in Lexington since 2013. His wife, Kathryn Cardarelli, Ph.D., is Senior Associate Provost for Administration and Academic Affairs at the University of Kentucky. Dr. Cardarelli enjoys restoring classic cars with his sons, Cristiano and Luciano, and displaying their work at local car shows.
Click here for more Corporate Moves.