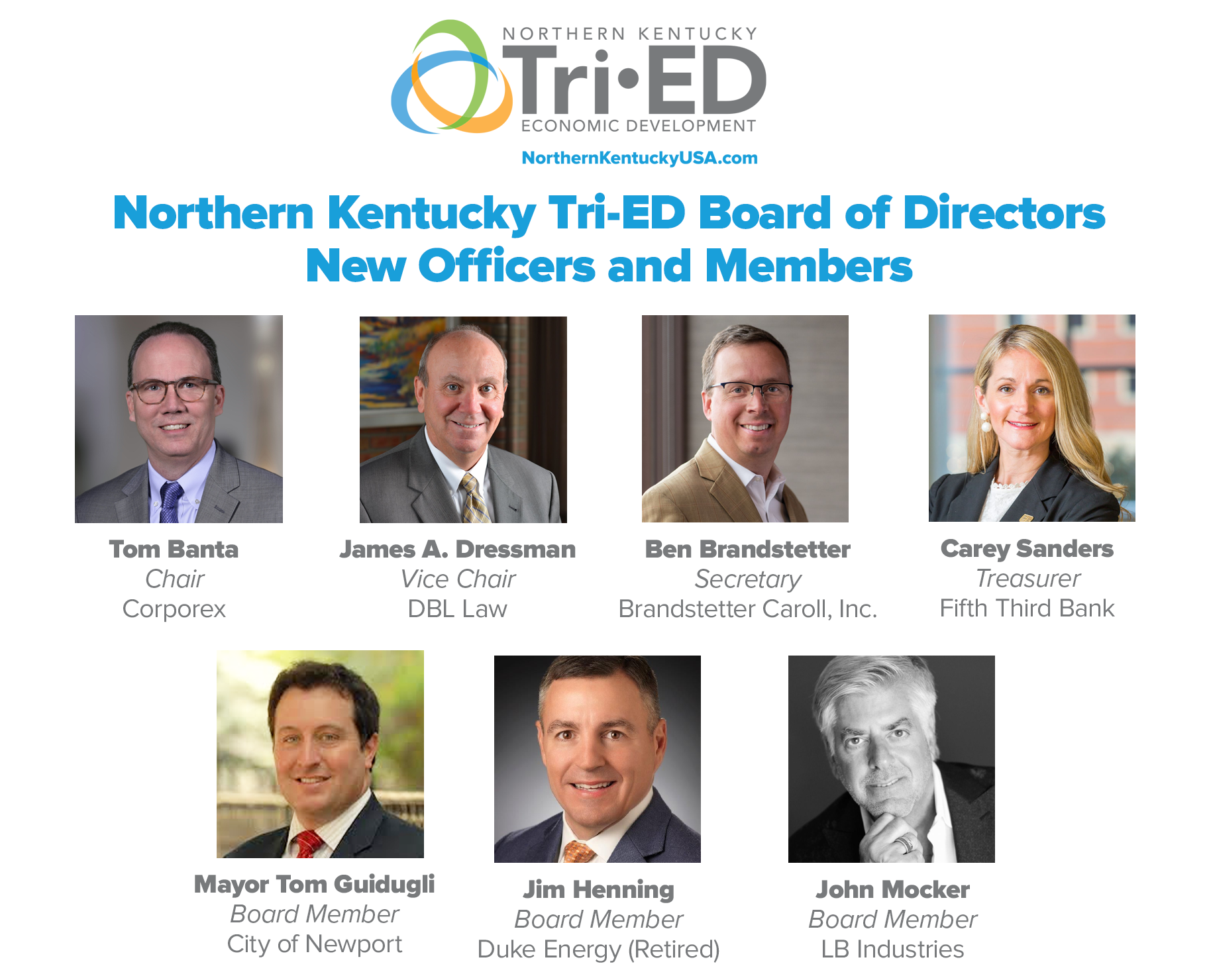 FT. MITCHELL, Ky. — Northern Kentucky Tri-County Economic Development Corporation (Tri-ED) announced that three new business and community leaders have joined the Board of Directors and three members have been named to new officer positions.    
Changes to the Board's officer slate include DBL Law Partner Jim Dressman moving from the position of Treasurer to Vice Chair, Brandstetter Carroll, Inc. President Ben Brandstetter taking the position of Secretary, and Fifth Third Bank Senior Vice President Carey Sanders taking the position of Treasurer. Tom Banta, Chief Real Estate Officer at Corporex Companies, LLC, will remain as Board Chair.   
Newport Mayor Tom Guidugli, Jim Henning, and John Mocker are joining the board. Henning and Mocker were both appointed by Boone County Judge/Executive Gary Moore and the Fiscal Court.   
Guidugli was elected Newport Mayor in 2021 after serving as vice mayor from 2011-2014 and 2017-2018. He is a graduate of Northern Kentucky University and works as a business representative for the International Alliance of Theatrical Stage Employees (IATSE) Local 5. Guidugli has served as the Performing Arts Technical Scholarship fund president for more than 12 years and holds state-wide positions within IATSE. Guidugli and his wife live with their two children in the East Row Historic District of Newport.   
Henning is a recent Duke Energy retiree who previously served as President of Duke Energy Ohio and Kentucky. He has considerable community board experience as a founding board member and Chair of OneNKY Alliance, founding executive board member and Chair of REDI Cincinnati, board member of Cincinnati USA Regional Chamber, board member and 2018 campaign chair of ArtsWave, board member and treasurer at Boone County Public Library, and board member and educational volunteer at Dinsmore Homestead in Burlington, Ky. Henning and his family have lived in Florence, Ky., for more than 17 years.   
Mocker is vice president and partner at LB Industries, Inc. in Covington and previously served on Tri-ED's Board. He is a past president and current director ex-officio of the National Association of Steel Pipe Distributors, has served in multiple capacities on the Kenton County Airport Board, is a past president of the board of directors of the Children's Home of Northern Kentucky, and has held board positions with many other organizations. He is a graduate of The Ohio State University, a member of St. Timothy Parish in Union, and has lived in Boone County since 1996.  
Guidugli's term began July 1, 2022, when Whalen's term on behalf of Boone County ended. Mocker and Henning's terms also began in July 2022.   
Tri-ED would also like to thank Board members who are staying on the Board but leaving their officer positions. Cincinnati/Northern Kentucky International Airport (CVG) CEO Candace McGraw served as Secretary and KLH Engineers CEO Bob Heil served as Vice Chair.    
Tri-ED is governed by a twenty-three-member Board of directors, comprised of business and community leaders who are unpaid volunteers.    
Click here for more Kentucky business news.