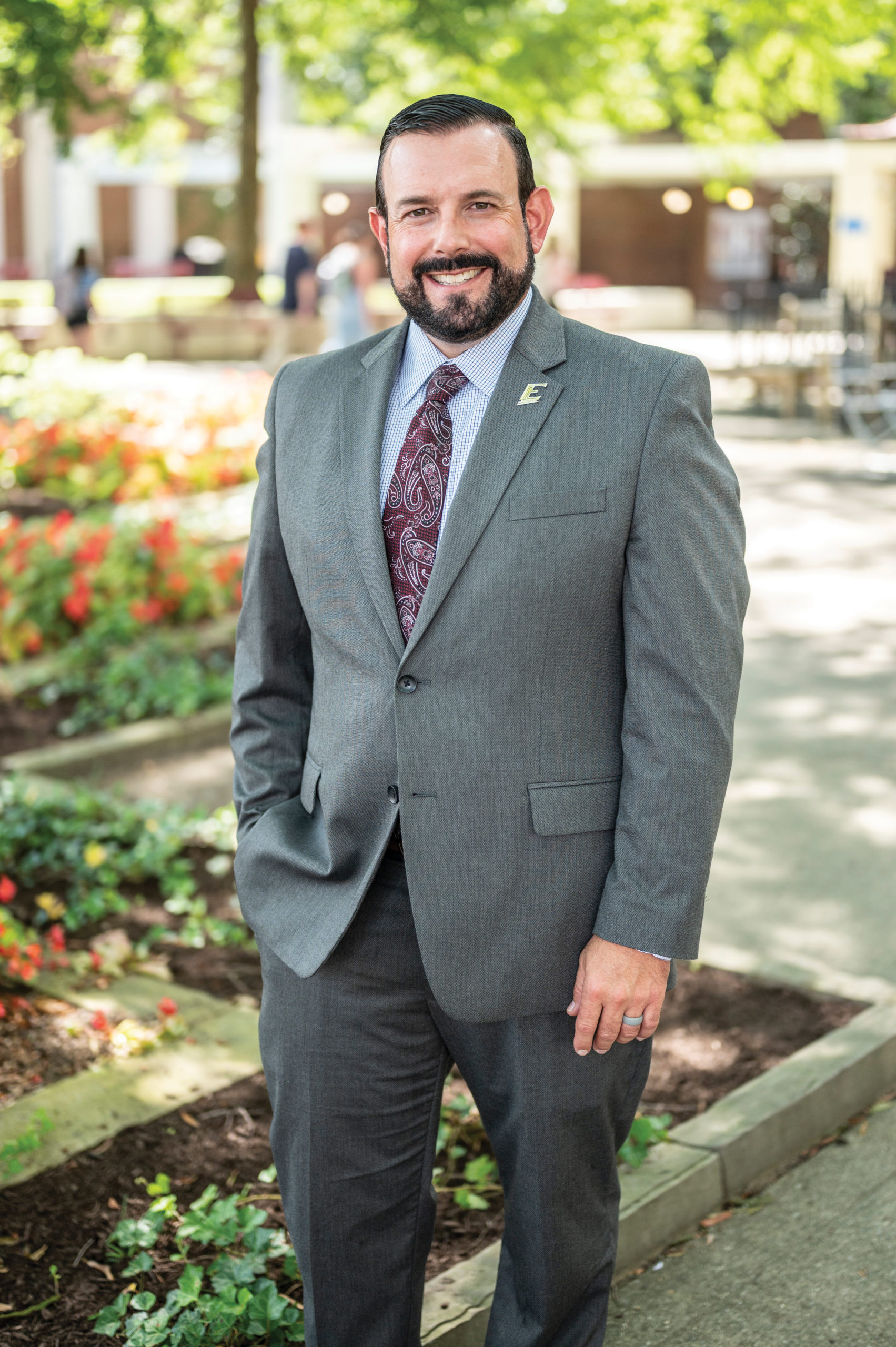 Richmond
Students: 13,984
Number of degree programs: Over 100 on-campus and online
How long in position: Two years (also served as interim president from December 2019 to August 2020)
Education and professional experience:
• Ph.D., educational leadership and policy studies—Eastern Kentucky University
• MBA—University of Kentucky Gatton College of Business and Economics
• Bachelor of Arts, public relations—Eastern Kentucky University
Prior to being named as president, McFaddin served as EKU chief operations officer with key areas including student life, athletics, regional engagement, communications and brand management, and the university's legislative and policy agenda at all government levels. Before joining EKU, he held leadership posts with AT&T for nearly 15 years.
Key accomplishments as president: I became interim president as the coronavirus pandemic was unfolding. We increased accessibility to a four-year degree by offering free textbooks and course materials to all undergraduates, created a new scholarship model, and removed the requirement of standardized testing and application fee. We are among the top-performing institutions for diversity, equity and inclusion outcomes on the latest Kentucky Council on Postsecondary Education scorecard and have been designated as a Top 3 Military Friendly University. We are experiencing double-digit new-student enrollment growth in the 2022-23 academic year.
Define success for a college/university president: My achievement comes through the success of the people I get to serve as president: the faculty, staff and the students. Keep your eye on finances, compliance, academic programs, athletics, etc., but if we help people become a better version of themselves, we are doing the job the right way.
Why did you enter education? As a student at EKU, I landed an internship at Bellsouth two years prior to graduating. This turned into a full-time job upon graduation. My early career focused on regulatory policy and legislative work at the state and federal levels. This shaped who I am and how I lead. After almost 13 years I realized there was a passion that wasn't being fulfilled. My first step into higher education was as an adjunct professor. I was excited every evening I had a night class. It was a privilege to get to help students see what was possible. I had no doubt that higher education was what I was passionate about.
Who is your career mentor/hero/role model? My hard-working parents set a standard for excellence early. Personal responsibility, hard work, family first and doing the right thing the right way is what was expected in everything. It is on that foundation everything I have become is built on. My greatest confidant, supporter and partner is my amazing wife and proud EKU alum, Melissa. The personal sacrifices and teamwork needed to effectively serve as a university president require immeasurable commitment from those you care about most, who stand with you every day, no matter the challenges ahead. She loves EKU as much as I do, brings her professional expertise to the service of the university, always makes sure our family is grounded and living life to the fullest, and is my greatest blessing.
Who, past or present, would you like to have dinner with? Dr. Robert Martin, the university's seventh president, who served from 1960 to 1976. Everyone talks about Martin with such passion. He pushed for the change to get to where we are today and was instrumental to the success of EKU. I would like to hear about what was behind the curtain and learn from him as a transformational leader.
What advice would you give your successor? No matter how smart or well-intentioned you are, if you don't put the work in, you won't get the results. That means building into people, into students, into processes, into the region. You must leave it better than you found it. If that's not something you yearn for, that gets your blood pumping and drives you, this job can be very hard and very lonely.
Click here for more Kentucky business news.