LOUISVILLE, Ky.
— In recognition of Breast Cancer Awareness Month, the Kentucky Cancer Program is hosting a series of events throughout October to increase access to screening tests and to ensure women across Kentucky are educated about breast cancer. For more information on any of these events, contact: Pam Temple-Jennings, at 502-852-6318,
[email protected]
.
Mobile Mammography Screenings:
Women aged 40 and over are encouraged to schedule a mammogram at one of the mobile mammography unit stops. Advance appointments are required. Proper ID and insurance card are required. All insurance is filed with University of Louisville Hospital. Financial assistance is available for uninsured patients who qualify.
Saturday, Oct. 1 – Redeemer Lutheran Church, 3640 River Park Dr., Louisville

Thursday, Oct. 6 – Christian County Health Department, 1700 Canton St., Hopkinsville, Ky.

Saturday, Oct. 15 – First Baptist Church, Jeffersontown, 10600 Watterson Trail, Louisville

Monday, Oct. 17 – Churchill Downs backside, Christ Chapel (employees and family only)

Tuesday, Oct. 18 – Centre on Main, 425 S. Main St. Leitchfield, Ky.

Wednesday, Oct. 19 – Oxmoor Center, 7900 Shelbyville Rd., Louisville

Saturday, Oct. 22 – Think Pink 5K run/walk for Breast Cancer Awareness at James Beville Park Pavilion, 810 Nature Trail, Leitchfield, Ky.

Wednesday, Oct. 26 – Sun Valley Community Center, 6505 Bethany Lane, Louisville
All events are 8:30 a.m. – 3:30 p.m. Schedule an appointment by calling Kentucky Cancer Program at 502-852-6318.
All COVID guidelines were followed. If you have tested positive for COVID or been in contact with someone testing positive for COVID, you are not eligible the day of the screening.
Mothers, daughters, sisters, friends and ladies of all ages are invited to a fun tea party honoring the memory of Harriett B. Porter, who loved to bring people together to socialize and share information to help others. The event honors Porter whose husband, Woodford Ray Porter established the Harriet Bibb Porter Cancer Education and Prevention Endowment at the UofL Health – Brown Cancer Center. The tea party will include special guests, artists Elmer Lucille Allen and Sandra Charles, refreshments, a breast cancer update and special gifts.
Saturday, Oct. 8, 1:30-2:30 p.m., 1720 W. Broadway, Suite 205, Louisville
Reservations: Call the Kentucky Cancer Program, 502-852-6318.
Sista Strut 3K Breast Cancer Awareness Walk: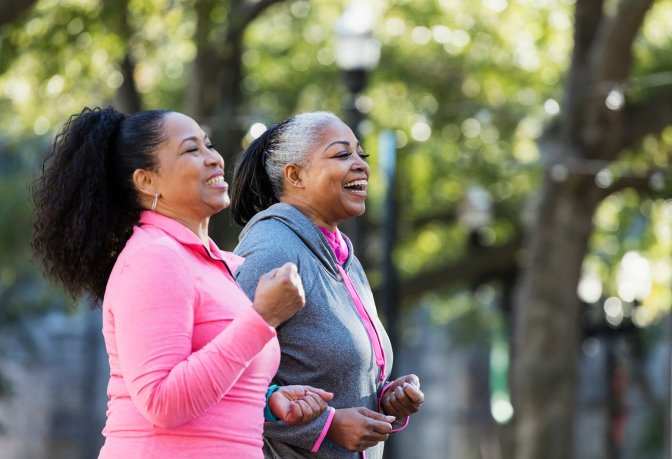 Sista Strut's mission is to increase awareness of breast cancer and provide information on community resources and funding to area programs. A portion of the proceeds from the Sista Strut 3k will benefit Kentucky African Americans Against Cancer. Sponsored by REAL 93.1 the Beat of Louisville and Kentucky Association of Health Plans and presented by Baptist Health Cancer Care and Humana Health Horizons in Kentucky.
Saturday, Oct. 15, 8 a.m. – noon.
3029 W. Muhammad Ali Blvd., Louisville

Horses and Hope was started in 2008 by former First Lady Jane Beshear and the Kentucky Cancer Program, University of Louisville, with the support of the Pink Stable, a committee of Kentucky horse owners, riders, trainers, farm owners, jockeys, and others. The mission is to increase breast cancer awareness, education, screening and treatment referral among Kentucky's signature horse industry workers and their families, many of who are uninsured and underserved. Special events are held throughout the state to honor breast cancer survivors and to raise funds for Horses and Hope. Friends of Horses and Hope including Churchill Downs, Keeneland, the North American Championship Rodeo and others who continue to support programs. Today, Horse and Hope has been expanded to offer cancer prevention and early detection programs along with screening and treatment referrals for many different cancers through the mobile van.
Saturday, Oct. 8 – Twisted Pink Tennis Tournament at Ruff Park, 831 North Dr., Hopkinsville

Friday, Oct. 14 – Pink Night in the Park at Calvert City Memorial Park, 1072 5th Ave. SE, Calvert City

Thursday, Oct. 20 – Breast Cancer Screening & Awareness Event at Deaconess Henderson Hospital, 1305 N. Elm St., Henderson

Friday, Oct. 21 – Horses and Hope at Ohio County HealthCare, 1211 Old Main St., Hartford

Monday, Oct. 24 – Breast Cancer Survivors' Luncheon at Texas Roadhouse, 2900 James Sanders Boulevard, Paducah (RSVP Required)

Tuesday, Oct. 25 – Western Kentucky Diagnostic Imaging, 1635 Scottsville Rd., Bowling
Click here for more Kentucky business news.