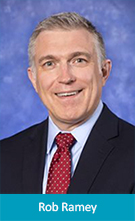 ELIZABETHTOWN, Ky. — Robert Ramey has been selected as president of Baptist Health Hardin. His first day on the job will be Jan. 1, 2023.
The 52-year-old will fill the shoes of Dennis Johnson, who departed earlier this month to lead a North Carolina hospital.
Ramey, whose history with Baptist Health dates back more than 25 years, has been president at Baptist Health's 410-bed Madisonville hospital since 2015. That hospital – now known as Baptist Health Deaconess Madisonville – has been jointly operated with Deaconess Health System since September 2021.
Work is now underway on a $225 million outpatient medical pavilion at Baptist Health Hardin that will house a new comprehensive cancer center; 12 new surgical suites, including a hybrid operating room; three new cardiac cath labs; and a multidisciplinary outpatient medical office building. The facility is scheduled to open in 2024.
During his time at Madisonville, Ramey was deeply involved in forging the partnership between Baptist Health and Deaconess Health for joint operation of the hospital, including garnering more than $50 million in initial capital investments such as surgery enhancement, emergency room renovations, cancer center upgrades and physician recruitment. As president of the joint venture, he established a new organizational framework, blending local leadership with support functions from both systems to increase efficiencies.
He created physician, management and staff councils to improve the quality and safety of care for all patients, reorganized physician recruitment to develop a robust succession and growth plan, and expanded services, including the addition of surgical robotics, tele-intensivists in the Critical Care unit, interventional radiology and regional sleep clinics.
For the six years before that, Ramey was president of Baptist Health Madisonville, where he partnered with employed and independent providers to offer a variety of advanced services in the rural market. He fostered a learning culture through multiple medical education initiatives, including a family medicine residency program and a certified registered nurse anesthetist program with Murray State University and the University of Louisville Trover Medical Campus.
In addition, two urgent care centers were added and primary care locations and specialty clinics expanded across the region. New service additions included inpatient behavioral health, wound treatment, palliative care, a 35-bed long-term acute care hospital joint venture, tele-stroke care, and the recruitment of primary and specialty providers.
Ramey earned a bachelor's degree in Healthcare Administration from the University of Kentucky and a master's degree in Business Administration from UK. He is an American College of Healthcare Executives member and has been active in several Madisonville area civic organizations.
Baptist Health and Deaconess Health will jointly conduct a search for Ramey's successor at Madisonville.
Click here for more Corporate Moves.