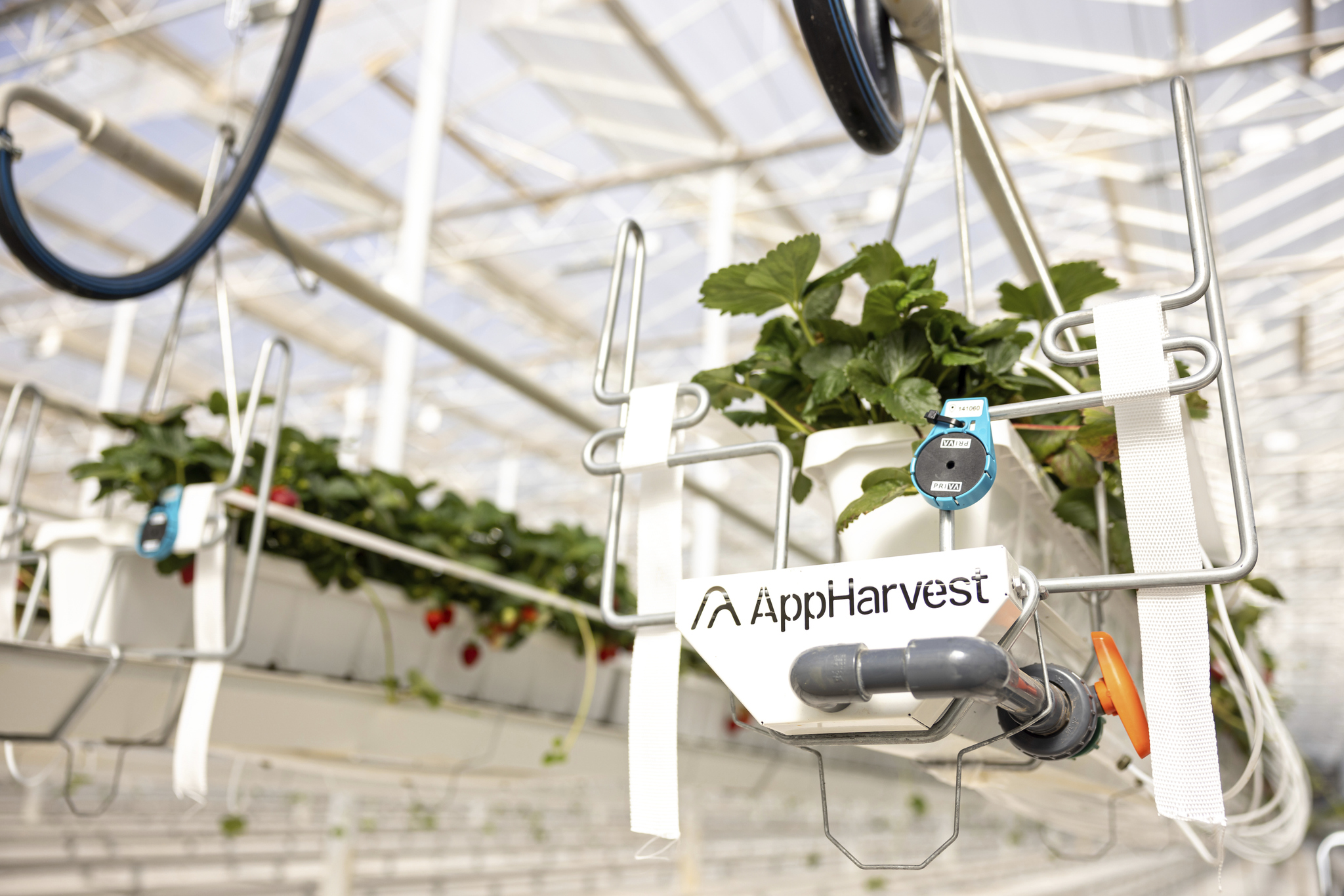 MOREHEAD, Ky. — AppHarvest, Inc., a sustainable food company, public benefit corporation and Certified B Corp building some of the world's largest high-tech indoor farms to grow affordable, nutritious fruits and vegetables at scale while providing good jobs in Appalachia opened its Somerset, Ky., 30-acre high-tech indoor farm that will grow strawberries and cucumbers and confirmed it had begun commercial shipments of strawberries.
The AppHarvest Somerset farm is designed to grow nearly one million strawberry plants at a time, which are expected to produce for about eight months of the year. AppHarvest is growing WOW Berries for its customer, Mastronardi Produce. The crop is expected to alternate seasonally with English cucumbers. The AppHarvest Somerset controlled environment agriculture (CEA) facility is designed to leverage sunshine and rainwater boosted with technology when needed and is automated for lighting, humidity and temperature.
The farm uses a closed-loop irrigation system, which enables expected water savings of up to 90 percent compared to open-field farming and allows for precision dosing of nutrients, resulting in far less fertilizer use than open-field farming while avoiding pollution from agricultural runoff. The high-tech farm also features a blast chiller that rapidly lowers the temperature of harvested strawberries before packaging to extend shelf life.
With its central location in Appalachia, AppHarvest is within a single day's drive of about 70 percent of the U.S. population, which helps reduce the energy consumption required to transport the produce and is a key benefit with more highly perishable crops, such as strawberries, to deliver them fresh and with a longer shelf life.
With the Somerset farm opening, AppHarvest now has three farms shipping produce to national customers this fall. AppHarvest announced opening its Berea salad greens farm, which is opening on a phased approach and will have the capacity to grow about 35 million lettuce plants at a time, with such capacity renewing every three to four weeks. The AppHarvest Morehead farm expects to begin its third harvest shortly, and the company expects to start planting the new 60-acre Richmond tomato farm in November. The AppHarvest Richmond farm is expected to double the company's tomato capacity, and—combined with Morehead—we expect AppHarvest to be able to grow nearly 1.5 million tomato plants at a time.
Click here for more Kentucky business news.