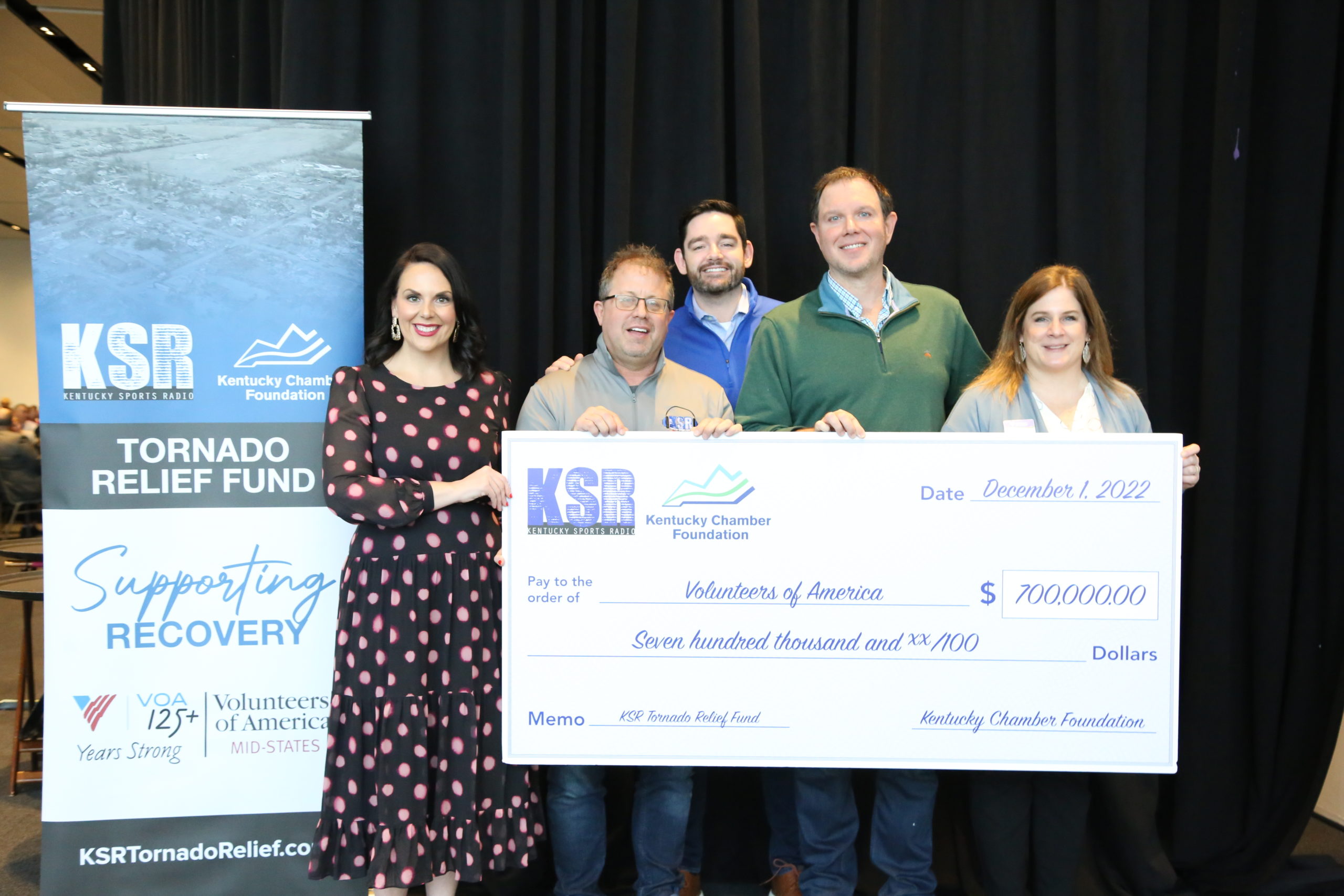 OWENSBORO, Ky. — To support recovery from the December 2021 tornadoes, Kentucky Sports Radio (KSR) and the Kentucky Chamber Foundation presented a $700,000 donation to Volunteers of America Mid-States (VOA) on January 5 in Owensboro.
The presentation occurred during the Owensboro Chamber's Rooster Booster Breakfast and featured remarks from Kentucky Sports Radio Host Matt Jones and Kentucky Chamber of Commerce President and CEO Ashli Watts.
Following the devastating tornados in December 2021, the Kentucky Chamber Foundation and KSR partnered to create the KSR Tornado Relief Fund, which raised almost $1.7 million from more than 7,100 individuals, businesses, and groups across the world.
In conjunction with the fundraiser, the Kentucky Chamber Foundation and KSR hosted a roundtable event that brought together local elected officials, nonprofit organizations, charities and other leaders to coordinate recovery efforts and meet the needs of the impacted areas.
"We want to thank Volunteers of America for their tireless work to change lives and support the needs of Kentuckians," said Kentucky Chamber President and CEO Ashli Watts. "We are proud to make this donation to help lift up struggling communities and families."
"We are very excited to partner with VOA and use this money that our listeners and the state raised to help support recovery for communities and Kentuckians devastated by these tornadoes," said Kentucky Sports Radio Host Matt Jones. "This effort by thousands of donors from around the state showcases the best of Kentuckians."
"We are so thankful to our partners at Kentucky Sports Radio and the Kentucky Chamber. In 2021 they sent significant funds to support survivors of the tornadoes in Western and Central Kentucky. This generous gift will help VOA expand our nationally-recognized Freedom House program and continue to help more Kentucky families take back their lives and overcome substance use disorder," said VOA Mid-States President and CEO Jennifer Hancock.
The donation will provide funding for the VOA Freedom House that will open in Owensboro, with a percentage of residential beds and treatment resources reserved for Kentuckians that have been directly affected by the tornadoes. The funding will also support the VOA Freedom House opening in Stanford, prioritizing referrals from tornado-affected communities such as Taylor County.
Additionally, the donation will provide funding for a workforce re-entry specialist to help Kentuckians impacted by tornadoes get back into the workforce.
Click here for more Kentucky business news.