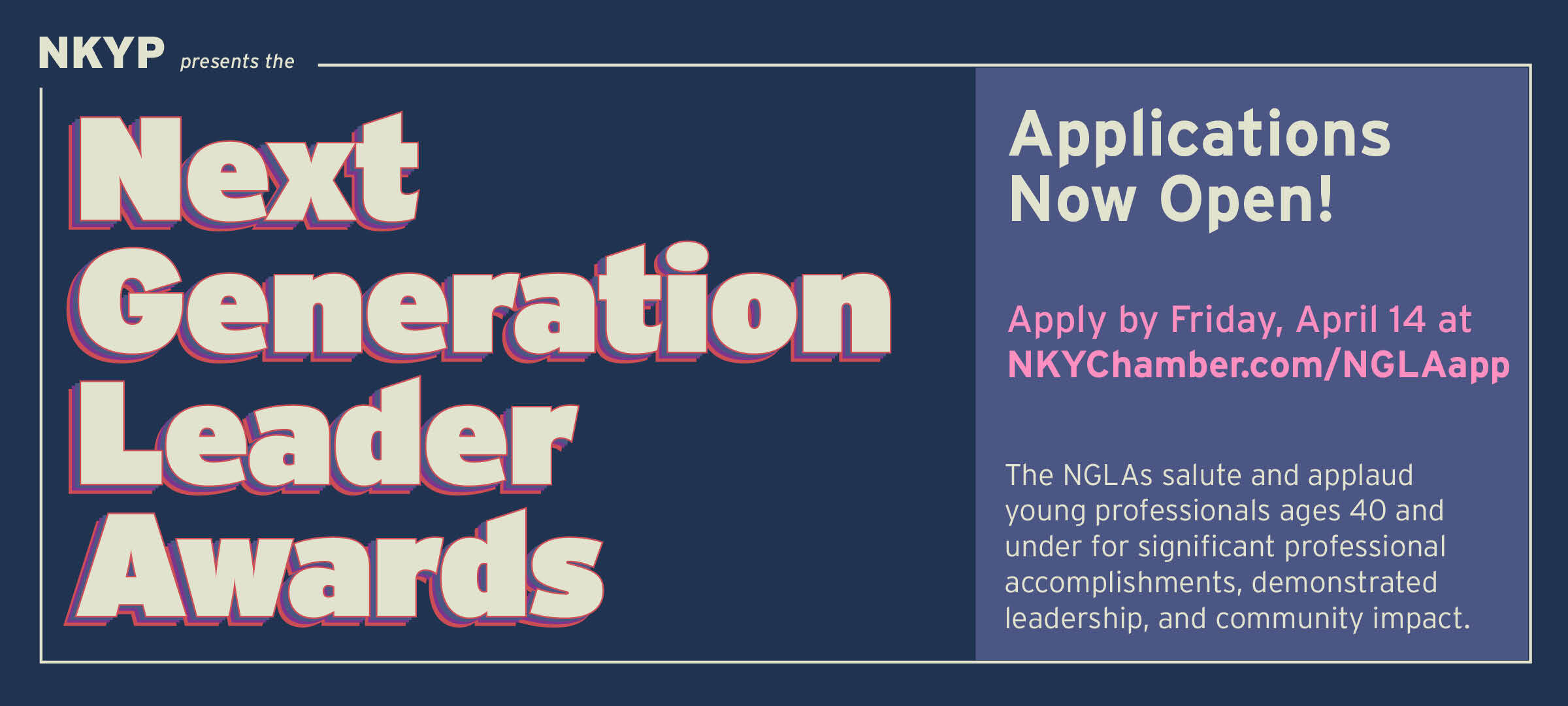 FORT MITCHELL, Ky. — Applications are now open for the 2023 Next Generation Leader Awards (NGLAs), presented by Northern Kentucky Young Professionals (NKYP). The NGLAs honor young professionals age 40 and under for significant accomplishments within their chosen professional field, as well as their commitment and contributions to the community.
"The Next Generation Leader Awards celebrate young professionals who continually pursue excellence in their industry and who are making significant contributions to our community and region," said Christie Rogers, director of NKYP and special events. "If you're hesitant to apply for this professional award, I'd encourage you to put yourself out there. And if you know a deserving young professional, send them the application and encourage them to apply!"
The NGLAs recognize young professionals in ten categories. Applications should be submitted based on the applicants' primary job responsibilities, not the category the company they work for falls under:
Arts, Entertainment & Hospitality (visual/performing arts, tourism, restaurants, hotels, retail, museums, etc.)
Education (teacher, school principal/vice principal, coach, school board member)
Entrepreneurship (start-ups, business owners, small business incubators)
Medical & Healthcare Services (physicians, nurses, healthcare administrators)
Professional Services (accounting, banking, insurance, architects, commercial developers, mortgage brokers, financial planners, business development/sales, attorney, HR, real estate, etc.)
Public Relations, Media and Marketing (public relations, writers, government affairs, media relations, graphic designers, community relations, etc.)
Public Service and Community-Based Organizations (nonprofit professionals, state employees, lobbyists, local government, armed services, police officer, firefighter)
Skilled Trades (manufacturing, construction, electricians, etc.)Technology (software developer, computer systems analyst, information security analyst, data analyst, web developer)
Transportation, Logistics and Supply Chain (logistics coordinators, logistics sales representatives, drivers, operations manager, material control analyst, etc.)
Applications are due April 14, 2023. The 2023 NGLA Finalists will be announced in May. All finalists and award winners will be honored at the annual NGLA Celebration on July 20th at the Newport Aquarium. To nominate a young professional for a Next Generation of Leader Award, visit NKYChamber.com/nglanom.
To learn more about NKYP, the Next Generation of Leader Awards, or the NKY Chamber, visit www.NKYChamber.com.
The NKYP title sponsor is Frost Brown Todd. The networking sponsor is VonLehman. The presenting sponsors are Cincinnati/Northern Kentucky International Airport and St. Elizabeth Healthcare. The Media Partner is Cincinnati Business Courier.
Northern Kentucky Young Professionals created opportunities for young professionals in the region to connect with other YPs, enhance their professional development and impact the community through diversity and inclusion.