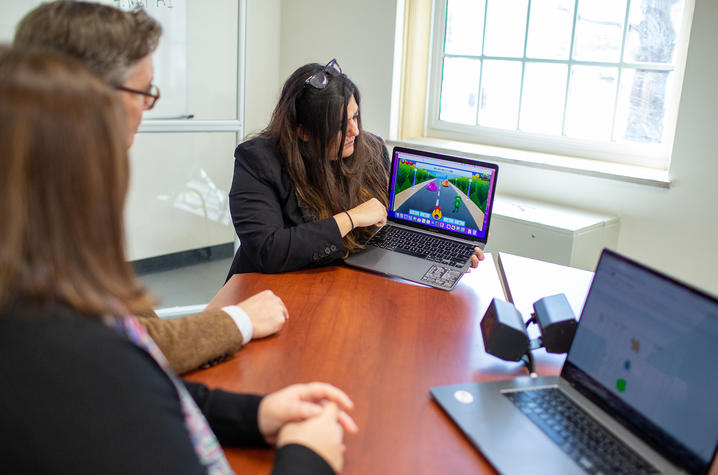 LEXINGTON, Ky. — A team designing artificial intelligence-based games to reach students learning math includes University of Kentucky College of Education faculty. STEM Education colleagues Sahar Alameh, Ph.D., Molly Fisher, Ph.D., and Jonathan Thomas, Ph.D., connected with an education technology company, Alef Education, that had seed funding for a research-based project.
"Together, we are working on a solution to the 'math is boring' issue we hear so often," Alameh said. "The drive to learn can quickly be replaced with frustration and exhaustion when mathematics lessons do not click for students."
With gaming, students can garner renewed motivation and an opportunity to build confidence.
"Math sometimes has a bit of a public relations problem in that it's often thought of as dry or uninteresting," said Thomas, STEM Education professor and chair. "These games help push against that narrative and engage students in math activities that are surprising, funny and grounded in key math ideas."
By aligning the games with content taught in schools, the lessons learned in class are immediately available for reinforcement in gaming form. The design is an intricate process, rooted in joy.
"I always say 'why don't we make it fun?' 'Why not add some humor,'" Alameh said.
Alameh saw the power of humor last year while visiting students to talk about RNA and DNA. The curriculum was one she created based on a National Institutes of Health-funded project using wastewater to track disease prevalence in communities. When students realized what comprises wastewater, and how it gets there, giggles would erupt. 
"Everyone laughs during the wastewater science lesson, kids and adults and then they are hooked. We thought maybe if we make them laugh in a math lesson, then we have them motivated and wanting more," she said.
Alef Education is providing the platform and resources, such as illustrators, graphic artists and coders, to develop the technology-enabled learning experiences. The STEM Education faculty bring a depth of knowledge on mathematics content and the common core standards that need to be included in curriculum. The faculty are also helping select the gaming environments and build stories from scratch alongside Alef staff.
Alameh presented "Make Them Laugh: Using Humor in Math Class" at the 2022 National Conference for Teaching Mathematics. The workshop was an opportunity to talk about user reactions to the mathematics games.
"We provided accounts to teachers at some of our local partner schools interested in trying the games with their students. It has been amazing to go to schools and hear their feedback. We hear students say 'we want more of this particular thing' and then we work to get it added. A few weeks later, students see results of their feedback appear in the game and are amazed to see their influence on the project," Alameh said.
"Digital game-based learning has come a long way since The Oregon Trail captivated students a few decades ago," said Fisher, a professor of STEM education.  "Today's educational video games share many of the same graphical, storytelling and character development qualities as those that students play at home for fun."
To help engage students, the STEM faculty worked with Alef to design captivating characters. They include not simply strawberries, for instance, but zombie strawberries. During the process of writing the games with Alef staff, STEM education faculty have focused on disrupting the way mathematics word problems are commonly presented to students.
"We are known, in mathematics, for asking students, for example, what they would do if they bought three donuts but need to feed a family of five. These are not actually real-life contexts. We don't use math to eat donuts. So, we are writing the games to appeal to the mindsets of kids, the kind of math that can be applied day to day," Alameh said.
For example, students are learning multiplication by playing as employees in a chocolate factory, dragging and dropping the products into the appropriate package sizes. Even if they don't know the answer to three times nine, they develop the ability to see the approximate answer when looking at a box of chocolates with three columns and nine rows. They make that logical connection of what three times nine is, even if they don't know the multiplication table. This helps build their number sense," Alameh said.
Another game is all about giving students the agency to make decisions, which helps motivate them. They choose where to race, such as in a desert or in a forest. The character in the race, perhaps an astronaut or unicorn, is also up to students.
"Once students make choices, they become more attached to see who wins. Before you win, you have to solve a math problem," Alameh said. "Once you make it a little more personal, you hone into motivation and that helps with achievement and understanding. We want to make math accessible and enjoyable for all students."