LOUISVILLE, Ky. — Baptist Health, a full-spectrum healthcare system serving Kentucky residents and beyond for more than a century, and Encompass Health, the nation's largest owner and operator of inpatient rehabilitation hospitals, hosted a groundbreaking ceremony for the future joint venture rehabilitation hospital in Louisville, Kentucky. The 40-bed inpatient rehabilitation hospital will be located at 11800 Bluegrass Parkway and is expected to begin serving patients in spring 2024.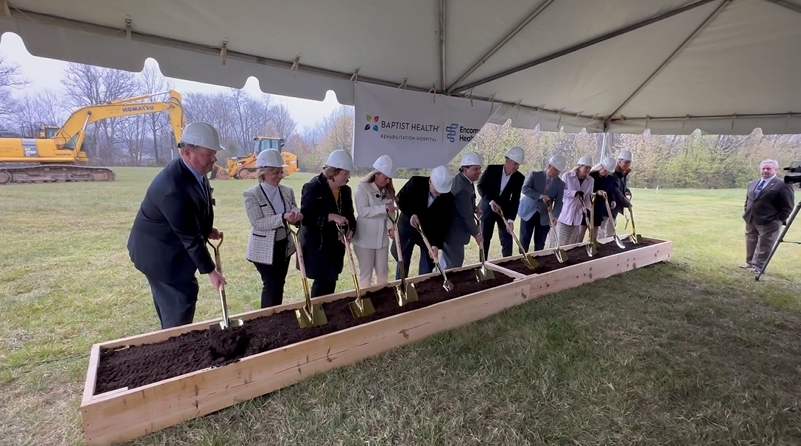 The future hospital will provide essential rehabilitative services that help patients recovering from strokes, brain injuries, spinal cord injuries, amputations and complex orthopedic conditions regain function and independence. Patients will receive at least three hours of intensive therapy for five days each week, frequent physician visits and 24-hour nursing care.
"We are honored to have the opportunity to serve patients in the greater Louisville area through a joint venture with Baptist Health, a trusted provider of healthcare services for more than a century and acute inpatient rehabilitation services for more than 40 years," said Troy DeDecker, president of Encompass Health's Central Region. "Our future state-of-the-art inpatient rehabilitation hospital will provide post-acute care to patients recovering from a life-altering injury or illness. The hospital has been designed with our patient's needs in mind, and we look forward to offering a place where area residents can regain strength, function, hope and independence."
"Jefferson County is the largest and remains one of the fastest growing counties in the state with an increased demand for rehabilitation services, and the addition of this highly specialized inpatient rehabilitation hospital will meet a critical need in our local communities," said Jody Prather, MD, Chief Strategy and Marketing Officer, Baptist Health. "The new freestanding hospital will improve patient access to rehabilitation services and allow us to further expand as a regional destination for care. We certainly want to provide this type of state-of-the-art post-acute care beyond the Baptist Health network to accept and support patients from many regional facilities that do not have inpatient rehabilitation services."
Hospital amenities will include 40 private patient rooms, a spacious therapy gym featuring advanced rehabilitation technologies, an activities of the daily living suite, a therapy courtyard, a dining room, an in-house pharmacy and a dayroom area. An interdisciplinary team of highly specialized nurses, therapists and physicians will provide physical, occupational and speech therapies to restore functional ability and quality of life.
To learn more, visit encompasshealth.com/louisvillerehab.