LEXINGTON, Ky. — Calvin Mabson had been getting routine annual lung cancer screenings for two decades. As a lifelong smoker, the retired Richmond resident understood that the screening results could bring bad news with each passing year.
"I've always known it was possible that I would get lung cancer, especially as I was getting older and continuing to smoke," said Mabson. "Each year, when the scans would come back negative, I'd consider myself lucky. I figured one day, that might not happen."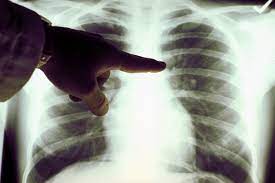 In August 2021, that day finally came. Mabson's annual lung cancer screening revealed a spot on his lungs, leading to a stage 4 non-small cell lung cancer diagnosis at the age of 75.
Mabson had been smoking since the 1960s — reaching a peak of nearly three packs daily. He'd dialed it back since then but could never kick the habit until that day.
A cancer diagnosis is so powerful it is often called a "teachable moment." Mabson proves that it can never be too late whenever that moment happens.
Lung cancer is the leading cause of cancer death among men and women in the U.S., with non-small cell lung cancer comprising about 85% of all cases.
One of the reasons lung cancer is so deadly is that it often does not cause any symptoms until it reaches advanced stages. Screenings are recommended for people at high risk so that they can be caught early when treatments are more likely to be effective.
According to University of Kentucky Markey Cancer Center medical oncologist Zhonglin Hao, M.D., Ph.D., at stage 4, Mabson's cancer is often not treatable, but some options remain.
If Mabson had avoided screening and waited until he developed symptoms, that may not have been the case.
Those options started with chemotherapy and immunotherapy.
Mabson received chemotherapy combined with pembrolizumab, an immunotherapy drug that helps keep cancer cells from suppressing the immune system.
In addition, Hao presented another option: Mabson's diagnosis and planned treatment regimen made him a good candidate for one of the clinical trials available through the UK Markey Cancer Center.
Mabson enrolled in one of the KEYMAKER trials, which includes another new immunotherapy agent that shows potential for its ability to boost the immune system's response to pembrolizumab.
He began treatment soon after diagnosis. Mabson received regular infusions at UK's Albert B. Chandler Hospital, where he once worked on the neonatal and pediatric emergency transport team.
"It feels strange to be here under these circumstances and as a patient, but my care team here has helped me feel right at home," Mabson said. "I know I'm in good hands. I have an entire care team meeting to discuss my case and the best course of treatment."
Mabson's multidisciplinary care team at Markey includes Hao and pulmonologist Ashish Maskey, M.D, who provide critical supportive care and procedures leading to speedy tissue and molecular diagnosis essential for treatment decisions.
He says the team has also helped guide and encourage him through the ups and downs of treatment.
"Initially, the chemo side effects were hard," he said. "Dr. Hao and his team would tell me, 'You have to eat, get up, and move around.' So I tried to do it, and the more I did, the better I got."
And it just kept getting better from there, Mabson says.
More than 18 months after getting what he thought was a fatal diagnosis, treatment has halted cancer's spread, and the lung tumor can no longer be seen on scans. Hao says that in the past, patients with Mabson's diagnosis would be expected to survive a year on average.
"I'm not going to lie; it was rough at times," Mabson said. "But to get to the point that I am now, it was all worth it."
As medical director of Markey's multi-center cancer research unit, Hao says he has seen many patients like Mabson benefit from clinical trials.
Markey has more open clinical trials than any other regional cancer center. And with Markey's status as a National Cancer Institute-designated cancer center — the only one in Kentucky — patients like Mabson can access leading-edge treatment options offered only at NCI centers.
"I encourage patients to be open to clinical trials and the opportunities they offer. They can have extraordinary benefits," Hao said. "Patients like Mabson are also helping to advance the next generation of cancer treatments."
Mabson is continuing treatment in the trial, which he credits for his continued survival.
These days, he's enjoying retirement — relaxing, working on his home, and spending time with his wife, family, friends and neighbors.
Mabson wants his story to encourage others to get screened, especially Black men, who are disproportionately impacted by lung cancer.
"I truly believe that I wouldn't be here today if I didn't get screened," he said. "This clinical trial and treatment wouldn't have been an opportunity. If you meet the requirements, getting screened every year is so important. And if you're still smoking, there's always time to quit. I'm proof that it's not too late."
Lung cancer screening is recommended for adults with no symptoms but at high risk for developing the disease because of their smoking history and age. Low-dose CT screening is recommended if you meet all of these criteria:
Adults age 50–80
Have a 20 "pack year" or more smoking history — an average of one pack per day for 20 years or two packs per day for ten years. (A "pack year" is a way to quantify tobacco exposure.)
You currently smoke or quit within the past 15 years
The UK Markey Cancer Center offers a Lung Cancer Screening Program. Get more information about the program here, or contact the program coordinator at 844-726-5864 (844-SCN-LUNG) or [email protected].