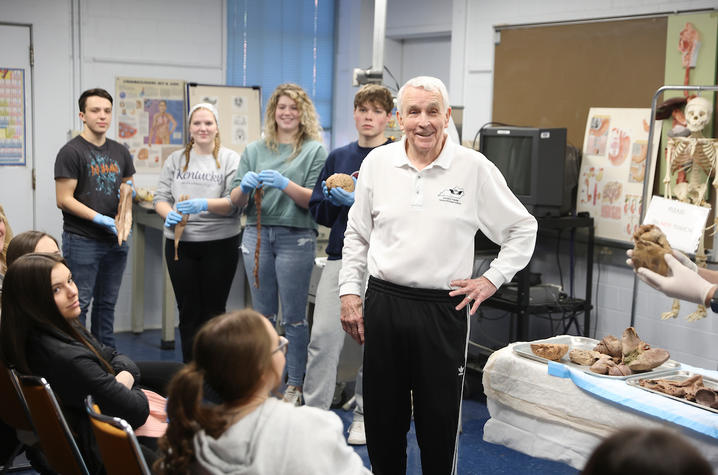 LEXINGTON, Ky. — Don Frazier is so passionate about physiology that he has been spreading his love of science through education outreach for much of his life.
Like Kentucky's "Bill Nye the Science Guy," Frazier's fun personality and pure love of what he does captivates anyone who listens to him — regardless of age. Frazier, an alumnus of the University of Kentucky and emeritus of the UK College of Medicine Department of Physiology, formally retired from his physiology and biomedical engineering faculty positions in 2000. He's turning 88 years old this year, but age is no match for Frazier — he refuses to let anything slow him down.
Today, Frazier continues to do what he enjoys through a post-retirement appointment. He runs the UK Science Outreach Center, renamed the Donald T. Frazier Science Outreach Center in his honor in 2015. The outreach center formally opened its doors at the University of Kentucky in 1993 and has been helping K-12 students learn about the scientific wonders of our world ever since.
Through his 0utreach efforts, Frazier and his team have taught over 147,000 students across Kentucky to inspire them to enter science-related career paths hopefully. But when COVID-19 struck in 2020, the outreach center was forced to halt its operations.
This year, Frazier is excited to announce that the outreach center is back in full swing.
Frazier's outreach lessons, whether in-house or out at schools, are curated specifically for each class that comes to see him to first and foremost support their existing curriculum in a fun, interactive way.
Recently, the outreach center had health sciences students from Adair County High School (ACHS) come in for a lesson on physiology and DNA. The students had the opportunity to hold and interact with real-life scientific artifacts that Frazier has collected throughout his career — like a human brain, spinal cord, lungs and heart. Afterward, they saw how everything fits together in a real-life cadaver at the UK gross anatomy lab.
Jennifer Carter, ACHS health sciences teacher and registered nurse, and Rebecca Cravens, ACHS athletic trainer and sports medicine instructor, chose to bring their students in to expose them to something they wouldn't have necessarily had from inside the walls of their classroom.
The experience was so great for the kids that they hope to return again and again.
Another underlying goal of Frazier's is to teach kids why taking care of their bodies is so important.
Several students impacted by Frazier's teachings continued to stay in close touch with him over the years. One former student, Cara Childers Keller, M.D., works in Louisville as a practicing OB-GYN. She says she might never have entered medicine if it weren't for Frazier's mentorship.
As a student, Keller had opportunities to work and teach in the outreach center alongside Frazier, which she says was one of her favorite things to do.
Jacob Jones, a current fourth-year medical student at the UK College of Medicine, says Frazier has helped direct him into the medical path he wants.
Jones, who will graduate in May, said this experience with Frazier and the Frazier Science Outreach Center had inspired him to return to his home county and give back to the community he once came from.
This year and moving forward, reaching elementary schoolers across the state is a primary focus of Frazier's.
In addition to onsite and offsite school visits, over its existence, the Frazier Science Outreach Center has been involved with several extramural awards at the state, federal and foundational levels. This exposed students to research experience and biomedical-related career opportunities. Currently, the center is involved with two federally funded programs.
In the future, he hopes to continue getting medical and undergraduate students involved in creating educational science videos that schools can access across the state if anyone cannot visit. The videos will be available on the Frazier Science Outreach Center website anytime.
If you are interested in having your middle or high school class visit the Donald T. Frazier Outreach Center, or to have Frazier and his team come to your elementary school, contact tour coordinator Lisa M. Stevens at 859-257-6440.