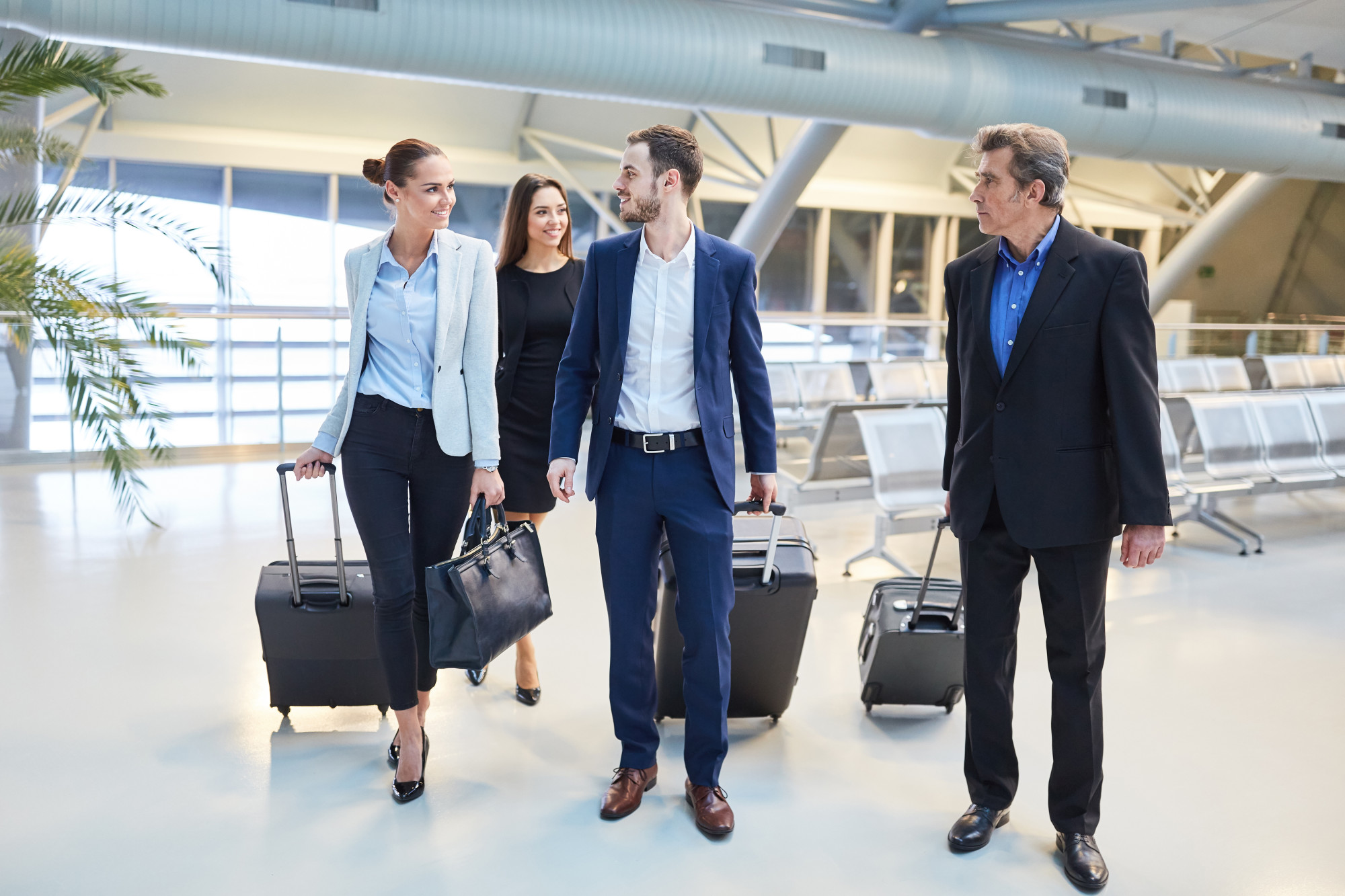 LEXINGTON, Ky. — AAA projects 42.3 million Americans will travel 50 miles or more from home this Memorial Day weekend, a 7% increase over 2022. This year, 2.7 million more people will travel for the unofficial start of summer compared to last year, a sign of what's to come in the months ahead.
"This is expected to be the third busiest Memorial Day weekend since 2000, when AAA started tracking holiday travel," said Paula Twidale, senior vice president of AAA Travel. "More Americans are planning trips and booking them earlier, despite inflation. This summer travel season could be one for the record books, especially at airports."
Nearly 3.4 million travelers are expected to fly to their destinations this Memorial Day. That's an increase of 11% over last year. Air travel over the holiday weekend is projected to exceed pre-pandemic levels, with 170,000 more passengers—or 5.4% more— than in 2019. Despite high ticket prices, demand for flights is skyrocketing. This Memorial Day weekend could be the busiest at airports since 2005.
Memorial Day weekend road trips are up 6% over last year, with 37.1 million Americans to their destinations, an increase of more than 2 million. Gas prices are lower this holiday compared to last year, when the national average was more than $4 a gallon.
"While lower prices at the pump are likely contributing to an increase in car travel above 2022 levels, we still expect travel by personal vehicle this Memorial Day holiday weekend to remain shy of pre-pandemic numbers by about 500,000 travelers," said Lori Weaver Hawkins, public affairs manager, AAA Blue Grass.
There are also more travelers this holiday choosing other modes of transportation, like buses, trains and cruises. These travelers are expected to total 1.85 million, an increase of 20.6% over 2022.
"A recent AAA survey found that 52% of U.S. adults are as much or more likely to take a cruise in 2023 as they were prior to the pandemic," Weaver Hawkins adds.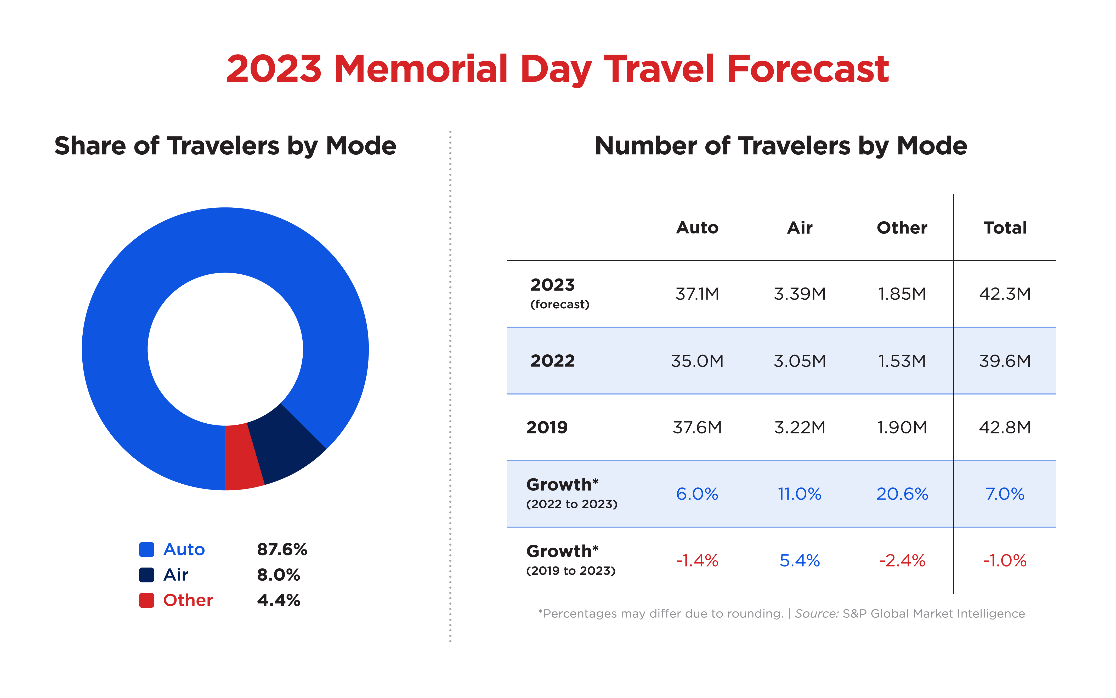 Best/Worst Times to Travel and Peak Congestion by Metro
AAA partnered with INRIX, a provider of transportation data and insights, in providing its Memorial Day weekend travel forecast. INRIX expects Friday, May 26, to be the busiest day on the roads during

the long Memorial Day weekend. The best times to travel by car are in the morning or in the evening after 6 p.m. The lightest traffic days will be Saturday and Sunday. Major metro areas like Boston, New York, Seattle and Tampa will likely see travel times double compared to normal.
"With lower fuel prices and more travelers on the road compared to last year, drivers should expect long delays this holiday weekend, especially in and around major metros, as commuters mix with Memorial Day travelers," said Bob Pishue, transportation analyst at INRIX. "Knowing when and where congestion will build can help drivers avoid the stress of sitting in traffic. Our advice is to avoid driving during peak hours or use alternative routes."
Top destinations for Memorial Day Weekend travelers
AAA booking data for the Memorial Day weekend shows tourist hotspots like Orlando, New York City, and Las Vegas are top domestic destinations. Cruise port cities in Florida and Alaska, as well as Seattle, are high on the list given the 50% increase in domestic cruise bookings compared to last year.
Other popular U.S. cities this Memorial Day include Denver, Boston, Anaheim, and Canton, Ohio—home of the Pro Football Hall of Fame.
"Iconic cities, international vacation packages and cruises that include amenities offering more value for the price are among the most popular choices for travelers," Weaver Hawkins added.
Rising costs aren't slowing travel plans
Travelers are paying more for Memorial Day trips this year, in large part due to the rising cost of airline tickets. AAA booking data shows a 40% increase in airfare to this year's Top Destinations.
But that's not stopping travelers from booking flights abroad. International travel is surging, with bookings 250% higher this holiday weekend compared to 2022. European cities are the most popular, including Rome, Paris, Dublin, London, Barcelona, and Athens. International car rentals are up more than 80% over 2022. AAA reports strong sales for International Driving Permits this year, almost double what they were last year. The passport courier service RushMyPassport is also seeing an unprecedented number of applications for expedited passport and visa services this year.
*Memorial Day Holiday Travel Period
For purposes of this forecast, the Memorial Day holiday travel period is defined as the five-day period from Thursday, May 25 to Monday, May 29. The five-day holiday length is consistent with previous holiday periods.
Holiday Forecast Methodology
Travel Forecast
In cooperation with AAA, S&P Global Market Intelligence developed a unique methodology to forecast actual domestic travel volumes. The economic variables used to forecast travel for the current holiday are leveraged from S&P Global Market Intelligence's proprietary databases. These data include macroeconomic drivers such as employment, output, household net worth, asset prices including stock indices, interest rates, housing market indicators, and variables related to travel and tourism including gasoline prices, airline travel, and hotel stays. AAA and S&P Global Market Intelligence have quantified holiday travel volumes going back to 2000.
Historical travel volume estimates come from DK SHIFFLET's TRAVEL PERFORMANCE/MonitorSM. The PERFORMANCE/MonitorSM is a comprehensive study measuring the travel behavior of U.S. residents. DK SHIFFLET contacts over 50,000 U.S. households each month to obtain detailed travel data, resulting in the unique ability to estimate visitor volume and spending, identify trends, and forecast U.S. travel behavior —all after the trips have been taken.
The travel forecast is reported in person-trips. In particular, AAA and SPGMI forecast the total U.S. holiday travel volume and expected mode of transportation. The travel forecast presented in this report was prepared the week of April 17, 2023.
Click here for more Kentucky business news.