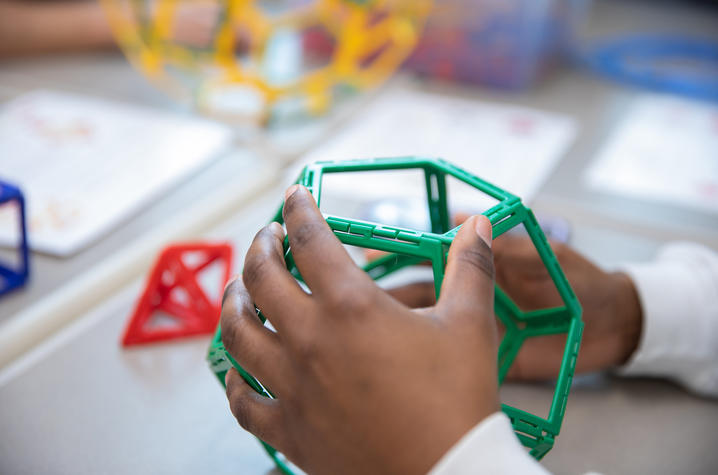 LEXINGTON, Ky. — Beginning this summer, the University of Kentucky College of Education is expanding options for those wanting to change careers to teach science, technology, engineering, mathematics (STEM) and early childhood.
The Kentucky Professional Education Standards Board's university-based alternative pathway to certification, known as Option 6, allows qualified teacher candidates to work full-time in a Kentucky school while enrolled in a participating teacher preparation program. Teacher candidates obtain a temporary provisional certificate for one year through this option. The provisional certificate must be renewed each year for five years. Upon successfully completing the program, graduates can apply for a Kentucky teaching certificate.
"We know that in our state and nationally, there is a great need for teachers," said College of Education Senior Associate Dean of Academic Programs and Partnerships Margaret Mohr-Schroeder, Ph.D. "The teaching shortage is felt at every level, but especially in the STEM subjects, as well as for our youngest students in early childhood classrooms."
The Option 6 pathways in the STEM Education Master of Arts in Teaching and the Interdisciplinary Early Childhood Education graduate-level initial certification programs are designed to be completed part-time over approximately two years. Both programs are for people with at least a bachelor's degree. For the STEM program, applicants must have a bachelor's degree or equivalent coursework in the field they wish to teach.
"We're excited to remove barriers through alternative pathways that are focused on providing high-quality instruction to students in Kentucky schools," said Jennifer Grisham, Ed.D., professor and program chair in the Interdisciplinary Early Childhood Education program and faculty director of the Early Childhood Laboratory school at the College of Education.
Mohr-Schroeder, also president of the School Science and Mathematics Association, an international STEM organization, said that people with expertise in a subject area and motivated to teach might find it difficult to stop working on completing a certification program. This option allows them to move directly into the classroom, gaining immediate experience while earning a salary, taking coursework and receiving guidance from experienced faculty.
"This helps to bridge that gap between supporting our community while also supporting the new teacher with tools they will need to be effective in the classroom," Mohr-Schroeder said.