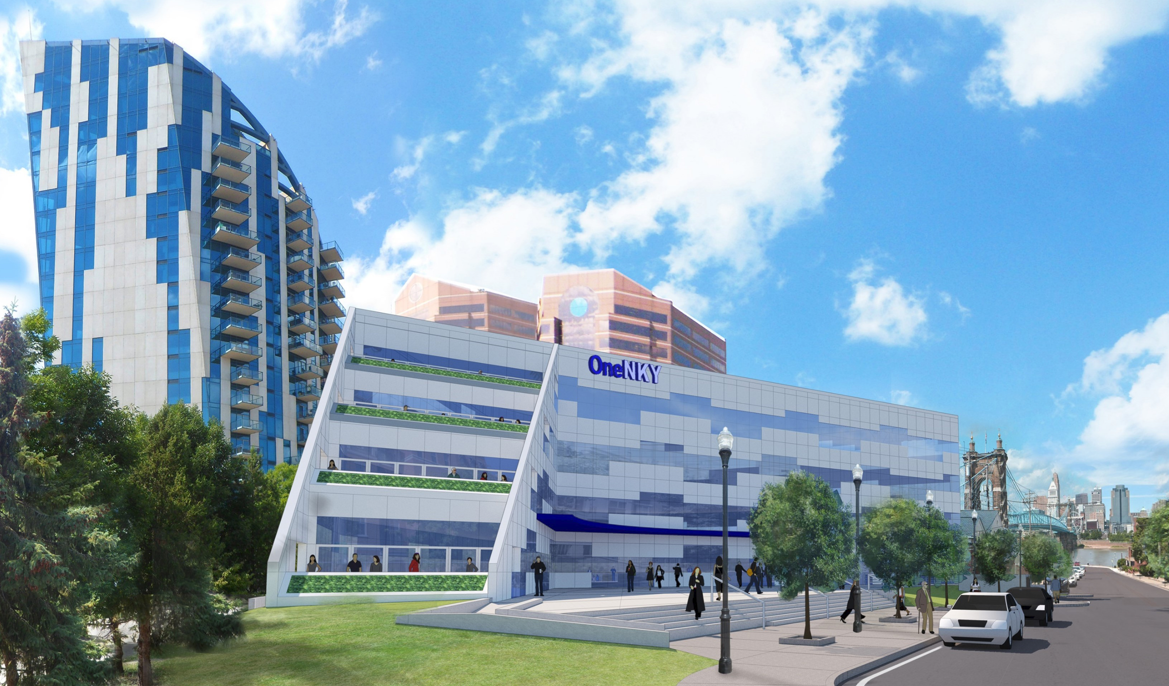 COVINGTON, Ky. — Covington Life Sciences Partners Inc., a non-profit established in November 2022, will be located in 15,000 s.f. on the second floor of the OneNKY Center to be built by the Northern Kentucky Port Authority (NKPA).
CLSP was founded to advance science, education, entrepreneurism, and job creation in the Northern Kentucky and Greater Cincinnati region. The Covington Life Science Lab will provide cost-effective research and development facilities with shared equipment and office space for early-stage companies, in addition to offering educational and training opportunities, in the life sciences industry.
Locating the lab in the OneNKY Center enhances operational capabilities while reducing key risks and challenges and meeting a tight construction deadline. The CLSP has signed a 99-year lease with the NKPA for $12M and remaining funds will be used for fit out and equipment. Payments will be made to the NKPA as construction milestones are achieved.
"Having a state-of-the-art wet lab in Covington will be a strong asset, in addition to the SBIR-STTR match that Kentucky offers, in attracting entrepreneurs and biotech companies to Northern Kentucky," said CLSP Co-Chair Chuck Scheper, chairman of the Board of Bexion Pharmaceuticals.
"It's exciting to see this project move forward with collaboration from business and government leaders," said CLSP Co-chair Garren Colvin, President and CEO of St. Elizabeth Healthcare. "If Northern Kentucky is going to be one of the healthiest regions in the country, we need to have businesses that are poised for future growth — like biotechnology — and access to improved healthcare. This project is advancing both."
"The Covington Life Science Lab will build on Covington's growing reputation as a hub for high-tech advancements in this critical sector, and it will bring to fruition our vision when we started this process two years ago," said Covington Mayor Joe Meyer. "Companies like Bexion, CTI, and Gravity Diagnostics are wowing the world, and we hope this lab will help many other new companies along that same path."
"The new incubation lab in Covington will put our region on the map in the life sciences industry and enhance our biotech and biopharma research and development ecosystem," said CTI Clinical Trial & Consulting Services CEO Tim Schroeder. "From Mayor Meyer's initial vision for this endeavor, to Governor Beshear's enthusiastic personal support after seeing NKY healthcare and life science companies step up during the COVID pandemic, to Senator McDaniel's go big mindset putting us at the cutting edge of research, we have been able to watch this transformative project emerge. This location is mere blocks from CTI's global headquarters, and we look forward to many fruitful collaborations."
Mayor Meyer and the City of Covington led the effort to secure funding for a new biotech lab that was identified by leading life science companies CTI Clinical Trial and Consulting Services, Gravity Diagnostics, and Bexion Pharmaceuticals. These companies grew significantly over the last several years and collectively employ nearly 1,000 talented professionals in the life sciences industry and expressed the need for the lab is urgent.
As a result of the collaboration between the City of Covington and life science company leaders, Governor Andy Beshear included $10M for a life sciences lab in Covington in his budget presented to the General Assembly in January 2022. Sen. Chris McDaniel, chair of the Kentucky Senate Appropriations & Revenue Committee, initiated the effort in the General Assembly and included an additional $5M. HB1, the state's two-year budget legislation, provided $15M for a new Northern Kentucky life sciences lab and was passed by the Kentucky General Assembly on April 13, 2022.
The City of Covington, BE NKY Growth Partnership, and Northern Kentucky University each appoint one member of the CLSP board of directors and four members are representatives of the life sciences industry in the Northern Kentucky and Greater Cincinnati region.
Covington Life Sciences Partners board members include:
Garren Colvin, President & CEO, St. Elizabeth Healthcare, Co-Chair
Chuck Scheper, Chairman, Bexion Pharmaceuticals, Co-Chair
Lee Crume, President & CEO, BE NKY Growth Partnership
Dr. Dinesh Ganapathy, Independent Biotech Consultant
Dr. Valerie Hardcastle, Executive Director, Institute for Health Innovation, and Vice President, Health Innovation, at Northern Kentucky University (NKU)
Tony Remington, CEO & Co-Founder, Gravity Diagnostics
Tim Schroeder, Chairman, CEO & Co-Founder, CTI Clinical Trial & Consulting Services (CTI)