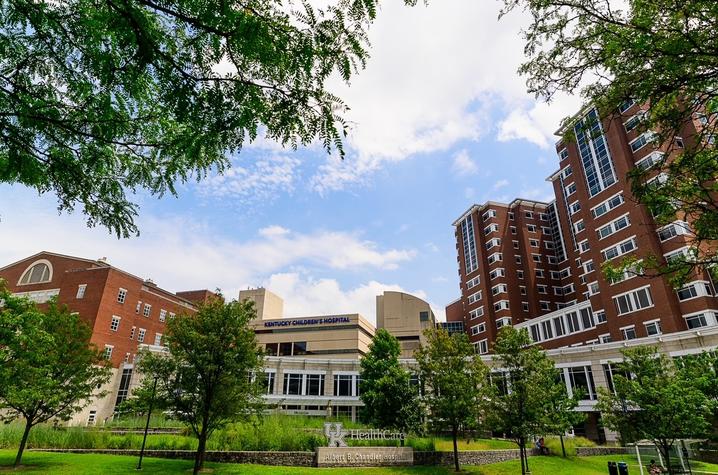 LEXINGTON, Ky. — For the eighth year in a row, the University of Kentucky Albert B. Chandler Hospital at UK HealthCare earned the ranking of the No. 1 hospital in Kentucky and was recognized in the Bluegrass Region by the 2023-24 Best Hospitals rankings and ratings from U.S. News & World Report.
Additionally, UK HealthCare ranked in the top 50 for three specialties: cancer care (#44), ear, nose & throat (#49, tied) and OB/GYN (#40). Gastroenterology and GI surgery also received a "high-performing" designation.
"Excellence in health care is not merely a title to be held but a relentless pursuit to improve the lives of our patients," said Robert S. DiPaola, M.D., UK acting co-executive vice president for health affairs. "To be consistently ranked among the best in the nation requires a commitment to exceptional care, groundbreaking research, innovative education and compassionate service from our faculty, providers and staff across UK, HealthCare as we serve Kentucky and beyond."
"The recognition as Kentucky's best hospital by U.S. News and World Report affirms the tireless efforts of thousands of people at UK HealthCare who come together each day with one goal in mind – to advance the health of our state by extending the care that only we provide for Kentucky," said Eric N. Monday, acting co-executive vice president for health affairs at UK. "We are proud of this ranking – a reflection of continued and sustained excellence over many years – but we are unsatisfied. We have more to do to meet the health needs of our state, and we are committed to that work."
This year's ranking marks the seventh consecutive year of Top 50 rankings for the UK Markey Cancer Center, Kentucky's only National Cancer Institute-designated cancer center.
"Our mission is to reduce the burden of cancer in Kentucky through our dedicated efforts in research, prevention, education, and treatment," said Mark Evers, M.D., director of the UK Markey Cancer Center. "I'm incredibly proud of Markey's progress in these areas over the past decade, and we will continue to build on this momentum to conquer cancer in the Commonwealth."
This year also marks the first Top 50 ranking for UK Women's Health OB-GYN. The team provides the full scope of care for women throughout the various stages of their lives. The team works together to provide a full range of office and surgical gynecology, infertility care, pediatric and adolescent gynecology care, preconception and prenatal care, and obstetrical care. They also work closely with the Kentucky Children's Hospital's neonatal intensive care unit (NICU) to ensure that mothers and their children are cared for at the highest level. UK's NICU is the only Level IV NICU in the state.
"At UK, we take great pride in offering exceptional care to women across the region, including the type of complex, high-acuity care that's only available at academic medical centers," said Bryan Rone, M.D., acting chair and associate professor in the UK Department of Obstetrics and Gynecology. "From offering minimally invasive treatments for complex gynecological disorders and diseases, including cancers, to caring for low and high-risk maternity patients, we are committed to helping Kentucky women lead active and healthy lives. I am so proud of our department."
UK HealthCare's Department of Otolaryngology, Head and Neck Surgery, more commonly known as the Ear, Nose & Throat Clinic, returns to the Top 50 ranking this year. This clinic addresses all facets of the medical and surgical care of the ear, nose and throat region with expertise from allergists, audiologists, plastic surgeons, speech-language pathologists and other specialists.
"We've always worked very hard to provide the best care for our patients, and we try to be accessible and make room for our patients who need to be seen right away," said Raleigh Jones, M.D., chair of the UK Department of Otolaryngology, Head & Neck Surgery. "This ranking is a great acknowledgment of the care we offer and how we are responsive to Kentuckians' needs."
In addition to the specialty rankings, UK HealthCare also received a record-setting "high-performing" designation in 13 common adult procedures and conditions:
Chronic Obstructive Pulmonary Disease (COPD)
Colon Cancer Surgery
Diabetes
Heart Attack
Heart Failure
Hip Replacement
Kidney Failure
Leukemia, Lymphoma and Myeloma
Lung Cancer Surgery
Ovarian Cancer Surgery
Pneumonia
Stroke
Uterine Cancer Surgery
U.S. News evaluated more than 4,500 hospitals across 15 specialties and 21 procedures and conditions; only 12% of evaluated hospitals earned a Best Hospitals ranking. Hospitals awarded a "Best" designation excelled at factors such as clinical outcomes, level of nursing care and patient experience.