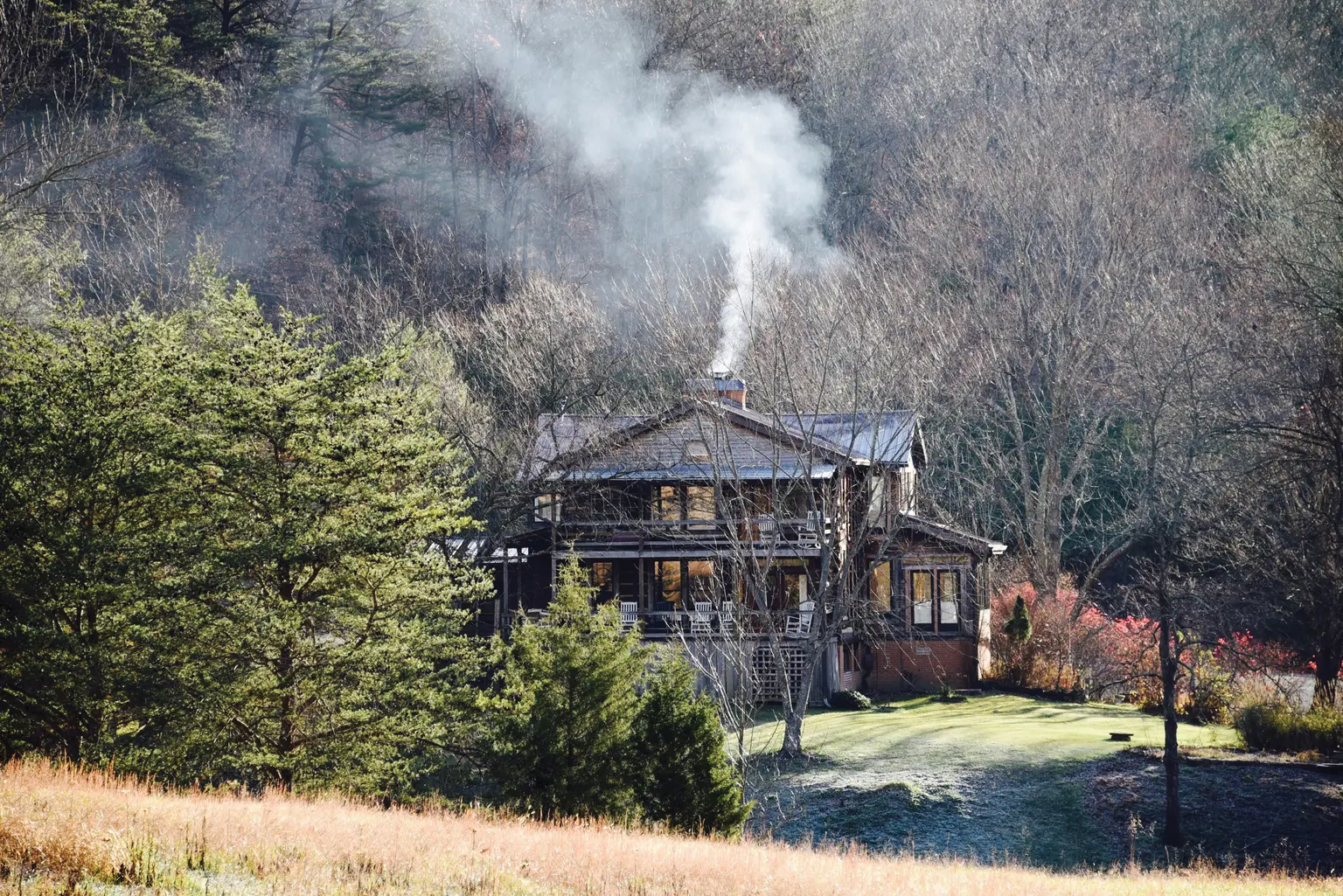 One of the most common travel clichés is "Get away from it all." These days, there are a lot of things most of us would love to get away from: TV, newscasts, political rants, interstate traffic, fearful/angry people, crazy drivers, scammers, robocalls…you can finish your own list. Taking a break to ease your mind from the constant bombardment of stressors and the daily grind is vital to physical, mental, emotional and spiritual health. And there's no better cure than a rendezvous with Mother Nature, fabulous food and being "looked after." In other words, a bit of pure relaxation.
This is exactly what's on the menu at Snug Hollow Farm, a bed and breakfast tucked in the lovely Red Lick Valley of the Estill County hills near Irvine and only 20 "country miles" east of Berea, the state's folk arts and crafts capital and home to Berea College. Hostess, innkeeper and chef Barbara Napier has created this idyllic escape over the course of around four decades, and you'll not find another like her…nor like Snug Hollow.
With her ingrained "holler hospitality," this feisty, warmhearted host greets first-time guests like old friends who've just been away for a while. When they ask what there is to do here, Napier's answer is, "Nothing." There'll be a long silence, she says, and then they'll reply, "You know, that sounds pretty good. I can handle that."
Snug Hollow's long list of accolades includes the following:
• "50 Best Girlfriend Getaways of North America"—National Geographic Traveler
• "One of the 5 Most Romantic Places in the South"—Southern Living magazine
• "One of the Top 10 BnBs in Kentucky"—Trip Advisor
According to this remarkable Jill-of-all-trades, what makes her property so special is that "it's very fragile and it's untouched." Beautifully untouched. While relaxing in a big ol' rocker on one of many porches, there's no telling what you may spy—horses grazing peacefully in the summer sun, a doe leading a clay-spotted fawn on its first outing, a flock of wild turkeys rambling single file through brightly colored fall leaves, or stars sparkling over the treetops in an ebony winter sky. A deep inhale brings the aromas of earth, new-mown hay, trees and fresh mountain air.
Walking trails wind through 300 acres of chattering creeks, cool woods and wide pasturelands, all dotted with glorious wildflowers. Guests can birdwatch, help in the garden, recharge on a silent retreat, or soak up warm sunshine beside the pond. There's no television. Instead, you can stick your nose into any of the eclectic assortment of books lying about, schedule a professional massage, or settle into a comfy chair and simply gaze out at the ever-changing mountain meadow and woodlands.
You might even find special talk-time with a friend, old or new, while you're just doin' nothin'.
An original Kentucky Farm Stay and member of Eco-friendly Inns of North America, Snug Hollow is known for its food, much of which is sourced from Napier's well-tended organic garden and all of which is luscious gourmet vegetarian. The hostelry's tables are true groaning boards, where guests are served "truck driver-satisfying" portions of "the best of Appalachia." Though Napier hasn't eaten meat for 30 years, only hard-core vegetarians will ever find tofu on the table. Card-carrying carnivores leave one of her mythical meals completely stuffed, often swearing they've eaten meat.
Breakfasts are hearty. Pies, breads and pastas are homemade. And tasty picnic lunches are available for hikers.
Says Napier, "Cooking is not a chore, but a daily meditation. It is a joy for me and a gift to my guests."
Capable of sleeping some 32 guests, accommodations meld into the country setting beautifully. A spacious two-story farmhouse features rooms and suites; a restored 180-year-old, two-story chestnut log cabin has a gas fireplace and exquisite nighttime star shows; two pine/cedar cabins—Cabin by the Creek and Cottage with a View—match their names well, and the newest, Wildwood Studio, provides a perfect artist's or writer's retreat. All feature handmade quilts and featherbeds.
A soul-comforting stay at Snug Hollow is perfect for restful vacations, honeymoons, girlfriends' and guys' getaways, private dinners and celebrations, business meetings and corporate retreats.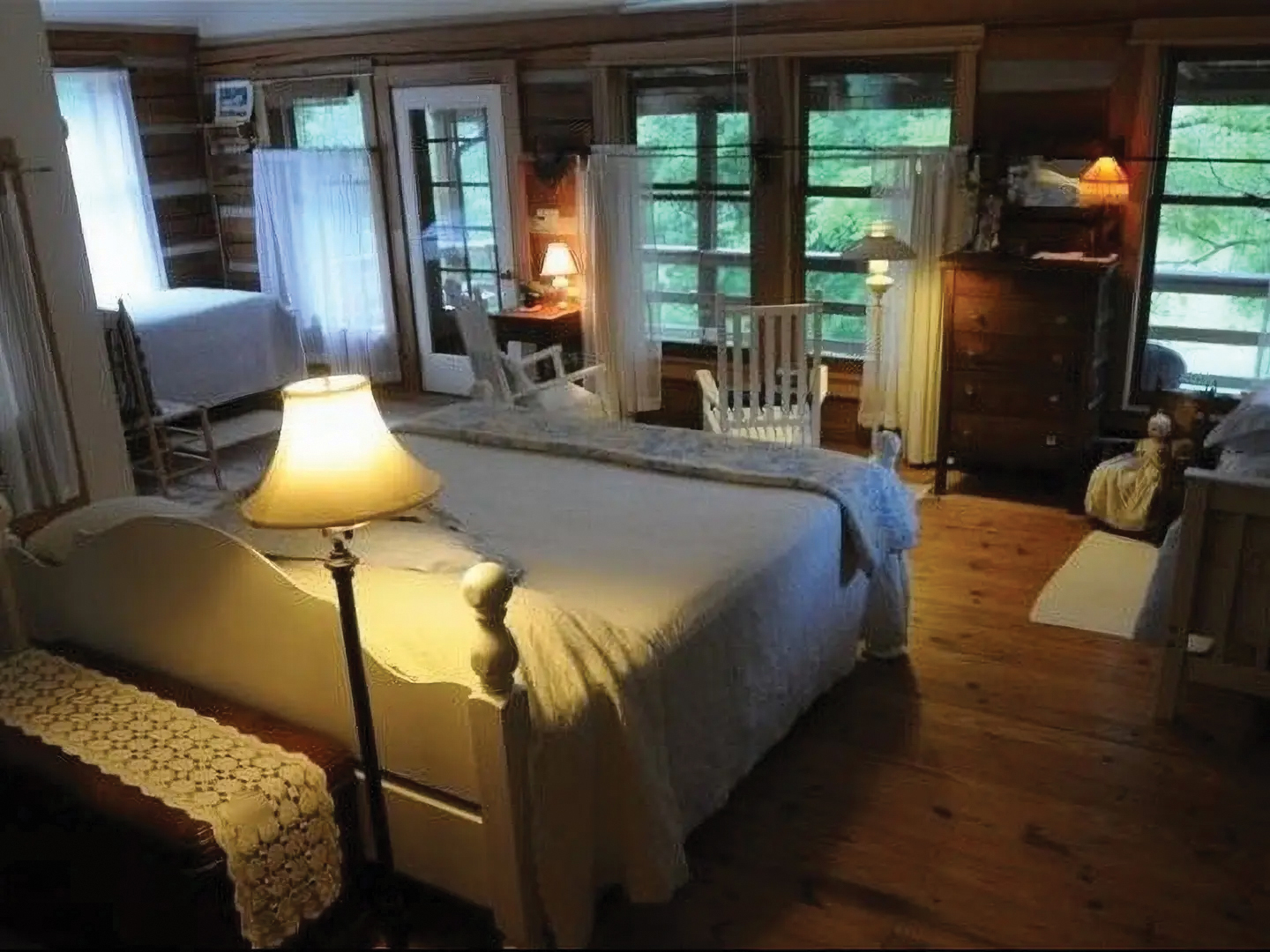 This decidedly low-tech hideaway has been hosting corporate retreats for years to rave reviews from meeting planners and attendees alike. Despite the lack of cell phone service and television, companies return time and time again to meet in a grassy area by a pond or on overstuffed couches by a crackling fire; to break out on porches with woodsy daytime views and myriad nighttime stars; and to bond while walking miles of trails through thick stands of hardwoods and evergreens in fresh country air.
For off-the-farm time, attendees can tour nearby Tater Knob Pottery and Farm, saddle up for a horseback ride, get "crafty" in Berea, or travel 45 minutes to Lexington for the Kentucky Bourbon Trail, a day at Keeneland racecourse, and horse farm tours in the "Thoroughbred Capital of the World."
However, Snug Hollow's only "traffic noise" is birdsong, the soft snort of horses, and the delicate crackle of deer in the underbrush. And once guests travel the lengthy driveway back into this magical holler, often a peace descends and leaving becomes the farthest thought from their minds.
Go and see for yourself. To learn more about Snug Hollow and book reservations for you or your group, visit snughollow.com or phone (606) 723-4786. Order Napier's cookbook, "Hot Food & Warm Memories," on the website.