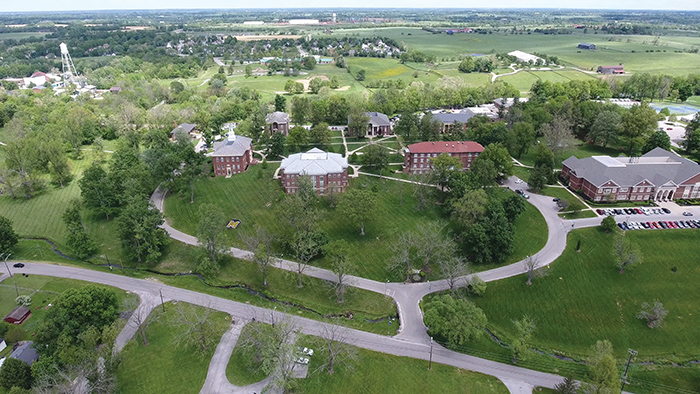 Despite a long career in higher education, five years ago Dr. John Marsden may have been seriously questioning not only his intelligence but his judgment a few months after becoming president of what was then Midway College, a 165-year-old all-girls school in Central Kentucky.
But he has long since overcome such doubts and certainly isn't leery anymore after transforming Midway into a feel-good success story while guiding it to explosive and impressive growth in virtually every area.
As a first-time college president, Marsden initially was as excited and positive about his new job as a Cincinnati Reds rookie making his Major League debut. Then reality hit. Midway appeared to be more than midway to extinction.
Hired on Feb. 1, 2013, Marsden said he got a much clearer picture of the scope of the turnaround that was needed early in the summer when he saw the dire financial straits the school faced. Midway had a severe cash-flow shortage and was borrowing millions just to make payroll and pay vendors.
---
Sign up for The Lane Report business newsletter. Receive breaking Kentucky business news and updates daily. Click here to sign up
---
There were numerous other significant problems too, including declining enrollment, poor community relations, an identity crisis and critical looming deadlines on debt refinancing and a re-accreditation application to the Southern Association of Colleges and Schools Commission on Colleges (SACSCOC), a lengthy process that hadn't even been started.
"I didn't realize, nor did the board (of trustees), how much overhaul was needed," Marsden said. "I knew Midway had a failed school of pharmacy, but I didn't know how severe the financial issues were. I did not know it was a turnaround institution.
"It became a process of discovery. I kept uncovering things over a period of several months. Of course, I made a commitment to the institution and had moved my family here, but it turned out to be a lot harder job than I ever imagined."
It also has turned out to be highly successful and likely one of the most remarkable university makeovers in Kentucky history.
Women-only origin no longer viable
First, some nuts and bolts: Midway is an independent, liberal-arts school related by covenant to the Christian Church (Disciples of Christ) with an overall enrollment of 1,200, 80 percent of them from Kentucky, including online students. It offers two- and four-year degree programs in 30 majors or areas of concentration, including nursing, business, equine studies, English, math, marketing, biology and teacher education. Its campus is on a working horse farm on 200 bucolic acres overlooking the small, historic town of Midway, which is halfway between Lexington and Frankfort (hence the name Midway).
Marsden, 52, was recognized for his achievements earlier this year when he was selected to receive the Excellence in Education Vision Award by the Bluegrass Tomorrow organization.
A first-generation American who was raised on Long Island, Marsden is the son of Irish immigrants who met in New York City. Before coming to Midway, he was provost at Barton College in Wilson, N.C.  He received his master of science and doctorate from the University of Michigan and holds graduate credentials from the University of Arizona and Carnegie Mellon University.
Midway University has an interesting and unique history. It originally opened as the Kentucky Female Orphan School in 1849, with one teacher and 16 female students on five acres of land. In the early years there were four grades that essentially provided an intensive high school education. Later it became a junior college and then a fully accredited baccalaureate-granting institution as Midway College, an all-girls school meant to empower disadvantaged women with an education in the field of teaching.
Under Marsden's guidance, the school rebranded to Midway University on July 1, 2015, and then became coed when it admitted men to its day program for the first time for the fall semester of 2016. Men now make up 32 percent of the traditional undergraduate students.
"Our women's college had shrunk to a tiny 260 (traditional) students," Marsden said. "Only 2 percent of students in the U.S. desire a single-sex education, so there was no market to draw from. It wasn't financially viable. Since going coed, enrollment (on campus) has almost doubled to just under 500."
Kathryn Lawler, a senior business major from Scott County High School who is also a member of Midway's golf team, described the change to coed "really interesting."
"We were used to going to class in sweatshirts and boxers and not dressing up or looking nice," Lawler said of herself and her female classmates. "When boys came, the level of dress and makeup went up. You never see casual in classes now; every girl puts on a little bit of mascara or something."
In other words, it's a new day for Midway – and has been since the day Marsden arrived.
Financial candor creates commitment
First, of course, he had to solve the cash-flow problem, which he did by restructuring the debt and ramping up fundraising and repairing relationships with donors.
"If you don't have money it's hard to keep going," he says. "Rebuilding relationships takes awhile. People want to support a winner, and when an institution is struggling it's difficult. Now we're raising millions to support student growth, which has been pretty rapid."
Marsden also made it a priority to reorganize Midway's faculty and staff to make sure they were committed to the school's mission and values and that they were "there for our students and not themselves."
One of the newcomers to the faculty is Rebecca Briley, Ph.D., chair of the Department of Communications, Humanities and Arts/English, who accepted a lower salary than her qualifications demanded because she shared Marsden's vision for Midway.
"Dr. Marsden informed me of the dire financial situation," Briley said. "I was shocked and concerned by his news, but I appreciated his candor and told him I would commit to working with him to get Midway back on its feet, as joining the faculty was important to me."
Briley says she and other faculty and staff dedicated themselves to tightening personal belts for the benefit of saving the institution.
"Since then it has been my pleasure to watch Midway stabilize and develop from the historical all-girls college to a progressive coed university," Briley said. "Under Dr. Marsden's excellent leadership and careful fiscal attention, everyone is beginning to realize the reward. I am glad I came on board when I did and stuck it out through some lean years, as I believe the best is yet to come. Midway has a bright future."
A major turning point was going coed and at the same time admitting over 100 students from St. Catharine College in Springfield, Ky., when it closed in 2016 due to financial problems.
"All of a sudden, we had great momentum," Marsden said.
Good management attracts partners
Koy Lindsey, a junior from Elizabethtown who graduated from LaRue County High School, is one of the student-athletes absorbed into Midway when St. Catharine closed after 95 years as a college. He was the first male to join Midway's equine management program and is also the regular catcher for the Eagles' baseball team. He was surprised by how much he liked his new school.
"I love it," Lindsey said. "It was a really big change, so it was a little rough in the beginning. It took awhile to get settled in, but since then everything has been great. I like the fact it's on a horse farm with 35 horses. I've been around rodeo, horses, cattle and farming my whole life, so it's a really good fit. It's right up my alley. I've been fortunate and I really appreciate what the people here have done for us. I meet with parents all the time to tell them why their kids should come here."
Aside from the board acting boldly and quickly to absorb the influx of St. Catharine students, another big factor in Midway's rebirth was reconnecting with the town, largely through co-sponsorship with Midway Renaissance of the Francisco's Farm Arts Festival. The festival, which moved back to campus in 2014 after a three-year absence, will be held May 19-20 this year. Marsden has also opened the campus more frequently to other events, including forums, lectures and political programs and has encouraged student volunteer work.
 "When Dr. Marsden arrived at Midway University, he inherited an organization that was doomed to close," said John Hayes, an academic advisor and recruiter for Midway University. "In the business of re-organization, we refer to this as a DOA (dead on arrival) and few, if any, survive to tell this story when they are on a terminal curve. Dr. Marsden brought a wealth of educational and management background to the university.
"His passion and dedication to success was untiring in serving the university, seeking out the counsel of others, and as an encourager in helping people apply their talents and expertise. Dr. Marsden was able to develop strategic delivery approaches for services and operations, which totally changed the operations of our campus services and changed the course of Midway University's future."
Midway Mayor Grayson Vandegrift says the community response to Midway under Marsden's leadership and changes has been enthusiastic and productive, pleasing citizens and supporting local businesses.
"I believe that Midway University and the City of Midway are enjoying some of the best town/gown relations we've had in a very long time," Vandegrift says. "Dr. Marsden and his team are constantly keeping us in the loop on their progress, and we make sure to extend them the same courtesy. I have lunch with him and his leadership team every few months to go over new initiatives we're both working on, and if possible, how we can work on them together."
Vandegrift said those sessions recently bore fruit in a cost-sharing program to renovate the girls' softball field, which is owned by the city but used mostly by the university under a lease agreement.
"We've also worked together on city events and economic development to best serve our community," Vandegrift said. "Students from the university now routinely volunteer to help us mulch trails and make other improvements in our recently renovated city park. I'm very grateful for the willingness and eagerness to collaborate that the university has exhibited under Dr. Marsden's leadership."
Winning with sports
Another of Marsden's ambitious, highly successful initiatives involves athletics, where he has overseen the expansion from 90 or so student-athletes to 340, competing in 17 sports during this academic year. Sports include women's basketball, men's and women's golf, baseball and women's tennis, all competing in the River States Conference as a member of NAIA Division II.
Midway will add men's wrestling, men's volleyball and women's track and field for the 2018-19 school year, along with incorporating dance into its existing cheer program. Furthermore, a campaign is underway to raise funds to build a baseball park on campus, expand the student center and auxiliary gym, and upgrade residence halls.
"This isn't necessarily build-it-so-they-will-come," Marsden said. "It's build it so they will stay."
Lawler says she originally chose Midway for her college golf career because she liked coach Otis Smith, who she calls "absolutely fantastic." But she said she quickly learned there is much more to love about Midway University.
"It's a beautiful campus, and I've realized how wonderful a small-school atmosphere is," Lawler said. "I went to one of the biggest high schools in the state and on graduation day I still didn't know half of my class. Here, I know every single person I pass on campus. Everybody. People are fantastic.
"And I love the fact that they want to do great things. Faculty and staff are so set on student success. They're not just trying to get students in and out; they care about how we're doing and our plans for the future. Dr. Marsden has definitely pushed us to move forward in leaps and bounds. He has really impacted this school in a huge way."
And there's more to come. Midway is currently going through a new strategic planning process, but Marsden isn't quite sure where it will all lead just yet.
"We don't have that grand vision yet to go public," he said. "It's very hard to talk about where you'll be in five, 10 or 15 years because there's so much change and you have to adapt so quickly."
One thing Marsden does know, however, is that unlike the situation he discovered five years ago, Midway is definitely heading in a positive trajectory. He favors this analogy for the school's progress:
"The car was accelerating toward the cliff," he said. "We put the brakes on, figured out what repairs were needed, got the car gassed up, turned around and going in the right direction."
That's no small accomplishment considering that when Marsden got into the driver's seat, it was a car that appeared headed for the junkyard.
---
Russ Brown is a correspondent for The Lane Report. He can be reached at [email protected]