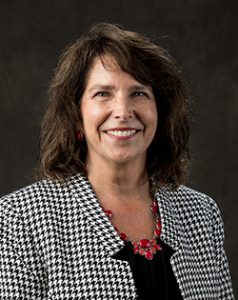 BOWLING GREEN, Ky. (July 2, 2018) – Catherine Carey, chair of the Department of Economics at the WKU Gordon Ford College of Business, will begin a year of service as interim dean of the college effective July 1.
Dr. Carey was selected as interim dean when Dr. Jeffrey Katz announced his decision to return to the classroom as a professor of management and the Oppitz Endowed Professor of Business.
"I am delighted to have been given this opportunity to serve the Gordon Ford College of Business as we enter a new and exciting era in WKU's history amid a challenging environment for higher education in Kentucky," she said. "Dr. Katz will be a hard act to follow, but the College has a strong leadership team, awesome faculty and staff, and impressive students. We will continue serving our community by providing an excellent applied business education and turning out students with degrees and skills that are in high demand."
Dr. Carey has a Ph.D. in economics from the University of Kentucky. She serves as director of the WKU Center for Applied Economics and holds the Dugas Family Professorship. Her research focuses in the areas of financial fraud and innovative teaching styles involving students in projects for outside business clients. She is a past president of the Kentucky Economic Association and still serves as ex-officio member of the board. She also has served as editor of the Journal of Applied Economics and Policy, an annual publication of the Kentucky Economic Association.
She has been at WKU since 1992.