By Abby Laub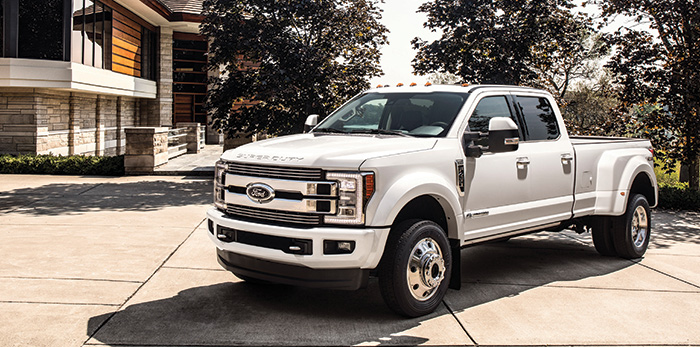 Last summer, Forbes magazine named Louisville as the No. 1 city in the U.S. where manufacturing is thriving. Since 2011, manufacturing employment in the Louisville area has grown 30.2 percent, bringing the total to 83,300 jobs – 12.41 percent of jobs in the local economy.

Regional anchors like Ford continue steady growth. The company that gave the world the assembly line has invested more than $1.3 billion in its Kentucky Truck Plant since 2015 alone. And in June 2017, the company announced it would build 8,500 additional Ford Escape and Lincoln MKC vehicles at the Louisville Assembly Plant.
For years Greater Louisville and Southern Indiana residents and leaders have been  accustomed to hearing manufacturing announcements and expansions, as companies seek out the region due to its strategic location, abundance of water, government support, low cost of doing business and a formidable workforce.
Manufacturers who call the region home have a leg up on competition all over the world – ranging from production of the iconic Louisville Slugger baseball bat downtown, to bourbon, vehicles, Girl Scout cookies, airline seating, disco balls, water heaters and so much more.
To ensure the area remains competitive in the manufacturing sector, the city is partnering with the Kentucky Manufacturing Career Center (KMCC) and the Kentucky Federation of Advanced Manufacturing Education (KY FAME) to create a pipeline of highly skilled employees.
Greater Louisville's manufacturing success is part of the state's rosy overall manufacturing picture. In February 2018, state officials announced that in addition to last year's all-time economic development investment mark of $9.2 billion, Kentucky has increased the presence of international companies and broken its export record for the second consecutive year. In 2017, Kentucky sold more than $30.88 billion worth of products and services internationally, a 5.8 percent increase over the previous record from a year ago.
Across the Ohio River, Southern Indiana's River Ridge Development Authority anticipates continued growth at its 6,000-acre Jeffersonville site. The location has benefited from the newly completed Lewis and Clark Bridge six miles upriver from downtown. Also in Jeffersonville is America Place, which touts a business park with 20 brick buildings at dock height and nine ground buildings with drive-in doors and spaces of up to 300,000 s.f.
Further south, areas like Elizabethtown along Interstate 65 benefit from ample available land, logistics and lower costs.
In Louisville, the FirstBuild "microfactory," with partners GE Appliances and Local Motors, continues to crank out new appliances.
This spring, Takigawa Corp. America broke ground on its $46 million flexible packaging and high-performance films plant in nearby Bardstown that is expected to create 180 jobs.
Another longtime Louisville staple, the 50-year-old WireCrafters LLC, will expand its operation with a $5.37 million investment to create 100 full-time jobs. WireCrafters will add 26,000 s.f. to its facility.
In November 2017, New Flyer of America Inc. announced it will create up to 550 full-time jobs as it invests $40 million to lease and upgrade a facility for bus parts fabrication in Shepherdsville.
And last spring LINAK U.S. Inc.'s plant, which manufactures linear actuators for hospital beds, office desks, farm equipment and other uses, began its $33 million expansion that will create 413 full-time jobs. The approximately 145,000-s.f. building will double the plant's size.
All manufacturers are based in Louisville unless otherwise noted:
Abell Elevator
Vertical transportation
abellelevator.com
Airguard
Air filtration products
Jeffersonville, Ind. – airguard.com
Akebono Brake Corp.
Auto disc, drum brakes
Elizabethtown, Ky.
akebonobrakes.com
Algood Foods
Private-label peanut butter, jellies, preserves
algoodfood.com
American Fuji Seal Inc.
Container shrink labels
Bardstown, Ky. – afseal.com
American Greetings Corp.
Greeting cards
Bardstown, Ky. – americangreetings.com
American Printing House
for the Blind Inc.
Educational, daily living products
aph.org
BAE Systems
Military equipment
baesystems.com
Balfour Co. Inc.
High school/college announcements
balfour.com
Beach Mold & Tool Inc.
Injection-molded plastics
New Albany, Ind. – beachmold.com
BFW Inc.
Fiber-optic headlight systems
bfwinc.com
Bourbon Barrel Foods
Condiments, spices
bourbonbarrelfoods.com
Bowles Mattress Co.
Lady Americana mattresses
Jeffersonville, Ind. –
bowlesmattress.com
Caldwell Tanks Inc.
Steel water tanks, towers
caldwelltanks.com
Cardinal Aluminum Co.
Custom aluminum extrusions
cardinalaluminum.com
Clariant Corp.
Specialty chemicals
clariant.com
Compass Manufacturing International
Kitchen, bath products
cmiproduct.com
D.A. Inc.
Automotive parts
Charlestown, Ind. – daiwa-da.com
Dawn Food Products Inc.
Bakery mixes, fillings, coatings
dawnfoods.com
D. D. Williamson & Co.
Carmel food/beverage colorings
ddwcolor.com
Derby City Shine
Premium moonshine
Derby Dental Laboratory
Crowns, bridges, dentures
derbydental.com
Discount Labels Inc.
Labels, rubber stamps
New Albany, Ind. –
discountlabels.com
Drexel Metals Inc.
Metal roofing products
drexmet.com
Finchville Farms
Country ham/seasoned bacon
Finchville – finchvillefarms.com
FireKing Security Group
Fireproof safes, files
New Albany, Ind. – fireking.com
Ford Motor Co.
Super Duty Trucks, F-250, F-550,
Expedition, Navigator, Escape
ford.com
Freudenberg Medical
Medical devices
Jeffersonville, Ind. – freudenbergmedical.com
GE Appliances
Water heaters, dishwashers,
refrigerators, washers
ge.com
General Mills
Pillsbury refrigerated dough
New Albany, Ind. – generalmills.com
Green Bull
Professional-use ladders
greenbullladder.com
Grindmaster-Cecilware
Beverage, food equipment
gmcw.com
Haas Cabinet Co. Inc.
Kitchen cabinets
Sellersburg, Ind. – haascabinet.com
Hillerich & Bradsby Co. Inc.
Louisville Slugger baseball bats
slugger.com
Hunter Knepshield
Modular park buildings,
sports lighting
LaGrange, Ky. –
hunterknepshield.com
INDCO Inc.
Industrial mixers
New Albany, Ind. – indco.com
KACI (Katayama
American Co. Inc.)
Automotive door sashes, moldings
Shelbyville, Ky. – kaci.com
Kelley Technical Coatings
Pool, deck tennis/basketball
court coatings
kelleytech.com
K-I Lumber
Building material
Shelbyville, Ky. – ki-lumber.com
Kentucky Trailer
Custom vans, trailers
kytrailer.com
Kern's Kitchen
Bakery
derbypie.com
Kitchen Kompact Inc.
Kitchen/bath cabinets
Jeffersonville, Ind. –
kitchenkompact.com
Lantech Inc.
Stretch-wrapping equipment
lantech.com
Linak U.S. Inc.
Healthcare equipment, furniture, desks
linak-us.com
Little Brownie Bakers
Girl Scout cookies
littlebrowniebakers.com
Lear Corp.
Automotive seating
lear.com
Louisville Bedding
Bed pillows, processed fiber
loubed.com
Louisville Golf Club Co.
Custom clubs under the Persimmon brand
louisvillegolf.com
Louisville Stoneware
Stone plates, bowls
louisvillestoneware.com
Mesa Foods
Corn and flour products
mesafds.com
Metalsa
Engineered assembled metallic automotive products
Elizabethtown, Ky. – metalsa.com
Multi Packaging Solutions
Packaging solutions
multipkg.com
Nationwide Uniform Corp.
Security/police/postal uniforms
Hodgenville, Ky.
Papercone Corp.
Specialty envelopes, soft packages
papercone.com
Paradise Tomato Kitchens
Custom sauces
paradisetomato.com
Peerless Gear
Outdoor equipment transmissions
Salem, Ind. – peerlessgear.com
Peptides International
Biological products, research supplies
pepnet.com
PPG Architectural Finishes Inc./Porter Paints
Residential paints, stains
ppg.com
Premier Packaging Inc.
Corrugated boxes
Buechel, Ky. – prempack.com
Publishers Printing
Magazines, labels
Shepherdsville, Ky. – pubpress.com
Purnell's "Old Folks" Sausage
Sausage products
Simpsonville, Ky. – itsgooo-od.com
Radio Sound Inc.
Sound systems
radiosound.com
Raque Food Systems LLC
Food product-packaging machines
raque.com
Ralcorp Frozen Bakery Products Inc.
Frozen biscuits, pancakes, dry mixes
ralcorpfrozen.com
Raytheon Co.
Defense weapons systems
raytheon.com
Rev-A-Shelf LLC
Home storage, organization products
Jeffersontown, Ky. –
rev-a-shelf.com
Restonic New Albany
Restonic mattresses
New Albany, Ind. – restonic.com
Reynolds Packing Group
Aluminum foil
reynoldspkg.com
Samtec Inc.
Electronic interconnect products
New Albany, Ind. – samtec.com
Stanley Black & Decker
Professional power tools
Shelbyville, Ky. –
stanleyblackanddecker.com
Steepleton Co.
Billiard tables
steepleton.com
Superior Van & Mobility
Vehicle mobility systems
Louisville – superiorvan.com
Sypris Solutions Inc.
Data acquisition/storage systems
sypris.com
Tower International
Metal, automotive stampings,
assemblies
Bardstown, Ky. –
towerinternational.com
Tyson Foods Inc.
Poultry deli products
Corydon, Ind. – tyson.com
US WorldMeds
Pharmaceuticals
usworldmeds.com
Zeon Chemicals
Innovative polymers
zeonchemicals.com
Zoeller Co.
Sewage pump systems
zoeller.com