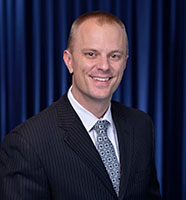 FRANKFORT, Ky. (July 5, 2018) – A new commissioner has been named in the Department for Community Based Services (DCBS), within the Cabinet for Health and Family Services (CHFS). The department provides family support; child care; child and adult protection; eligibility determinations for Medicaid and food benefits; and administration of an energy cost-assistance program.
Eric Clark begins the role of DCBS commissioner immediately. Clark is an experienced government administration professional who specializes in organizational leadership, program development, public policy, project management, and advocacy. He has been with the Cabinet since 2015 serving as legislative director and most recently as chief of staff.
"Eric Clark has been a tremendous asset to CHFS, first as the Legislative Director of the cabinet and more recently as Chief of Staff," said Gov. Matt Bevin. "I know that he will continue to demonstrate his characteristic compassion, determination, and strong work ethic as Commissioner for DCBS.  His comprehensive knowledge of CHFS is unparalleled, he is committed to the department's mission of strengthening Kentucky's families and children, and he will work tirelessly to support DCBS' essential network of services and community-based partners."
Clark was a member of the CHFS group that worked collaboratively with legislators, Gov. Matt Bevin and first lady Glenna Bevin, Administrative Office of the Courts (AOC) and advocates to design the framework for House Bill 1, the sweeping foster care and adoption bill that was passed during the recent legislative session and signed into law by Gov. Bevin.
"I've called HB 1 the most transformative piece of child welfare legislation ever seen in Kentucky and I'm ready to lead DCBS as we seize the momentum to implement reforms that will make Kentucky's child welfare system the best in the nation," said Clark. "DCBS is bigger than any one issue. I pledge that we will implement new approaches to both help our employees safely perform their duties more efficiently and better serve our clients. Our challenges are great, but our opportunities are greater."
DCBS has more than 4,000 employees throughout the state with local offices in each county.
"Eric has been extremely successful leading the Cabinet's legislative, regulatory and public policy objectives, overseeing the Governor's Red Tape Initiative and offering strategic and programmatic input to allow us to better serve our employees and the people we serve," said CHFS Secretary Adam Meier. "I am confident Eric will excel in this new role."
A Frankfort native, Clark received his undergraduate and graduate degrees from Kentucky State University. He currently resides in Louisville with his family.
Elizabeth Caywood, a 19-year career employee at DCBS, who has served the last month as acting commissioner, will be a Deputy Commissioner within the department. Twelve of Caywood's 19 years in the agency have been spent in the Commissioner's Office as an Internal Policy Analyst IV and Executive Advisor. Caywood previously served as chief of staff for the agency. Caywood's experience spans every public assistance, child care, and social service program administered by DCBS.
"Elizabeth Caywood has demonstrated excellent leadership skills as Acting Commissioner of DCBS during this time of transition for the department, and I am grateful for her willingness to continue to serve Kentucky families as Deputy Commissioner," said Gov. Bevin.
"I am extremely optimistic about the direction and future for DCBS, and I look forward to being a part of Commissioner Clark's leadership team," concluded Caywood.
Also today, Secretary Meier announced Tresa Straw will become the Cabinet's new Chief of Staff. Straw is a Human Resources (HR) expert with more than 20 years of state government experience. She has more than 13 years' service in the CHFS HR department where's she's spent the past four years as Deputy Executive Director of the Office Human Resource Management. Straw will serve as principal staff officer and primary coordinator for staff and senior management. She will also provide guidance to the Secretary and staff on various policy and strategic initiatives.