By Abby Laub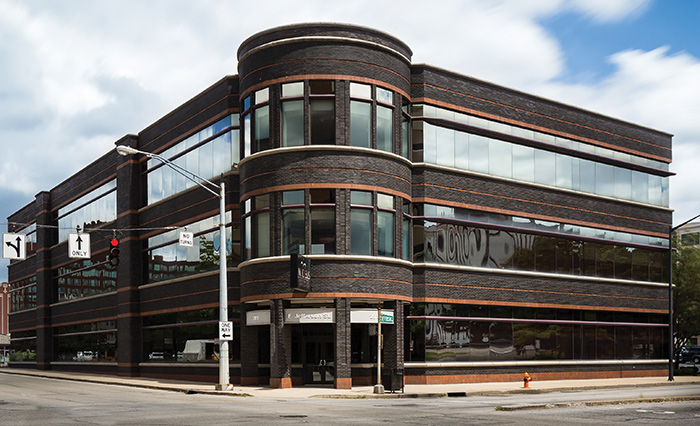 More than 25,000 people and counting are employed in Greater Louisville's business services cluster, according to Louisville Forward. The sector includes IT, accounting, call support centers, application development, cybersecurity, design and more.

At the crossroads of the Midwest and the South, Greater Louisville is a natural fit for business service providers who need to touch a lot of people in all sectors quickly and efficiently. One example is Coastal Cloud, a nationwide firm that provides cloud technology platform expertise and organizational solutions.
Coastal Cloud grew 40 percent last year alone, with much of that happening through the Florida-based company's year-old Louisville office, said Erik Dunnigan, managing director of the Midwest region and nationwide public sector.
"In November 2017, there were four people in Louisville; now Louisville has become the hub of our Midwest operations," Dunnigan said. "Part of that is our Louisville employees working there, and then we have remote staff who also report into that hub. The Midwest team has a coverage area that goes as far west as Austin and north as Chicago/Milwaukee, as far east as D.C. and as far south as Atlanta."
Business services touch all sectors. For example, Coastal Cloud works with the mayor's office, manufacturing, healthcare and life sciences sectors, and finds lots of demand for technology consulting. It does about 50 percent of its business analyzing processes, suggesting efficiency improvements and building the information technology systems to drive them. The goals is to shift transactional information services behind the scenes to make life more efficient and user friendly.
Private equity firms use Coastal Cloud services to streamline and implement their own unique IT systems into the acquired companies. But ultimately most of the services get down to data.
"We're in the age of the customer," Dunnigan said. "It was the internet and dot-com era, then social media, now we're in the age of the consumer, and they have access to so much info. It becomes a question of how do you keep their attention? What we focus on is building systems to give you visibility into that data. How are you interacting in your own internal processes with the people who are buying your services? People are constantly interacting with electronics, but we're making it more efficient and giving better growth and revenue into that"
Keeping business safe
Cybersecurity is another major growth area in the business services sector. Cyberthreats are real and relentless, no matter the size of the operation. In a March 2018 story in The Lane Report, Chris Keller of Prospect-based Advanced Global Communications said it's not a matter of "if" but "when" a company of any size it attacked.
"Enterprise companies have hundreds of folks working on this," Keller said of cybersecurity, "but small and medium-size businesses are just seeing the attacks on these big companies. They don't realize that there are 'bots' out there looking for IP addresses. These bots don't care what is on the other end."
Cecelia Taylor, spokesperson for the Small Business Administration, told The Lane Report, "As more small businesses utilize online solutions to serve customers, manage business operations and market themselves, their risk exposure has grown. Websites, financial transactions, critical databases, client records and brand reputation can be among the biggest vulnerabilities."
Cybersecurity is a growth area, as are traditional business services like accounting. Kentucky CPA firms expect 2018 to be a year of positive change and growth in demand for their services, partly due to federal Tax Cuts and Jobs Act reforms motivating clients to rethink their business and financial strategies.
"The new federal tax reform legislation will positively impact the economy of the commonwealth, but unfortunately we continue to feel the overall negative impact of our own state tax system and pension crisis," said Diane Medley, managing partner, MCM CPAs & Advisors, in a March Lane Report article. "All of us in the business world see clients making long-term decisions in this uncertain environment with a significant amount of concern over whether real change will occur. Granted, the federal law will incentivize businesses to make capital investments and to use these dollars toward reinvestment, growth and expansion of product offerings and services, but for Kentucky, caution will counteract significant upside benefits."
Growth in Southern Indiana
In Southern Indiana, the low cost of doing business and proximity to Louisville is a big draw for business service providers looking to locate their operations.
In April 2018, United Collection Bureau Inc. announced it will lease space in Jeffersonville, Ind., for a new business process outsourcing and collection call center in the River Ridge Commerce Center. UCB, headquartered in Toledo, Ohio, will use the $2.48 million project to create more than 600 new jobs, with an average wage of $18.22 per hour by 2022.
"We considered various sites for our new business process outsourcing and collection call center and found Jeffersonville, Ind., to be the location to best suit our current needs. This space will allow us to better serve our clients," UCB Chief Operating Officer Michael Karosas said in a news release.
Next door in New Albany, Ind., SmartBox, creator of an industry-leading patient attraction system designed to help dentists attract more patients, recently completed a $1 million expansion. The company, which currently employs about 80, plans to add about 100 new jobs. SmartBox has been featured on Inc.'s list of fastest growing private U.S. companies for two years. SmartBox currently serves more than 550 dentists on three continents.
Also expanding is the international accounting and business services firm Ernst & Young LLP. EY's expanded office in downtown Louisville officially opened in January 2018 and is designed for executive assistants and other shared professional functions. It was a $4.3 million investment for one of the world's largest business services organizations.
"We were very impressed with the level of talent in Louisville and commend efforts by the city, state and local learning institutions to grow the talent base even more aggressively and in new areas," said Brent Summers, EY's Americas enterprise support services leader. "That, along with Louisville's affordability and quality of life, were important factors in our location decision."
Ernst & Young provides assurance, tax, transaction and advisory services in 152 countries and employs 231,000 people.
Supporting the startups
Greater Louisville also has a bevy of services for small businesses and startups.
In February 2018, Kale & Flax launched the Wild Accelerator, a non-profit nine-week micro-accelerator for female founders in partnership with New2Lou. Kale & Flax is an experiential data and design firm in Louisville.
Wild Accelerator is geared towards idea-stage and early-stage entrepreneurs looking to land initial investment capital, develop a working prototype or create a sound, focused go-to market strategy.
Microfactory collaborative FirstBuild is a co-creation community backed by GE Appliances on the edge of the University of Louisville campus. It gives entrepreneurs and creators access to world-class engineering and design talent in order to bring new appliance products to market in new ways. FirstBuild has boosted Louisville's reputation as a hot spot for entrepreneurial activity.
Another big player in the business services scene is Interapt LLC, which opened its headquarters in Louisville last year. The tech development startup focuses on business innovation services and workforce development. Customers include Baptist Healthcare, Eurofins, Humana, Kindred Healthcare, YUM! Brands and General Electric.
Many of these companies – big and small – also have a focus on giving back. But even good intentions need tech support, which is where MobileServe comes in. The mobile app helps companies streamline the efforts of all parties involved in volunteering and eases the administrative and human resources burdens surrounding corporate volunteerism.
"It used to be that volunteering and community engagement happened separately from your core business or core organization; it happened on the side," said Ben Reno-Weber, co-founder and chief storyteller of MobileServe. "But with the retirement of baby boomers and rise of the millennials into becoming 50 percent of the workforce, they shifted that from a 'nice to have' to a 'need to have.'
"Companies that want to be competitive need to align themselves with the values of their employees and their customers. We help them to build the administration of that and communicate clearly internally and externally," Reno-Weber said. "The other part of this is it's engaging and energizing for people to get out of their offices to go do something and feel like your company supports you in that. Engaged employees are more productive employees."
Accelerators made the difference
Reno-Weber is a Louisville native who worked as a consultant in Washington, D.C., before moving back to the area for work. MobileServe was initially built as a "very dinky attempt to solve our problems in engaging volunteers" at his job with the YMCA. At the time his co-founder Chris Head was getting his MBA at University of Louisville.
"We went through an accelerator called Velocity and got so much client demand that we both mortgaged our houses and built a better tech product than we had initially," Reno-Weber said.
MobileServe went through Greater Louisville Inc.'s Sales Intensive program last year to help refine and clarify its message, network and raise money. They've raised more than $2 million, have 150 customers all over the country and are growing in 2018 from seven to 10 employees.
Clients include major corporations, not-for-profits, schools and private individuals.
"We were really architected from the ground up to serve an individual," Reno-Weber said. "You end up with a MobileServe account that you have through your school or employers. That's how you got to us but our relationship is with you, and people like using us."
Like many business services, MobileServe touches other sectors, including healthcare and aging care. Reno-Weber said the company is focusing some of its efforts on senior citizens and keeping them engaged in meaningful activities as a way to ease health concerns.
Kentucky Employers' Mutual Insurance (KEMI)
250 West Main Street, Suite 900,
Lexington, KY 40507-1724
(859) 425-7800
Kentucky Employers' Mutual Insurance (KEMI) is the largest provider of workers' compensation insurance in Kentucky, providing coverage to more than 23,000 policyholders in all 120 counties of the state. We provide exceptional underwriting, safety education and claims services to our policyholders. This, combined with our competitive pricing, responsible financial management and a focus on innovation makes KEMI the provider of choice for Kentucky businesses. We are proud to have earned and maintained an "excellent" rating by A.M. Best.
Coastal Cloud
201 E Jefferson St.,
Suite 125
Louisville, KY 40202
(800) 237-9574
Coastal Cloud was founded in 2013 by two former IT consulting executives who set out to create a next-generation IT consulting company that was nimble, customer-focused and collaborative with its clients. With over 1,000 implementations, more than 350 clients across four different countries, and over 130 dedicated employees, Coastal Cloud is flourishing.
Coastal Cloud is committed to partnering with its clients to help them move away from inflexible and costly IT systems and embrace a new generation of technology that is flexible, affordable, mobile and social. The company helps its clients plan, execute, design and deploy cloud-based software tailored to improve a complete range of enterprise operations, including customer relationship management (CRM), business workflow, internal & external communications, analytics, enterprise resource planning, and marketing. They are experts at program management, project execution, business analysis, data modeling, data migration, user training and the skills necessary for a successful transfer to next-generation technologies.
MCM CPAs & Advisors
2600 Meidinger Tower
462 South Fourth St.
Louisville, KY 40202
(888) 587-1719
As the largest CPA firm in Kentucky, MCM CPAs & Advisors provides highly specialized tax, audit and advisory services to a broad range of clients and industries. Privately and publicly held businesses, not-for-profits, small businesses and individuals across the region and throughout the country receive personalized attention and local access from national-level talent.
MCM combines the technical and industry expertise of larger firms without sacrificing the attention and personal service of a local firm. MCM has offices in Louisville and Lexington in Kentucky, as well as in Jeffersonville and Indianapolis, Ind., and Cincinnati.