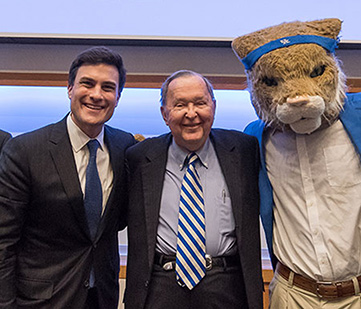 By Nate Morris
Founder and CEO of Rubicon Global
I'll never forget the first time I met Bill Gatton.
It was in 2012, at my first meeting of the Dean's Advisory Council for the University of Kentucky business college that bears Gatton's name. I was 31 years old at the time and Dean (now Provost) David Blackwell had invited me to join the group to provide perspective from a different generation.
I was the youngest person at the meeting by about 20 years. I was in awe of Bill Gatton because of his larger-than-life reputation as a philanthropic leader at UK. But, when I was introduced to him and shook his hand, he made me feel like I was the only person in the room and we had known each other forever.
We struck up a friendship that day that changed my life – and changed the course of Rubicon Global, the business I had founded in Kentucky just a few years earlier.
At the time, I was looking for investors for Rubicon. So, a few months after we first met I drove down to Bristol, Tenn. to pitch Mr. Gatton. I went to the Honda dealership he owns and we met in his small, humble office above the showroom on the second floor.
I was immediately struck by Gatton's near-photographic memory. In our meeting, he recalled detailed facts, figures and stories from business deals he had made throughout his long career. It was amazing for me to hear about his experiences and I've relied ever since on the advice he gave me that day.
After we met, Gatton made a significant investment in Rubicon as part of our first financing round. As a result of his investment, Rubicon – a technology company that provides waste, recycling, and smart city solutions to businesses and governments – began to grow and change. He gave us enormous credibility and other investors started to gravitate toward us, including many from Kentucky.
Even though I knew Rubicon was a great idea and we had a solid business plan, there were a lot of people in Silicon Valley and New York who didn't believe in us and what we were trying to do. But, Bill Gatton from Bremen, Ky. believed in me and our high-tech company. If he hadn't, my trajectory as a leader, and Rubicon's as a business, would have been very different.
I've been thinking about that a lot lately with the opening of the new Student Center at UK. Gatton gave a $20 million gift toward the construction of the building. It is part of the $60 million he has given to UK over his lifetime, which makes him the university's largest philanthropic supporter.
Gatton was one of the first in Kentucky to personally invest so heavily in our state's education. In 1995, his $14 million donation was the foundation for the construction of the Gatton College of Business and Economics. That building was recently renovated and expanded further; I was proud to contribute to the building campaign. Today, the Gatton College is an enormous driver of opportunity and advancement in the commonwealth.
Gatton has also given to countless other causes like the Gatton Academy at WKU and the YMCA of Central Kentucky. He once said in an interview for Kentucky Alumni magazine: "When I was age 40, I planned to retire at 50. And when I was 50, I planned to retire at 60. But at age 60, I decided never to retire. Rather, I determined to continue generating assets so that I could give them away."
He continued: "There are many things more important in life than making money. I definitely have enjoyed making money, but I have discovered that it's even more enjoyable to give it away to something which will serve as a legacy. I believe in giving."
How many young lives has Bill Gatton changed? Thousands and thousands. Where would those people be if they hadn't had the resources and support that Gatton's giving generously provided? It's impossible to know.
You'd like to think that someone will always stand up and lead. That if Gatton didn't do it, someone else would. But, I can tell you from personal experience, that's just not true.
That's why Bill Gatton is a hero of mine and a hero for Kentucky.
---
Kentuckian Nate Morris is the Founder and CEO of Rubicon Global, and the Entrepreneur-in-Residence at the University of Kentucky's Gatton College of Business and Economics.