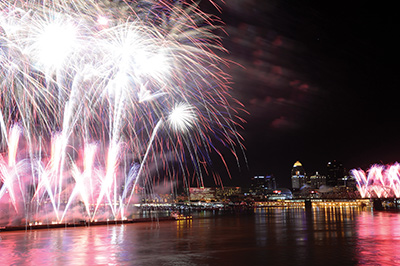 Last summer Jefferson County and Kentucky's flagship city of Louisville was named the nation's No. 1 city for manufacturing by Forbes magazine, in just one example of the city's economic prowess. That prowess also spills over into its other economic clusters and its ability to create a stellar quality of life for its citizens.
In 2018 alone, Louisville's skyline has changed dramatically with completion of the all new Omni Hotel and the soon-to-be completed Kentucky International Convention Center. Downtown Louisville's scene, as well as its edge neighborhoods are coming alive like never before.

Known the world over as the birthplace of Muhammad Ali and the Kentucky Derby, Louisville now is increasingly making a name for itself in bourbon and food culture, and the city also benefits from thriving sporting, arts and entertainment sectors. Jefferson County's total annual tourism intake is approaching the $3.45 billion mark.
The commonwealth's largest city was named after King Louis XVI of France and was founded in 1778 during the American Revolutionary War by militia leader George Rogers Clark. Two years later, Jefferson County was one of the original three Kentucky counties to be formed.
County Seat:
Louisville
Greg Fischer, mayor
louisvilleky.gov
Estimated 2018 population: 779,455
No. of households: 310,355
Median household income: $50,099
Louisville Forward:
Mary Ellen Wiederwohl, chief
louisvilleky.gov/government/louisville-forward
Metro Council: Jessica Green, Barbara Shanklin, Mary C. Woolridge, Barbara Sexton Smith, Cheri Bryant Hamilton, David James, Angela Leet, Brandon Coan, Bill Hollander, Pat Mulvihill, Kevin Kramer, Rick Blackwell, Vicki Aubrey Welch, Cindi Fowler, Marianne Butler, Scott Reed, Glen Stuckel, Marilyn Parker, Julie Denton, Stuart Benson, Vitalis Lanshima, Robin Engel, James Peden, Madonna Flood, David Yates,
Brent Ackerson