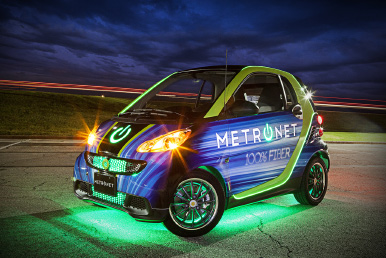 LEXINGTON, Ky. (July 16, 2018) — As part of its efforts to make Lexington the nation's largest gigabit city, MetroNet today announced the hiring of several key players to their Lexington team. These founding team members will represent and help grow MetroNet in Lexington.
• Darrick Zucco, general manager. Zucco is a senior business executive with 20 years of strong general management, new business development, product management, sales and operations.
• Jeff Moore, field operations manager. Moore has more than 15 years of technical leadership and performance in production and customer service environments and a proven record of safety, compliance, quality assurance and on-time delivery of business objectives that exceed client expectations.
• Paul Burkley, field operations supervisor. Burkley is a technical supervisor with more than a decade in the telecommunications industry in both residential and commercial services.
• Craig Cooke, retail supervisor. Cooke is a retail supervisor and has years of experience in managing and leading teams in the telecommunications industry.
• Dan Swenson, business sales manager. Swenson is a proven sales professional in the broadcasting and communication industry with strong experience in developing and growing commercial relationships.
"We have been inundated with requests from consumers and businesses to sign up for MetroNet's 100 percent fiber optic speeds and we're excited to bring it to them," said Kevin Stelmach, MetroNet executive VP/general manager. "Putting a great team in place who can deliver the level of customer service for which MetroNet is known for is the next step in bringing Lexington into the digital future."
In late 2017, the City of Lexington announced its intention to become the nation's largest gigabit city and introduced MetroNet.
MetroNet began construction in early 2018 of a $70 million high-speed, 100 percent fiber optic network that places Lexington among cities in the work with the highest average internet speeds. The first customer hookups are expected by the end of 2018. MetroNet plans to open a retail storefront in Lexington at the end of this month. MetroNet was recently named one of the nation's fastest growing Internet Service Providers by PCMag.com.
To keep updated on construction, visit https://construction.metronetinc.com/cct?rm=constructionArea&location=Lexington,%20KY. If you have questions about construction in your neighborhood, call (877) 386-3876.