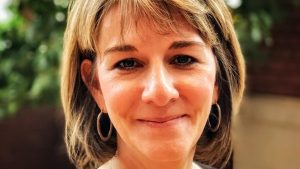 FRANKFORT, Ky. (July 20, 2018) – Secretary of State Alison Lundergan Grimes announced last Friday she is appointing Erica Galyon, a Kentucky attorney, as Assistant Secretary of State and chief of staff for the Secretary of State's office effective Aug. 1. The announcement coincides with another today that Secretary Grimes is due to have a baby boy in December.
Galyon is associate general counsel at Farm Credit Mid-America, a multi-billion dollar agriculture lending cooperative based in Louisville. Formerly, she was senior vice president and general counsel at Farmers Capital Bank Corporation and associate attorney at Stites & Harbison, PLLC. Galyon earned a Juris Doctor at the University of Kentucky College of Law and is a graduate of Eastern Kentucky University.
Lindsay Hughes Thurston will assume the role of senior advisor to the Secretary and general counsel. She is the current Assistant Secretary of State. Thurston, a former federal prosecutor, has served in the office since the beginning of Grimes' tenure.
"Lindsay is a key and trusted advisor. She has been at the helm of every major accomplishment we have achieved, and I am incredibly grateful for her continued service to the Commonwealth. We are excited our team is growing and look forward to welcoming Erica who will be a valuable asset as we remain dedicated to serving the people of Kentucky by growing our economy, giving the green light to small businesses, and breaking down barriers to the ballot box," Grimes said.
Grimes also announced Taylor Clark is transitioning to special assistant to the Secretary after the departure of Jacob Ewing who is joining the Obama Foundation in Chicago. Clark came to the office last year as executive assistant.
"I am proud of every member of our Secretary of State staff for the high level of service and professionalism they provide our constituents. Every day, I am reminded by their tirelessness and commitment that government depends on dedicated public servants just like them."