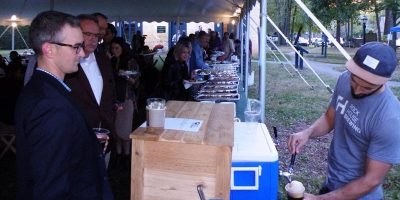 LEXINGTON, Ky. (July 24, 2018) — The Henry Clay Memorial Foundation in partnership with the Kentucky Hemp Heritage Alliance presents the third annual Hemp Dinner.
Guests will enjoy gourmet al fresco dining under the Ashland lawn tent, featuring a hemp–infused meal prepared by Chef Jeremy Ashby (Azur Restaurant).
Industry leaders will highlight the progress of present-day Kentucky hemp production in a speaking segment hosted by Alyssa Erickson of the Kentucky Hempsters. This discussion is particularly timely given the U.S. Senate just voted to legalize hemp as an agricultural commodity with the passing of the 2018 Farm Bill.
The $75 ticket includes hemp dialogue, dinner and hemp beer. For tickets call (859) 266-8581 ext. 204, or go here or here.
Hemp reappeared on Ashland's property in 2016, when the Foundation partnered with the Kentucky Hempsters and the University of Kentucky College of Agriculture, Food, and Environment to plant a small demonstration plot. This plot is now used to educate Ashland visitors about the crop, and its significance to the state. Ashland was once a 600-acre plantation and home of Kentucky's favorite son, Henry Clay. Clay grew thousands of pounds of hemp on his estate, with it being primarily manufactured into rope and cotton bagging.
"The return of hemp to Ashland underscores Clay's foresight as an entrepreneurial farmer and visionary politician," said Jim Clark, executive director of the Henry Clay Memorial Foundation. Clay was the staunchest and most recognized advocate of the industry and he was known to work tirelessly for "American Hemp – Kentucky Hemp – Ashland Hemp." The Foundation, in partnership with the Kentucky Hemp Heritage Alliance and the Kentucky Hempsters is happy to carry on this tradition.
What: Henry Clay's Hemp Dinner
When: 5:30 – 7:30 p.m. Aug. 28, 2018
Where: Ashland's Hemp Plot (gourmet dinner, industry speakers)