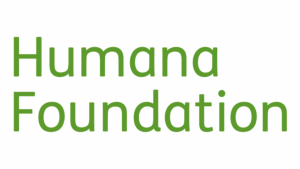 LOUISVILLE, Ky. (July 25, 2018) — The Humana Foundation, the philanthropic arm of Humana Inc. for the past 37 years, today announced the details of its new community relations initiative in its hometown of Louisville, Ky.
Through this initiative, the Humana Foundation will award $2 million to Louisville-area organizations in 2018, with slightly more than $1 million of that in grants ranging from $25,000 up to a maximum of $100,000. The community relations initiative will also feature an expanded skills-based volunteerism program for Humana employees in the Louisville area.
"With this new community relations initiative in the Louisville area, the Humana Foundation has an opportunity to support organizations doing great work that align with Humana's four dimensions of well-being: health, purpose, belonging and security," said Walter D. Woods, CEO of the Humana Foundation. "The organizations that receive these grants will be those with proposals that improve the quality of life in this area, as well as quality of place proposals that make the metropolitan Louisville area a more appealing place to live."
Regarding "quality of life" proposals, these should align with Humana's well-being pillars of health and/or security – with a particular focus on critical safety-net services, such as those that address basic needs of food security, shelter, personal safety and health care services.
Regarding "quality of place" proposals, these should align with Humana's well-being pillars of purpose and/or belonging – with a particular focus on initiatives that make the Louisville area a more appealing place to live. Examples include initiatives that will focus on our built and natural environments (e.g. parks/neighborhoods/air quality); arts and culture; inclusion and diversity; and greater access for all of the region's citizens to fully engage and participate in the many services and opportunities our city has to offer.
Organizations interested in applying for one of these grants will do so in August – from Monday, Aug. 6 through Friday, Aug. 24. The Humana Foundation expects to announce the recipients of the grants in early November. Interested organizations may access the online application by visiting the Humana Foundation's website. Humana employees in Louisville will have an opportunity to help the Humana Foundation decide where the grants will go, through a first-time employee vote. 
Also as part of this program, nearly $1 million will be divided among long-time foundation partners such as Metro United Way and the Fund for the Arts. 
And, building on 2017 when Humana employees reported volunteering 108,000 hours in the Louisville area, the foundation will incorporate a significant new skills-based volunteerism component into the community relations initiative. This will result in more Humana employees in Louisville putting their strongest business skills to work for area nonprofit to increase their capacity, access and sustainability. This program will ramp up over the remainder of 2018, and begin in 2019. 
Selection Criteria
As the Humana Foundation works to select the community relations grant recipients, it will consider several criteria, including:
• Strong alignment to focus areas (quality of life and quality of place)
• Strong alignment to Humana values: inspire health; cultivate uniqueness; pioneer simplicity; rethink routine; thrive together
• Focus on inclusion, diversity and equity
• Data-based evidence of past success
• Focus on building sustainable solutions for program and participants
• Broad reach in terms of people impacted
• Collaboration across community and among community organizations
• Broader impacts for participant and community
Strategic Community Investments
As the Humana Foundation is launching the new community relations program in Louisville only, the foundation is also close to announcing the organizations that will receive its 2018 Strategic Community Investments. Through this program, announced in March 2018, the foundation will invest at least $6.5 million in nonprofit organizations operating in eight communities: Louisville, Ky., San Antonio; New Orleans, Baton Rouge, La.; Knoxville, Tenn.; Tampa Bay, Fla.; Jacksonville, Fla.; and Broward County, Fla. Each investment will be no smaller than $500,000.
These are all communities where Humana Inc., in 2015, began pursuing its 2020 'Bold Goal' to "improve the health of the communities we serve 20 percent by 2020 because we make it easy for people to achieve their best health."